Champion for women's health honoured by UM
Jen Gunter [MD/90], a UM alumna who is a bestselling author, New York Times columnist and self-described "warrior" for women's health, received an honorary doctor of laws degree from UM at Spring Convocation.
The Winnipeg-born, California-based gynecologist rose to fame as a fierce online critic of health misinformation and dubious "wellness" products for women. She went on to write the bestsellers The Vagina Bible and The Menopause Manifesto.
"I view myself as a truth-teller," Gunter told RadyUM. "I have no conflicts of interest and I speak for no one but myself."
Gunter wrote an earlier book, The Preemie Primer, to help parents after her own experience of giving birth to extremely premature triplets, one of whom died at birth.
A passionate champion for women's reproductive and sexual health, Gunter starred in the CBC Gem docuseries Jensplaining.
In addition to contributing regular health columns to The New York Times, she has written for The New Republic and many other publications and has a blog called The Vajenda.
UM honoured Gunter in recognition of her contributions to gynecology and her advocacy for accessible medical information and women's health.
Scientific giant memorialized on campus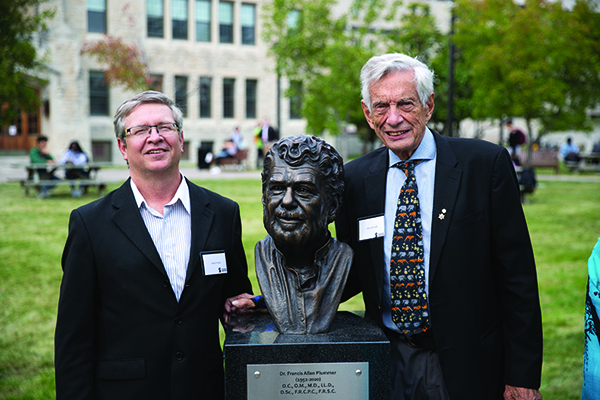 A bust honouring Frank Plummer [MD/76], a world-renowned infectious disease researcher, was unveiled in September at Innovation Plaza on the Fort Garry campus.
The Winnipeg-born Plummer, a 1976 UM alumnus in medicine, joined the UM faculty in 1984. He spent 17 years in Kenya leading the research collaboration between UM and the University of Nairobi.
His work produced vital knowledge about the HIV epidemic in Africa and led to prevention and control strategies that influenced worldwide health policy.
In Canada, Plummer's leadership roles included serving as scientific director general of the National Microbiology Laboratory and director general of the Centre for Infectious Disease Prevention and Control.
Plummer died suddenly in 2020 while visiting Kenya for the 40th anniversary of the research collaboration. At the time of his passing, he was distinguished professor emeritus of medical microbiology and infectious diseases at UM and was working to develop an HIV vaccine.
Plummer's many prestigious honours included the Order of Canada and the Canada Gairdner Wightman Award.
Exceptional alumni honoured by UM
Three of the five Distinguished Alumni Awards given by UM in 2022 were presented to alumni of the Rady Faculty.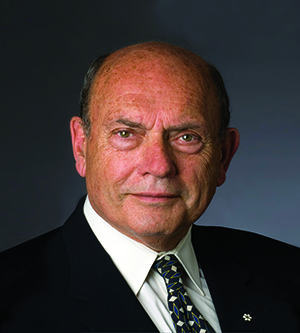 Arnold Naimark [B.Sc.(Med.)/57, MD/57, M.Sc./60] received the Lifetime Achievement Award, recognizing his dedication to leadership in medicine, education and research. As dean of medicine at UM from 1971 to 1981, Naimark led transformative change, notably establishing the department of family medicine and promoting health research funding.
In 1981, he was appointed president and vice-chancellor of UM, a post he occupied with distinction until 1996. He has held influential leadership roles in an extraordinary number of provincial, national and international organizations, including CancerCare Manitoba and the Health Canada Science Advisory Board. In 2013, he was inducted into the Canadian Medical Hall of Fame.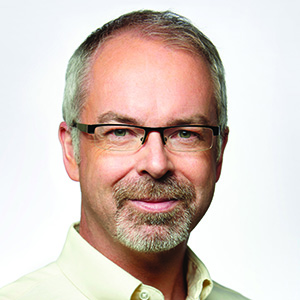 Dr. Peter McPherson [B.Sc.(Hons)/86,M.Sc./88] received the Academic Innovation Award. McPherson is a distinguished James McGill professor of neurology and neurosurgery at the Montreal Neurological Institute of McGill University.
He earned his PhD in neuroscience at the University of Iowa. His lab uses biochemical, cell biological, molecular biological and structural approaches to identify and functionally characterize proteins regulating membrane trafficking in the endosomal system.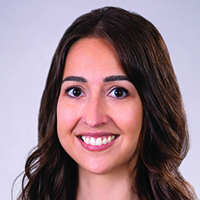 Carly McLellan [BA/16, MD/20] received the Outstanding Young Alumni Award. An Indigenous family doctor, McLellan earned both the College of Family Physicians of Canada
Indigenous Medical Student Scholarship and the UM Indigenous Award of Excellence in the Trailblazer category.
She has demonstrated outstanding leadership in Indigenous health, rural medicine and volunteer service.