'Tis the season for giving as I write this, and thus an opportune time to reflect on our social and philanthropic responsibilities as health professionals, and the values we espouse in the Rady Faculty of Health Sciences.
Our alumni can attest that working in dentistry, dental hygiene, medicine, nursing, pharmacy or rehabilitation sciences is a privilege on many levels. With this privilege come social responsibility and accountability – core values of our professions and of the Rady Faculty.
Fifty years ago, we established the J.A. Hildes Northern Medical Unit, now Ongomiizwin – Health Services, as part of our responsibility to deliver medical services to communities in northern Manitoba and Nunavut.
Ongomiizwin, the Indigenous Institute of Health and Healing, is celebrating this milestone anniversary at the annual Indigenous Health Research Symposium on Jan. 23-24, 2020 and at a gala dinner on Jan. 24 at the Fairmont Winnipeg. I hope to see many of you there.
Another project in which we put accountability into action will be launched in spring 2020, when we'll partner with Habitat for Humanity Manitoba for our fifth Rady Faculty-sponsored home build.
We are proud to be the only health faculty in Canada to partner with Habitat for Humanity to sponsor a house for a family in need. Our learners, faculty and staff not only volunteer to build the house, but also give generously to support the project through donations. We raised more than $120,000 in 2018 for the last build and hope to meet or beat that figure in 2020.
As health-care providers we bring our talents, our compassion and our expertise to helping others. That same helping spirit drives alumni to contribute generously to their alma mater, supporting future generations of health professionals.
In this issue of RadyUM, you'll read about recent projects that would not have been possible without support from alumni.
The spectacular new Dr. George Yee Laboratory of Anatomical Sciences, the extensively upgraded orthodontic clinic at the Dr. Gerald Niznick College of Dentistry, the Juliette Cooper Visiting Scholar Program at the College of Rehabilitation Sciences and the Rady Innovation Fund demonstrate how philanthropic gifts make a difference in learning, scholarship and research.
When I think of making a difference, I'm reminded of a message that resonated with all in attendance when anesthesiologist Doug Maguire [B.Sc./77, MD/82] spoke at the Dean's Homecoming Breakfast a couple of years ago.
He spoke with humility about having volunteered on more than a dozen international aid and outreach projects, including trips to posttsunami Sri Lanka and post-earthquake Haiti and Nepal.
Maguire offered several compelling reasons why health professionals should consider volunteering for humanitarian projects, at home or abroad.
First, he said, there is a dire need. Second, as privileged Canadians, we have an ethical responsibility to help those in need. Third, it's important to show suffering people that we care.
Maguire recalled that on a disaster relief mission to Sri Lanka in 2005, he and his fellow medical volunteers questioned at times if they were really contributing. Most victims in a tsunami are killed outright, so there were relatively few injuries to treat.
But the Sri Lankan population was traumatized and displaced, he recounted. Maguire and the others heard over and over how much it meant to these families that the volunteers cared enough to leave their comfortable homes and employment and travel a great distance to assist them.
Maguire concluded by saying, "We call it 'giving back.' But I call it 'reaping rewards.'"
Words to live by.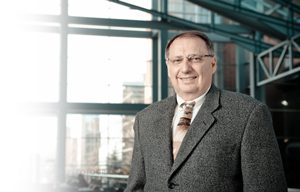 BRIAN POSTL [MD/76]
Vice-Provost (Health Sciences) & Dean,
Rady Faculty of Health Sciences, University of Manitoba