Upgraded lab transforms anatomical study
---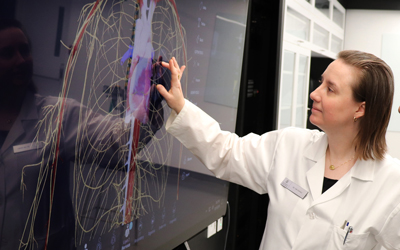 The state-of-the-art Dr. George Yee Laboratory of Anatomical Sciences opened in October, inaugurating a new era for the study of human anatomy on the Bannatyne campus.
The space on the lower level of the Basic Medical Sciences Building, formerly known as the gross anatomy lab, was renovated at a cost of $4.3 million. It now features a wealth of high-tech learning tools.
"We've entered the 21st century," said Dr. Thomas Klonisch, head of the department of human anatomy and cell science.
The upgrade was set in motion by a $500,000 donation from alumnus George Yee [MD/60, D.Sc./12], a pathologist and philanthropist who died in 2014. "My dad was very grateful for the opportunity that this institution provided him," Dr. Charles Yee, George's son, said at the opening of the newly named lab.
The spacious facility will be used by students from all five colleges of the Rady
Faculty. Monitors throughout the space can display videos or specimens. Students can use large touchscreens to navigate 3D anatomy modelling programs.
George Yee and his wife, Fay, donated a total of more than $3.3 million to the U of M, including $2.5 million to establish the George & Fay Yee Centre for Healthcare Innovation.
New features enhance orthodontic clinic
---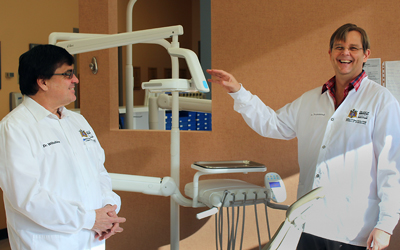 In September, a grand reopening was held for the orthodontic clinic at the Dr. Gerald Niznick College of Dentistry.
The sunny space has been modernized with 12 new dental chairs, enhancing patient care and the learning of residents – dentists who train to be orthodontists through a threeyear master's program. The clinic's sterilization equipment has also been upgraded.
"This allows our residents to practise in a state-of-the-art environment," said Dr. Billy Wiltshire, professor and head of the department of preventive dental science.
The $445,000 cost of the improvements was covered entirely by donations, mainly from alumni and friends of the graduate orthodontic program. "Without that generous support, we would not have been able to do this," Wiltshire said.
Dr. Robert Drummond, assistant professor and director of the clinic, said the upgrades include hermetic packaging of every sterilized instrument, as well as improved sterilization of the clinic's dental water lines.
"Our water now goes through an iodine filter at each chair, protecting against the formation of bacterial biofilms," he said.
The clinic accepts patients of all ages. It provides a full range of orthodontic services, including all types of braces. The cost is about 40 per cent lower than at a private practice. Prospective patients can email uomortho@umanitoba.ca.
Partners to design innovative tools
---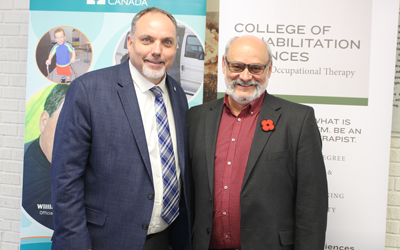 The College of Rehabilitation Sciences and March of Dimes Canada are partnering in a program to design custom solutions for people with disabilities.
DesignAbility West, an expansion of an Ontario program, will serve communities throughout Manitoba, including First Nations. The program calls on volunteers with skills in engineering, design and fabrication to collaborate with health-care professionals, people with disabilities and their caregivers to create solutions such as hair-washing tools, utensil holders and customized beds.
"We have to embrace technology as a way of getting people the help they need," said Leonard Baker, president and CEO of March of Dimes Canada, at the launch of the program in October.
Darlene Odcorn, whose husband, Claude, is a stroke survivor, spoke at the launch. She suggested ideas that would improve Claude's daily life, such as specialized glasses that could block flashing lights and allow him to attend movies and other events without risking a seizure.
DesignAbility West will tap into creativity at the college and in other U of M programs, such as engineering, to address needs such as Claude's, said Dr. Reg Urbanowski, dean of rehabilitation sciences.
The program will expand to Saskatchewan, Alberta and British Columbia over the next three years.
PhD program sees record enrolment
---
The College of Nursing welcomed 10 students into its doctoral program this fall – the largest intake since the program's inception in 2013.
The group includes three nursing faculty members from Red Deer College, an Alberta institution that is currently transitioning to university status.
The three are Kristen Gulbransen, whose research will focus on how kindness affects the interaction between patients and nurses in labour and delivery; Raigne Symes, who will explore how the leadership style of a dean or director influences a nursing faculty; and Shireen Bell, who will examine what makes a nursing student academically successful.
An international student who recently completed her master's at the college is also embarking on her PhD. Originally from Ghana, Naomi Armah [MN/19] came to Winnipeg in 2015 for the master's program. Her research will focus on communication between healthcare providers and patients, particularly looking at intercultural communication education.
"I believe education is an appropriate pathway to facilitate change in health-care systems," Armah said.
One of the Manitoban nurses in the program, Daniel Gagne [BA/97, BN/01, MN/12] has worked in the bone marrow transplant unit at CancerCare Manitoba. He plans to research family transitions following stem cell transplants.
College of Pharmacy honours supporter

---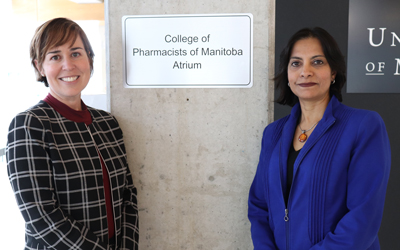 The College of Pharmacy has recognized the long-time support provided by the regulatory and licensing body for the pharmacy profession in Manitoba.
At a dedication ceremony in October, a plaque was unveiled at the Apotex Centre, home to the College of Pharmacy. It marks the naming of the building's atrium as the College of Pharmacists of Manitoba (CPhM) Atrium.
The dedication celebrated the strong partnership between the College of Pharmacy and the CPhM. "We're honoured to recognize the exceptional support that we continue to receive from the College of Pharmacists of Manitoba," said Dr. Lalitha Raman-Wilms, dean of the College of Pharmacy.
Since the early 1900s, the College of Pharmacy and the CPhM have worked closely together to enhance the education and training of pharmacy students and prepare them for professional practice, with a focus on patient safety.
This is especially important, RamanWilms said, as the U of M transitions from the bachelor of science (pharmacy) program to the doctor of pharmacy (PharmD) program and further enhances the practice-related curriculum.
"Our combined efforts to expand the education and training of pharmacists have improved patient access to quality pharmacy care in Manitoba," said Susan Lessard-Friesen [B.Sc.Pharm/83], registrar of the CPhM.
Researcher hones monitoring systems 
---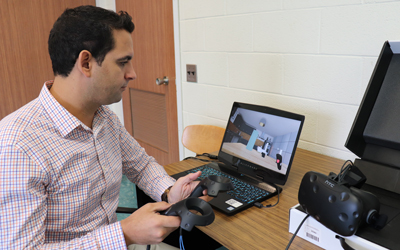 Dr. Amine Choukou, assistant professor of occupational therapy, is leading projects at the College of Rehabilitation Sciences that use technology to detect when people need assistance.
One project received $50,000 from the U of M's Collaborative Innovation Research Fund, which supports interdisciplinary research in tele-presence, tele-health, tele-monitoring and assistive technology.
With U of M professors from computer science and engineering, Choukou is creating a computer platform to compile and analyze data from an Ambient Assisted Living suite – a model apartment with built-in technology such as motion sensors and "smart" floor mats. The data will train the computer to spot anomalies in a suite dweller's behaviour, such as if they stop bathing or cooking.
Choukou also leads a team using "body mapping" technology to develop a system for monitoring patients with dementia at Winnipeg's Riverview Health Centre. The system will detect anomalies such as an altercation, a person falling, or someone breaking an object by recognizing body poses and objects from a database of images recorded by 3D depth cameras.
When a dangerous situation is detected, an alert message is sent to caregivers via a mobile device. "Riverview wants to intensify the use of technology to increase the residents' quality of life," Choukou said.
'Nothing is impossible,' achievers tell prospective students

---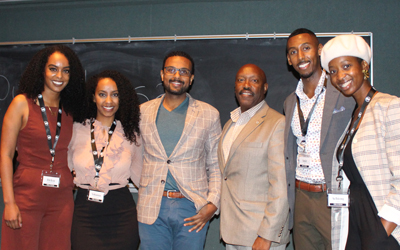 A new student group, the Black Medical Students Association (BMSA), organized its inaugural Black Health Symposium in September.
The day-long event, titled "Breaking Barriers – Making a Career in Health Care More Accessible for Black Students," attracted more than 100 teens and young adults who are interested in health careers.
Fourth-year medical students and BMSA members Helen Teklemariam [B.Sc./16], Amir Ali [B.Sc./15], Yohanna Asghedom [B.Sc./15] and Achieng Tago informed and encouraged prospective students.
Participants toured the Bannatyne campus, heard speakers such as City Councillor Markus Chambers, and received advice on becoming strong applicants to the Max Rady College of Medicine through strategies such as volunteering.
Information was also provided on other health careers, including dentistry, nursing, pharmacy and physiotherapy.
Abseret Hailu [B.Sc./16], a third-year medical student, spoke as a panelist and said she hoped to inspire participants.
"I felt like I had a lot of barriers – being an immigrant, being a woman, being that English was my third language, being of low socio-economic status – [but] I was able to push through," Hailu said. "The biggest takeaway I want the students to have is that nothing is impossible."
Pharmacy students recognized with national awards

---
Three graduate students from the College of Pharmacy earned national recognition for their research at the Association of Faculties of Pharmacy of Canada Awards ceremony in Edmonton in June.
Four out of seven awards presented went to U of M students, with one U of M student receiving two awards.
"This really speaks to the calibre of our students and their supervisors, and the students' potential to contribute to important research work in pharmacy. It also demonstrates the outstanding mentorship provided by our faculty to our students," said Dr. Lalitha Raman-Wilms, dean of the College of Pharmacy.
Amani Hamad, a PhD student, won an award for graduate student research. She analyzed Manitoba health data, examining the long-term safety of antibiotic use during pregnancy and in infancy.
Courtney Lawrence [B.Sc.Pharm/18], a master's student, received a postgraduate pharmacy fellowship award for her research on optimizing antimicrobial therapy in patients receiving kidney dialysis.

Wajd Alkabbani [M.Sc./19], a master's student, won two research poster awards for her Manitoba data study of the use of cannabisbased pharmaceuticals.
College of Nursing strengthens international ties

---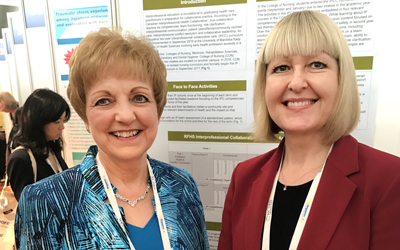 Dr. Netha Dyck [BN/88], dean of the College of Nursing, and Christine Ateah [BN/80, PhD/00], professor of nursing and vice-dean of education for the Rady Faculty of Health Sciences, were among more than 5,000 nursing professionals who gathered in Singapore in June for the International Council of Nurses Congress.
The global event allowed the U of M representatives to network, strengthen existing partnerships and explore possibilities for further international collaboration.
Dyck gave a presentation on the benefits of a teaching portfolio in advancing the scholarship of teaching in nursing education.
"Teaching portfolios are increasingly being used around the world as a key strategy for faculty members' reflection on their teaching and learning practices, as well as improvement in teaching performance," said Dyck, who also moderated an international session on innovative teaching methods.
Ateah presented a research poster on the Rady Faculty's interprofessional collaborative care curriculum, which brings students from the Rady Faculty's five colleges together for interprofessional learning.
"A number of international colleagues expressed interest in developing similar approaches in their countries," Ateah said.
Dentist, dental hygienist honoured at awards gala

---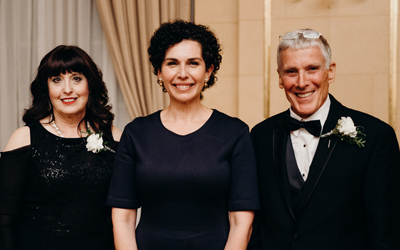 A dentist who is committed to humanitarian service and a dental hygienist whose career evolved into teaching and regulatory leadership were honoured on Homecoming weekend in September.
Alumni and friends of the Dr. Gerald Niznick College of Dentistry and the School of Dental Hygiene gathered for an awards gala at the Fort Garry Hotel.
Ken Stones [DMD/69] received the Alumni of Distinction Award from the U of M Dental Alumni Association. Stones leads volunteer teams on dental outreach trips to countries such as the Philippines and Vietnam. "I'm very indebted… for the education that has opened so many doors for me," he said.
Sheryl Sloshower [Dip.D.Hyg./74, B.Sc.D.Hyg./12] received the Alumni of Distinction Award from the U of M School of Dental Hygiene Alumni Association. In 2005, Sloshower suffered a back injury that ended her 30-year career in dental clinics. It was a difficult setback, but she took on new challenges.
She returned to the School of Dental Hygiene to earn a bachelor's degree and became an instructor there. She has also made outstanding contributions to the regulation of the dental hygiene profession.
Sloshower thanked the U of M "for nurturing my intellect and moral being, and for enabling me to develop strong qualities of leadership."
'You might change the world,' says honoree

---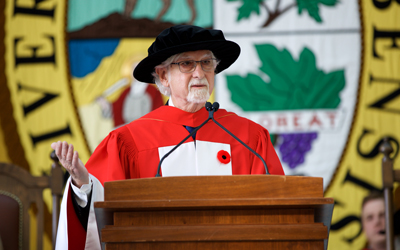 Alumnus Morley Hollenberg [B.Sc.(Hons.)/63, M.Sc./64, D.Sc./19], a renowned biomedical researcher, received an honorary doctorate from the U of M at Fall Convocation on the Bannatyne campus.
Hollenberg completed bachelor's and master's degrees in chemistry at the U of M before earning a doctorate in pharmacology as a Rhodes Scholar at the University of Oxford, then becoming a physician. He has served on the medical faculty of the University of Calgary for 40 years.
A prolific and highly cited researcher, he has been at the forefront of investigating the roles played by certain enzymes in inflammatory diseases, such as arthritis. Outside the lab, he is an accomplished artist.
"You might change the world … even in small ways, where you will make the life of somebody better," he told the graduating students. "The return that you'll get day-to-day is as important as a Nobel Prize.… As a health-care professional, you will be able to minimize suffering."
Hollenberg expressed gratitude to his family – a medical dynasty that started in Winnipeg's North End. His parents were both doctors and the extended family has included at least 15 distinguished physicians, including the late Dr. Charles H. Hollenberg, a laureate of the Canadian Medical Hall of Fame.
'Stand in your power'

---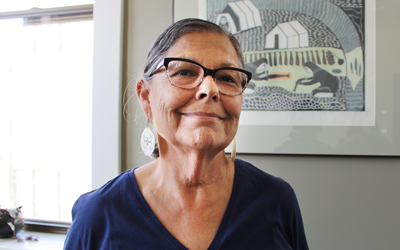 A new Knowledge Keeper has joined Ongomiizwin, the Indigenous Institute of Health and Healing in the Rady Faculty of Health Sciences.
Leslie Spillett, a Cree woman from northern Manitoba, is the founder of Ka Ni Kanichihk, an organization that serves Winnipeg's Indigenous community. What drew her to the role at Ongomiizwin, she said, were Indigenous people's stories about not feeling safe, respected or believed when interacting with the health-care system.
Non-Indigenous students need anti-racism training to "unlearn" assumptions in preparation for health careers, Spillett said. Indigenous students need encouragement to be strong in their knowledge and in sharing their stories.
"The colonial project was all about disempowerment or control, which created a lot of harm," she said. "To change it, you need to stand in your power."
As a Knowledge Keeper, Spillett will honour, build and support the Rady Faculty community by sharing her story and understanding of life. She will also provide guidance and traditional knowledge related to ceremony, identity and connections.
She is proud to see Indigenous people reviving their culture and traditional healing practices. "I don't just want our people to survive," she said. "I want our people to thrive."
New awards foster women's leadership

---
The first recipients of awards from the newly established Winnipeg Foundation Martha Donovan Leadership Fund will be announced in early 2020.
The $250,000 fund was created to provide leadership development opportunities for women in the Rady Faculty of Health Sciences. Over the next five years, $50,000 will be available each year.
Any woman who is a full-time academic faculty member with a primary appointment in a college of the Rady Faculty, or a student, postdoctoral trainee or resident in a program of the Rady Faculty, can apply to the fund to support her pursuit of leadership training.
Sara Israels [MD/79], vice-dean, academic affairs of the Rady Faculty of Health Sciences, said the fund will support the interest and success of women moving into leadership roles at the university and in the community.
"Women are still under-represented in leadership positions, both in the academic and clinical health-care settings," said Israels.
"These awards provide opportunities for women to explore the benefits and challenges of leadership, to develop the skills required to become effective leaders, and to meet other women with similar goals."