UM virologist joins COVID-19 team at USask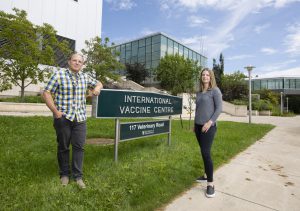 In the summer of 2020, Dr. Jason Kindrachuk, a virologist from UM, joined the research team at the University of Saskatchewan's Vaccine and Infectious Disease Organization-International Vaccine Centre (VIDO-InterVac) for a one-year secondment to help advance research and development against COVID-19.
Kindrachuk, who was raised in Saskatoon, is an assistant professor of medical microbiology and infectious diseases at UM, researcher with the Children's Hospital Research Institute of Manitoba (CHRIM), and Canada Research Chair in molecular pathogenesis of emerging and re-emerging viruses.
He completed his PhD at VIDO-InterVac and has focused his research on dangerous pathogens, including Ebola, smallpox and influenza. During the COVID-19 pandemic, he has done hundreds of media interviews, providing insight on the threat and spread of the coronavirus.
VIDO-InterVac, an international leader in developing vaccines and technologies to combat infectious diseases, has a world-class containment laboratory. In April, the federal government announced $23 million for VIDO-InterVac to accelerate a COVID-19 vaccine. The Saskatchewan government invested another $4 million.
Kindrachuk and other team members are working on antivirals, therapeutics and testing of COVID-19 vaccine candidates for industry partners, while advancing their own research.
Long-term study of kids gathers COVID-19 data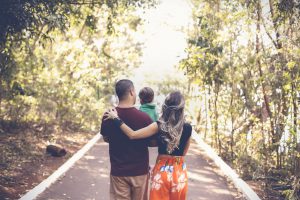 Meghan Azad [PhD/10] is one of the leaders of a national study that is following children to track how early-life factors influence health. The project, known as the Canadian Healthy Infant Longitudinal Development (CHILD) Cohort Study, involves nearly 3,500 children and their families.
"For the last decade, CHILD has been collecting loads of information about the participants' physical environment, their physical health, their mental health, and how these families are growing up over time," says Azad, associate professor of pediatrics and child health, researcher with CHRIM and Canada Research Chair in developmental origins of chronic disease.
Now the study has received funding to investigate the COVID-19 pandemic's effects on the CHILD families' mental and physical health and well-being. The families will complete periodic surveys and will receive antibody testing kits to submit in the winter and again in the spring.
"We collected [pre-pandemic] biological samples from the cohort … so we can analyze their pre-pandemic health and immune profiles alongside the new data," Azad says. "Most studies won't have access to samples like this to do any sort of 'before and after' comparison, so we see this as a remarkable opportunity."
UM researcher developing COVID-19 vaccines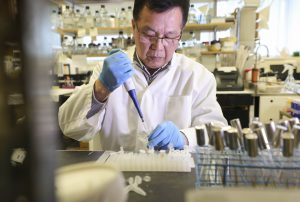 As CBC News reported in October, Dr. Xiao-Jian Yao, professor of medical microbiology and infectious diseases and researcher with CHRIM, is leading the development of two COVID-19 vaccine candidates, using two distinct approaches. Both are in the pre-clinical stage.
One vaccine uses coronavirus proteins in the form of virus-like particles, which "look like" a virus to the immune system and generate an immune response. Yao and his team are testing this vaccine in mice and trying to produce it more efficiently.
The other candidate is a viral vector vaccine, which would use a "carrier" virus to transport coronavirus genes into the human body. Many teams around the world are using viral vectors in the race to develop vaccines against COVID-19.
Yao's team is using a viral vector called the vesicular stomatitis virus (VSV), which mainly infects livestock, such as horses and pigs. Humans aren't typically exposed to it, generally don't show symptoms if infected with it, and can't transmit it to other humans.
The VSV vector can replicate in the body, and only a small amount is needed for each vaccine dose. Yao's team is finalizing the method for producing this vaccine.