Study of mothers' health earns award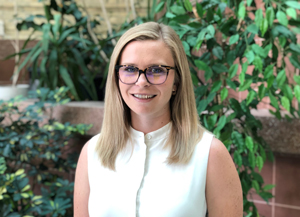 Elizabeth Wall-Wieler [M.Sc./15, PhD/18], a PhD graduate of the department of community health sciences in the Max Rady College of Medicine, received a 2019 Distinguished Dissertation Award.
The researcher won the award, one of six presented annually by the U of M Faculty of Graduate Studies, for her work examining how mothers are affected when their children are taken from them and placed into foster care. The award comes with a $3,000 prize.
Wall-Wieler used anonymized data stored at the Manitoba Centre for Health Policy to research whether there were changes in the health of mothers in the two years after their child was placed in care, compared to the two years before. Her study was the first to investigate this at the population level.
She found that mothers face many challenges in the period leading up to custody loss. These challenges become substantially worse after they lose custody, including increased mental illness and a higher risk of premature mortality, mainly due to avoidable causes such as suicide. The most significant changes revealed by the data were increases in substance use disorders and anxiety.
Wall-Wieler is now a postdoctoral research fellow in pediatrics at Stanford University's School of Medicine.
Surgeon and researcher lauded for leadership
Two outstanding alumni were named to the Top 100 list of Canada's Most Powerful Women of 2019 by the Women's Executive Network (WXN).
Gigi Osler [B.Sc.(Med.)/92, MD/92], a Winnipeg ear, nose and throat surgeon, served as the 2018-19 president of the Canadian Medical Association (CMA). She was the first female surgeon and first woman of colour to be elected to that role.
She was honoured by WXN in the category of Trailblazers and Trendsetters, which recognizes women who are first in their field and have made a great contribution to Canadian society. Osler, who is also a U of M faculty member in otolaryngology, has led international CMA delegations and spoken widely on issues such as diversity in medicine, physician wellness and the health impacts of climate change.
Taylor Morriseau [B.Sc.(Hons.)/17], a Cree scientist from Peguis First Nation, is a U of M doctoral student and recipient of a prestigious Vanier Canada Graduate Scholarship. Her research centres on the genetic and environmental factors that contribute to Type 2 diabetes among Indigenous youth, and whether traditional Indigenous foods could prevent or delay the disease.
Morriseau has made presentations to government as an advocate for Indigenous health. She was honoured in WXN's Future Leaders category, recognizing women under 30 who have distinguished themselves early in their careers.
Nothing sleepy about this story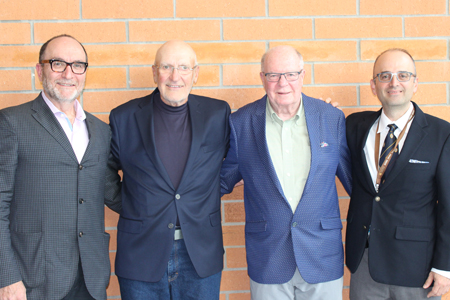 For many years, anesthesia was a sub-department of surgery at the U of M. Anesthetists were viewed as surgeons' assistants.
A recent book by historian Allan Levine [BA/77, Cert. ED/83], The Department of Anesthesia, University of Manitoba: A Fifty-Year Retrospective, 1967-2017, recounts the struggle to establish an independent department – with a residency program so trainees didn't have to leave the province – and for anesthesia to be recognized as a full-fledged academic specialty.
Alumnus John Wade [MD/60] led the young department from 1969 to 1979. "When I started, anesthesia was not held in high regard," Wade recalled. "We were subservient to the surgeons. Some of the surgeons had a difficult time understanding that we had knowledge they didn't have. But eventually, we gained a lot of credibility and respect."
Dr. Chris Christodoulou, current head of the department of anesthesiology, perioperative and pain medicine, said one purpose of engaging Levine to tell the department's story was "to create a lasting legacy of the lessons learned and the challenges we've worked through."
The book particularly highlights anesthesiologists' role in protecting patient safety. It was launched in June, with many past and present department members on hand, and is available at the Health Sciences Bookstore on the Bannatyne campus.