When Aaron Kim [DMD/87] was in Grade 1, his teacher asked each student what they wanted to be when they grew up. He declared that he wanted to be a doctor to help people in Africa.
"It's something that spilled out of my mouth, and it became my lifetime goal," says Kim, associate professor of restorative dentistry at the Dr. Gerald Niznick College of Dentistry. One person who inspired him, he remembers, was Nobel Peace Prize winner Dr. Albert Schweitzer.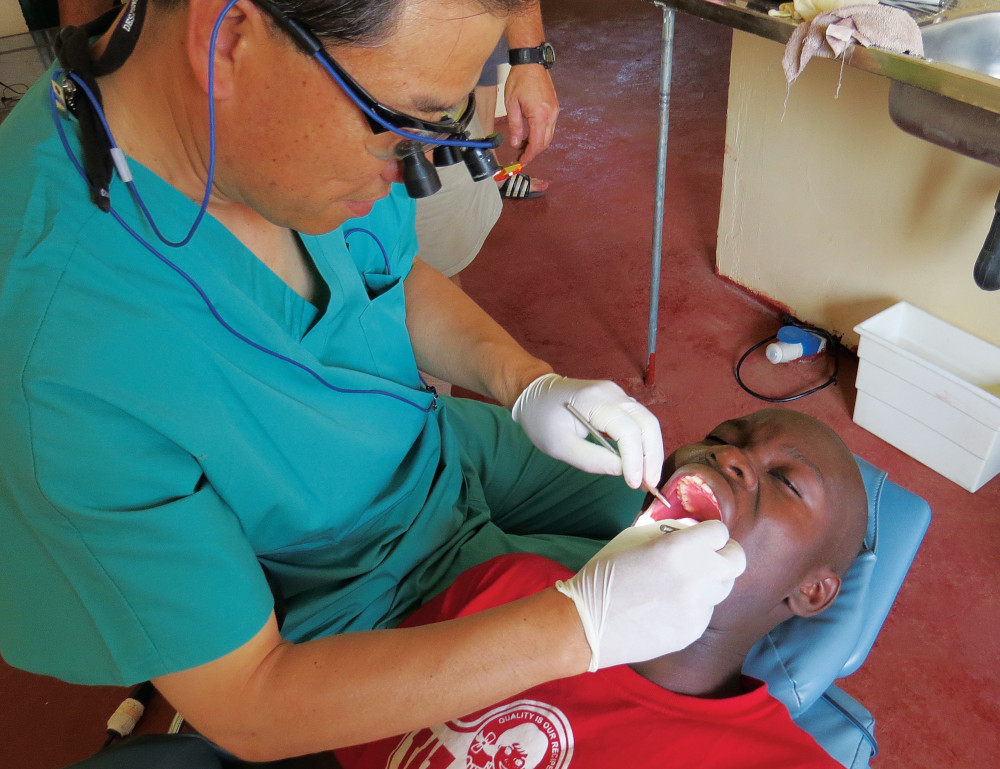 Kim emigrated with his family from South Korea to Canada when he was a teenager. He started engineering school in Toronto, but facing poor job prospects at the time and seeking adventure, he decided to move to Winnipeg and enrol at UM's dental college.
Soon after graduating in 1987 and starting to practise, he returned to UM as a part-time instructor. He joined the full-time faculty in 2011 and is the former associate dean (clinics) at the college.
"As a U of M grad, I have so much pride in my school," he says. "I had amazing teachers who taught us top-level dentistry, and now I'm having fun passing on teachings to undergraduate and graduate students."
In 2002, determined to realize his childhood vision of humanitarian service, Kim organized a dental mission to Kitwe, Zambia. At an orphanage there called Villages of Hope, the children welcomed the dental team with a song.
"My heart was beating like crazy. I thought, 'This was the dream I always had – to serve.'"
Kim has returned to Africa three times, screening and treating more than 1,000 children per trip, and has extended his dental care and education work to Zimbabwe.
On his trips, he takes a team of about 10 Winnipeg dentists and non-dental volunteers who pay their own way. He has had fellow UM faculty join him, including Anastasia Kelekis-Cholakis [DMD/92, Dip. Perio/98], dean of dentistry. There are plans to include dental students on future trips.
He has also made eight solo trips to Guatemala, extracting more than 500 teeth on each mission.
"The patients present to the clinic with rampant tooth decay, dental abscesses and teeth beyond repair, so extractions are warranted," he says. "There is no followup care, so patients expect an extraction rather than saving a tooth."
Kim has led the establishment of dental clinics in Zambia, Zimbabwe and Guatemala, supported by funding from the International College of Dentists and his Winnipeg church. He also ships donated dental equipment from Canada to these countries.
In Winnipeg, he has long donated dental care to Adult & Teen Challenge participants. When he couldn't travel because of the COVID-19 pandemic, he organized a partnership between 40 local dentists, support staff and dental students and the Access NorWest Co-op Community Health Clinic to provide free care for people in need.
Last year, Kim was honoured with the Manitoba Dental Association's Lyle Best Humanitarian Award. "This award is really overwhelming because it feels like I'm still just beginning," he says.
In 2024, he plans to extend his work to Burundi, a desperately poor country where he hopes to build a clinic.
"When I'm treating people, I'm helping people," he says. "That's what motivates me."
BY MATTHEW KRUCHAK