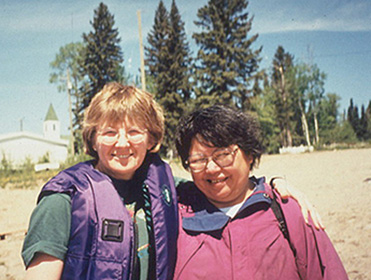 DR. HEATHER DEAN knew all about Type 1 diabetes in children.
But in the late 1980s, the pediatric endocrinologist and U of M professor of pediatrics and child health started seeing a few Indigenous children who mysteriously appeared to have Type 2 of the disease.
Type 2, which can cause complications such as kidney failure and blindness, was considered to be an illness of middle-aged adults. It was unknown in children, except in one population: the Pima people of Arizona.
"It was scary," the now-retired Dean remembers. "Why was it happening to these children in Manitoba?"
Around 1992, when Dean and her colleagues tried to publish their findings about 20 First Nations children in Manitoba and northwestern Ontario, the Canadian Medical Association Journal initially rejected their paper, saying they must be mistaking Type 1 for Type 2.
But it was no mistake. The Manitoba discovery was the tip of a healthcrisis iceberg.
A new book by Larry Krotz, Diagnosing the Legacy: The Discovery, Research, and Treatment of Type 2 Diabetes in Indigenous Youth, traces the 30-year story of how First Nations communities, Manitoba health professionals and researchers journeyed from first awareness to addressing the astoundingly high prevalence of Type 2 in Indigenous youth today.
Dean and three U of M colleagues, Dr. Michael Moffatt, Dr. Elizabeth Sellers [M.Sc./01] and Dr. Jon McGavock [BPE/97], formed an advisory committee that guided the book project, along with Indigenous community members. Funders of the publication included the Max Rady College of Medicine and the Children's Hospital Research Institute of Manitoba.
The book is dedicated to two "lost voices" – early patients in the small wave that would eventually become a tsunami. One of them, Donna Flett from Garden Hill First Nation, was first hospitalized at age nine. Diagnosed with Type 2 in her early teens, Flett experienced blindness and kidney failure. She died of diabetes complications in 1998 at the age of 25.
Donna's mother, Bertha Flett, who is still living, was a nurse who worked closely with Dean and gave presentations with her at medical conferences. Dean would deliver the facts. Bertha would show a poignant video of her late daughter imploring people to take Type 2 in kids seriously. It's an example, Dean says, of how physicians and community members have partnered against the disease.
Ground zero for the youth epidemic was in the Island Lake First Nations in northeastern Manitoba: Garden Hill, St. Theresa Point, Wasagamack and Red Sucker Lake. Early patients also came from nearby First Nations across the Ontario border.
Many Indigenous people of that area carry a gene variant that puts them at risk for Type 2. But the book argues that social and environmental factors play a much greater role. "The genetic experts would say over and over, 'It accounts for a small portion of the story,'" Dean says.
Communities' rapid transition from a land-based diet to processed food undoubtedly played a role, Elders and other experts say. The book also details how social determinants of health, including poverty, inadequate housing and poor access to healthy food and clean water, contribute to risk factors such as childhood stress and obesity.
The rampant illness strikes children as young as seven. Research is showing that it may originate in the womb.
Type 2 diabetes in Indigenous young people, Dean says, is a disease set in motion by colonization. Canadians can help by working toward reconciliation.
"This is a legacy of the wrongs done to Indigenous people," she says. "As Michael Moffatt says in the book, 'I believe answers will come, slowly, through empowerment of Indigenous communities… .'
"I believe very much that we can turn this around."
BY ALISON MAYES