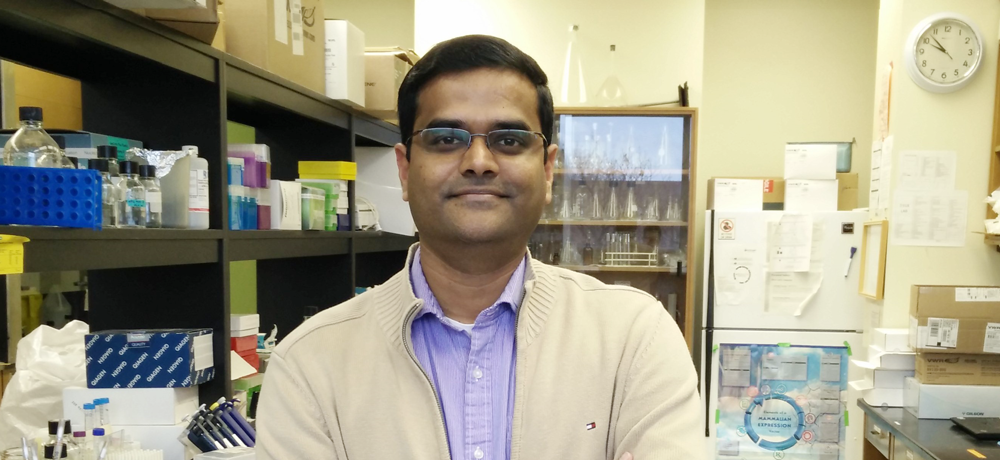 Whether it's the harsh zing of some salad greens or the vile tang of liquid antibiotics, a bitter taste can make many foods and drugs hard to swallow.
Prashen Chelikani [PhD/04] is seeking science-based ways to make bitter products – from spinach extract to chocolate to common medicines – more palatable.
"People might ask, 'Why don't you just add sugar to something that tastes bitter?'" Chelikani says. "That's the easiest solution. But from a health perspective, it's not the right approach."
Chelikani, professor of oral biology in the Dr. Gerald Niznick College of Dentistry, is a leading expert on bitter taste receptors (T2Rs), the cells on our taste buds that sense the pungent kick of substances like black coffee or red wine.
His lab, unique in studying human T2Rs at a Canadian university, is focused on finding a naturally derived way to block bitter taste receptors.
In a 2019 paper in the journal Food Chemistry, Chelikani and his collaborators reported that peptides isolated from chicken protein can block bitter taste receptors. They did the same with beef protein and described the findings in a 2018 paper in the Journal of Agricultural and Food Chemistry.
Now the team is working on a plant-based bitter blocker, using Manitoba-grown pea protein to try to stop bitter taste at the molecular level.
Taste blockers will eventually be added to bitter-tasting medicinal and food products, Chelikani says.  But there are 25 different T2Rs, and to eliminate bitterness across all of them might require a cocktail of blockers. "It's a very challenging project," he says.
Bitter taste receptors are not only found on the tongue. They're located throughout the body, including in the lungs and the gut, and act as chemical sensing receptors. Another area of Chelikani's research is looking at how bitter taste receptors are involved in host-pathogen interactions in diseases such as cystic fibrosis, rheumatoid arthritis and childhood tooth decay.
"We're studying how these receptors are involved in sensing microbes in the mouth and airways, and what happens next," he says. "It's a challenge because we have so many microbes – it can be bacteria, it can be a virus, and it can be fungi, too."
Chelikani, who is also a researcher with the Children's Hospital Research Institute of Manitoba, loves the challenge of working in a relatively new field. T2Rs were only discovered in 1999, so there is plenty to uncover.
In 2015, he founded the Manitoba Chemosensory Biology Group. This research group brings together UM researchers interested in studying human chemical senses, which include smell and taste. It's the only chemosensory biology group in Canada. As its director, Chelikani hopes to one day invite researchers from other universities and develop it into a chemosensory biology centre.
While Chelikani is motivated by a good challenge, he is also fueled by learners. He was recognized in 2015 for his excellence as a mentor, earning the Ed Kroeger Mentorship Award from the Health Sciences Graduate Students' Association.
"Mentors matter," he says. "My mentors helped shape my career."
Raised in Visakhapatnam, India, Chelikani came to UM in 2000 to earn his PhD in the department of microbiology in the Faculty of Science, where he was mentored by Dr. Peter Loewen. He went on to a postdoctoral fellowship at the Massachusetts Institute of Technology in 2003 under Dr. Har Gobind Khorana, a biochemist who received the 1968 Nobel Prize for Physiology or Medicine.
"It was a once-in-a-lifetime experience working with Dr. Khorana," he says. "It was not just the science, but also his wisdom. He was always trying to look at science in different ways."
As Khorana's lab was closing, the timing was perfect for Chelikani to return to his alma mater in 2007 as a faculty member.
"It was an outstanding experience doing my PhD at the University of Manitoba," he says. "I was happy to return to Winnipeg. I love everything about the work I do, from the research to the teaching."
BY MATTHEW KRUCHAK