HOW SHOULD CANADA use its knowledge, expertise and resources to alleviate suffering and improve people's health around the world?
International and Canadian leaders in the field of global public health – including distinguished experts from Brazil, India, Pakistan, Peru, Nigeria and Uganda – gathered at the U of M's Bannatyne campus on June 12 and 13, 2018 to discuss Canada's role in making a healthier world.
The conference, Canada and Global Public Health: Moving from Strategy to Action, was presented by the University of Manitoba and the Gairdner Foundation, a Canadian nonprofit organization that recognizes impactful health research.
"Canada's commitment to global public health policy, programs and preparedness has been recognized throughout the world. But there is much work to be done," said James Blanchard [B.Sc. Med./86, MD/86], Canada Research Chair in epidemiology and global public health and director of the Centre for Global Public Health (CGPH) in the Rady Faculty of Health Sciences, which marks its 10th anniversary this year.
Blanchard, who chaired the conference, highlighted some of Canada's global health challenges: "We need better-coordinated efforts among governments, non-governmental organizations, academic institutions and funders. We need to identify how we can best contribute to priorities set by international organizations and specifically address the health inequities faced by women and girls."
The conference – conceived by U of M infectious disease research pioneer and professor emeritus Allan Ronald [MD/61] –brought together 150 global health experts, graduate and undergraduate students, faculty members, researchers and partners for two days of focused and productive dialogue.
U of M President and Vice-Chancellor David Barnard said in opening the meeting, "Your discussions will be of particular importance to the University of Manitoba, given that population and global health is one of our signature areas of research."
Topics included identifying key challenges in global public health and emerging strategies and opportunities to address them; reviewing areas of Canadian excellence; and developing concrete strategies for mobilizing and coordinating Canada's efforts.
Thirty internationally respected leaders gave keynote addresses or participated on panels, including Dr. Ties Boerma, Canada Research Chair in population and global health and director, Countdown to 2030 for Women's, Children's and Adolescents' Health; Dr. Patricia Garcia, former health minister of Peru; Dr. Assad Hafeez, director-general of health for Pakistan; Prabhat Jha [MD/ 88], Canada Research Chair in global health at the University of Toronto; and Gairdner Award winner Dr. César Victora, professor emeritus at Federal University of Pelotas, Brazil.
To close the conference, U of M President Emeritus Arnold Naimark [B.Sc. Med./57,
MD/57] called on Canadian leaders to forge linkages in order to have a deeper, broader impact on global public health worldwide.
About 300 delegates and guests attended the conference gala dinner at the Canadian Museum for Human Rights. The evening celebrated the University of Manitoba's contributions to global health, including successful research, treatments and discoveries in the areas of maternal and child health, Ebola and HIV/AIDS.
Ashok Alexander, director of India's Antara Foundation and former director of the Indian office of the Bill & Melinda Gates Foundation, praised the U of M's extensive frontline healthcare work in India. He suggested that the university should be known internationally as "the best place in the world for doing global public health."
Marissa Becker [MD/99], associate professor in the Max Rady College of Medicine and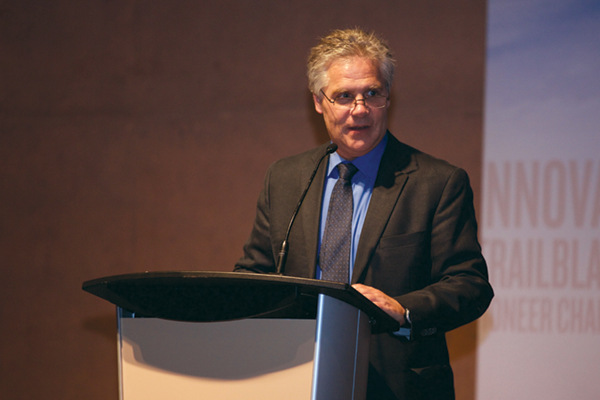 the CGPH, has conducted HIV research in India, Kenya and Ukraine.
"Much of our centre's work has been on addressing inequities in health," Becker told the audience at the gala. "While we reflect on the inequities, we also need to remind ourselves of some of the amazing successes that have been made in health, social justice and human rights. I do believe that the work that we do contributes, at least in part, to these achievements."
Henry Friesen [B.Sc./58, MD/58, D.Sc./98], U of M distinguished professor emeritus and the final speaker at the gala, called the conference "a remarkable two days of insight and inspiration
BY ALISON MAYES