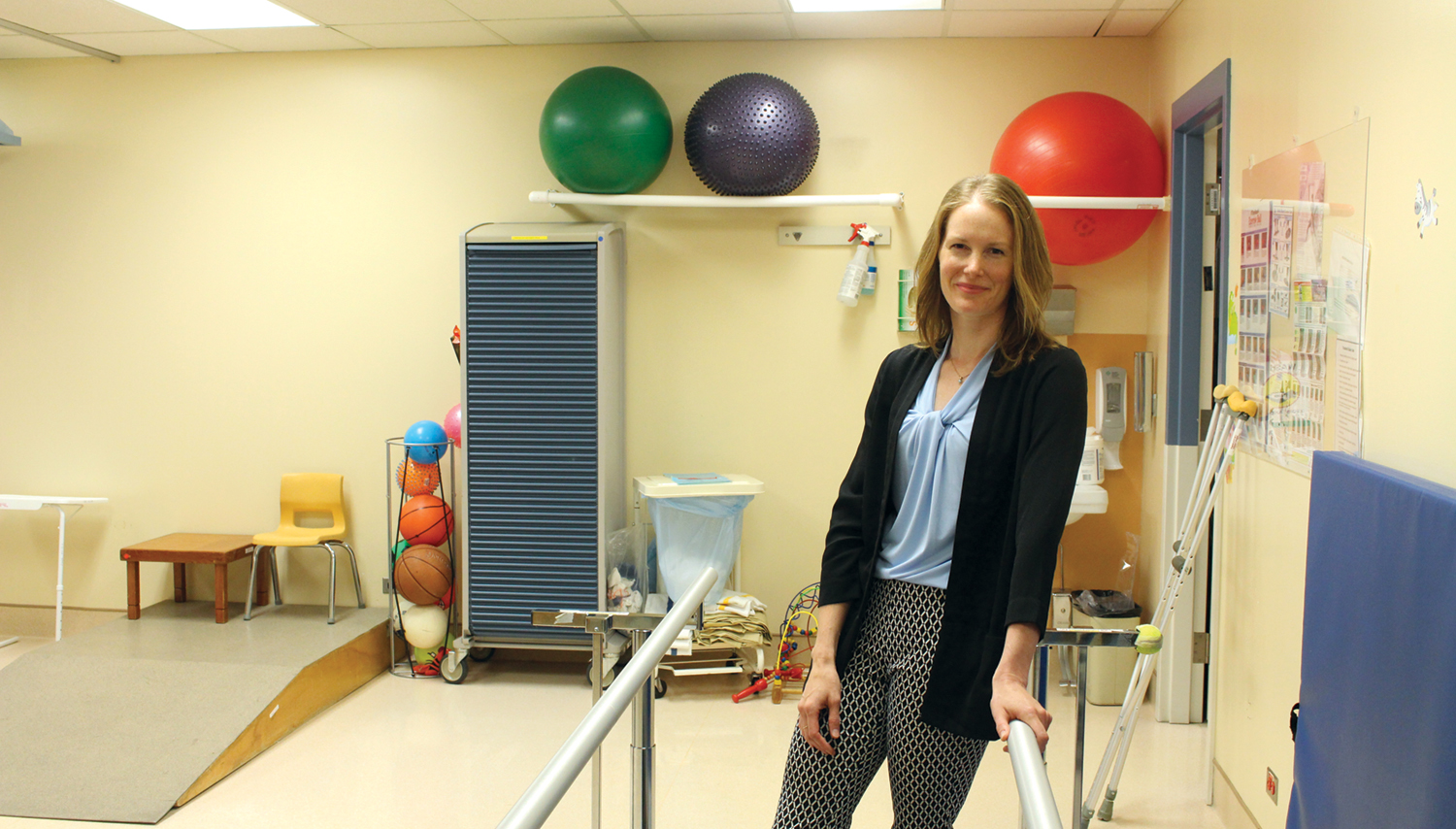 Kristy Wittmeier [BMRPT/02, M.Sc./05, PhD/10] has been a physiotherapist for 16 years, but she still recalls how thrilled she was to receive her acceptance into the physical therapy program at the College of Rehabilitation Sciences after her first year at U of M.
"I actually didn't think I got in at first," she remembers. "The envelope seemed kind of thin, so I assumed it was a rejection letter and put it aside. My parents were the ones who opened it and told me I was accepted! We were all very excited."
Wittmeier grew up in rural Manitoba and went to school in Beausejour. She decided in Grade 9, after job-shadowing a physiotherapist for a school project, that this was the career she wanted. It seemed invigorating and multi-faceted.
Today, she's still enthusiastic about her career choice and the opportunities it has afforded her to make a positive impact in patients' lives.
Many of those patients have been kids at Winnipeg's Children's Hospital, where Wittmeier started her career as a physiotherapist, and eventually returned after earning her master's in rehabilitation sciences and her PhD in physiology. Her passion for pediatrics, she recalls, was sparked by one of her favourite physiotherapy instructors.
"It was in my second year of physio, during her first lecture, that one of my instructors, pediatric physiotherapist Kathy Mulder [Dip. PT/74, BPT/81], demonstrated such enthusiasm, curiosity and sharp critical reasoning that I just sat there and thought, 'That's the kind of physiotherapist I want to be.'"
When Wittmeier graduated, she asked Mulder to become her formal mentor. "She's been an inspiration and a wonderful mentor to me. We've collaborated on several projects." Wittmeier, who has two children of her own, currently spends two days a week as a physiotherapist at Children's Hospital. She's part of two teams, one caring for children with cystic fibrosis (CF), and the other devoted to children and youth who live with chronic pain.
"I'm inspired every day by the children and youth that I work with," she says. "They're brave, they're wise, and often we have a lot of fun together.
"Physiotherapy for CF focuses mainly on keeping the lungs healthy and the airways clear. We try to keep it fun. When a child with CF has been admitted to the hospital, depending on their age and interests, we may pull out the hockey or soccer equipment and play as part of treatment."
Pediatric physiotherapists, Wittmeier adds, may work with families whose children have congenital conditions or developmental differences. "Some babies will start receiving therapy shortly after birth to help them meet certain developmental milestones. For some, therapy is a brief episode of care. Others may interact with physiotherapists and other health-care providers for years."
When she's not at Children's Hospital, Wittmeier is focused on research as an assistant professor in the Max Rady College of Medicine's department of pediatrics and child health and clinician scientist at the Children's Hospital Research Institute of Manitoba, or on her role as physiotherapy innovations and best practice coordinator with the Winnipeg Regional Health Authority
Through various collaborations, her published research has explored topics such as knowledge translation and patient involvement in health research; developing and testing a mobile app to help young men with mild hemophilia self-manage injuries; and improving access to physiotherapy for children with complex needs.
One of her current research projects, in collaboration with the national ChildBright Network, aims to determine how to better support families who are waiting for their children to be evaluated for developmental differences.
Wittmeier recently trained as a therapeutic yoga instructor and now incorporates aspects of yoga into her clinical work with children.
"I remember thinking in my undergrad years that physiotherapy is a profession that you can never get tired of," she says. "If anything, I've become more excited about the opportunities within our profession over the years."
BY SHARON CHISVIN