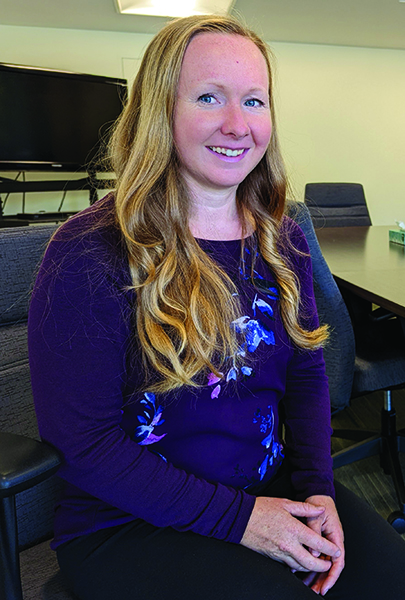 When Elizabeth Stoesz [MOT/09] completed a UM master's degree in occupational therapy in 2009, she felt uncertain about her employment qualifications.
"After I graduated, I thought I wasn't prepared," she remembers. "Then I started working, and I suddenly realized that everything I had learned was coming together."
Stoesz's first job after earning her master's was at the Centre for Adult Psychiatry in Brandon, Man., where she worked with adults with severe mental illness and led group sessions on anger management and coping skills.
She went on to work at Winnipeg's Macdonald Youth Services with youth who had concurrent mental health and substance use disorders.
These positions increased her confidence, she says, and introduced her to different aspects of occupational therapy while she gained experience interacting with clients.
Stoesz is now a rehabilitation counsellor with the Addictions Foundation of Manitoba, in partnership with Community and Youth Corrections (Youth Justice Project).
In this role she facilitates youth access to counselling, meets individually with youth clients to work through alcohol and drug assessments and treatment plans, leads group sessions and delivers educational programming.
"My goal is to provide a safe, unbiased space where young clients can talk openly, without fear of judgment or repercussion, and work toward positive change," Stoesz says.
"I enjoy partnering with clients to identify what kind of change they want to make and how they will draw on their strengths and resources to make that change."
When she was searching for jobs, one challenge Stoesz faced was that not all employers understood how well occupational therapists' skill sets prepare them for positions beyond traditional OT roles.
"A big thing I had to do was educate people about what occupational therapy is and why I'm a good fit for these positions," she says.
Stoesz, who grew up in Winnipeg and holds a bachelor's degree in psychology, says the skills she developed through her two-year occupational therapy master's program have been vital to her success. As a graduate student at the College of Rehabilitation Sciences, she learned to assess clients using occupational therapy models.
These models focus on the interaction between occupation (self-care, productivity, leisure), environment (physical, cultural, social) and the person (physical, mental, emotional).
"We used this holistic approach for both assessment and intervention," Stoesz says.
"We worked through hours of case studies that prepared me well for the role I have now."
Stoesz also credits her OT education with preparing her to communicate with all the professionals who are typically attached to high-risk youth clients.
"During my OT practicum placements, I experienced working with a multidisciplinary team, clarifying and defining roles, communicating about the interventions I was delivering, and advocating for the needs of the client in person and in writing.
"Clear, thorough, effective documentation is such a large part of my job. I recognize now that all the written assignments and feedback in the OT program were really honing my skills in this area."
BY UM TODAY STAFF WITH ANNE ENCABO AND DANIELLE LEE