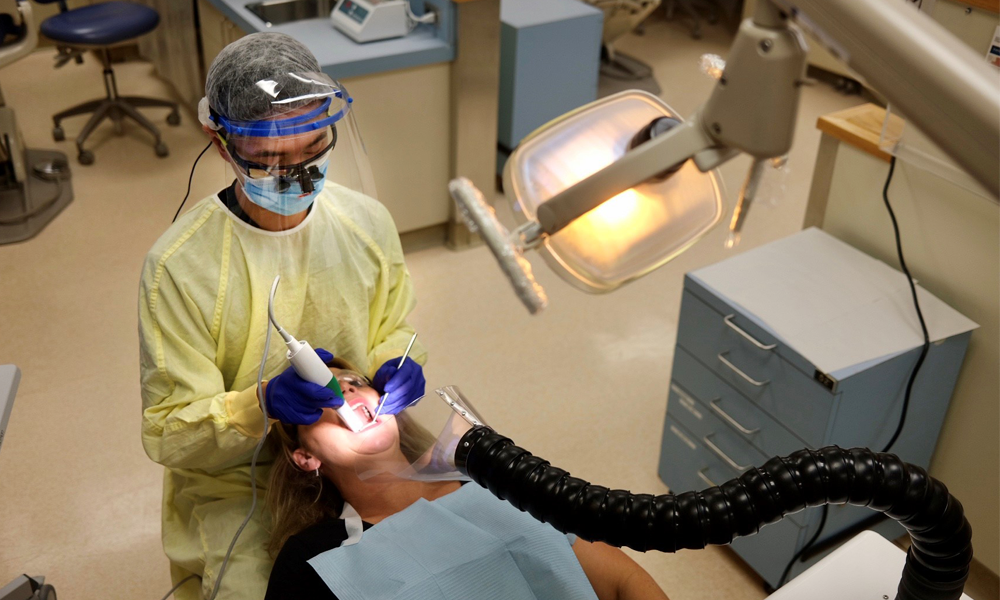 The Dr. Gerald Niznick College of Dentistry's undergraduate clinic looked different when it reopened to patients in early September.
But the care provided by dental students and their supervising faculty members was still of the same high quality.
New safety protocols and equipment, a reduced capacity and digital record-keeping were introduced to keep patients, students, faculty and staff safe. The clinic – the largest one operated by the dental college – had been closed since March because of the threat of COVID-19.
"It was great to have the students back and treating patients," says Dr. Trenna Reeve, associate dean (clinics) at the college. "Although this is the 'new normal' while we're dealing with the pandemic, it allows us to do what we need to do to care for patients and teach students."
Daniella Battaglia, a fourth-year dental student, was thrilled to return to the clinic and care for patients again.
"I think I can say for myself, and all of the other fourth-year students as well, we were really excited to go back to the clinic," she says. "Dentistry is our passion, and it had been a while since we'd been able to provide care and interact with our patients."
As part of the new safety measures, patients are now screened using the Shared Health protocol 24 hours before their dental appointment. They are screened again when they enter the building, and yet again when they arrive at the clinic. They are also asked to wash their hands and wear a mask.
The "new normal" includes staggered arrival times. When a patient arrives at the clinic they are led directly to a dental chair, instead of checking in at the front desk. This eliminates a crowded waiting room.
The clinic is operating at reduced capacity, with 36 of the 65 chairs being used, allowing for a total of about 100 patients per day.
The college's infection prevention and control protocol and personal protective equipment standards exceed what is mandated by the Manitoba Dental Association, Reeve says.
For a low-risk procedure like a dental exam or an X-ray, a dental student wears a face mask, face shield, fresh scrubs, gloves and shoes that are only worn in the clinic. For a moderate to high-risk procedure like a tooth extraction, students also wear a head cover and isolation gown.
A high-volume evacuator system is used during moderate to high-risk procedures. The cup of the suction device is placed beneath the patient's chin, and it sucks up aerosols released during the procedure.
"The high-volume evacuator systems are helping keep patients, staff and students safer," Reeve says. "This is above and beyond what the Manitoba Dental Association has regulated."
To limit the number of people handling paperwork, paper charts have been eliminated and the college has placed a computer with a signature pad at each station. This was made possible with funding from benefactor Dr. Gerald Niznick.
"We've gone fully digital," Reeve says. "It's having a huge impact."
The college has increased its custodial schedule to clean and disinfect waiting rooms and common areas with higher-level disinfectants.
The graduate-level orthodontic, periodontal and prosthodontic clinics at the college have also reopened with enhanced infection-control measures in place.
Battaglia, the student, says she is happy that the undergraduate clinic is open because it is a crucial part of her dental education.
"The U of M prides itself on how much hands-on experience we get, and the clinic plays a fundamental role," she says. "The clinic really helps us develop not only our interpersonal skills but our hands-on skills as well.
"COVID-19 has changed dentistry, and I'm looking forward to taking on the challenges. This is the new norm for dentistry, so I think it's good that we're getting as much support from the college as possible. This is something that we're going to have to get used to once we graduate."
BY MATTHEW KRUCHAK