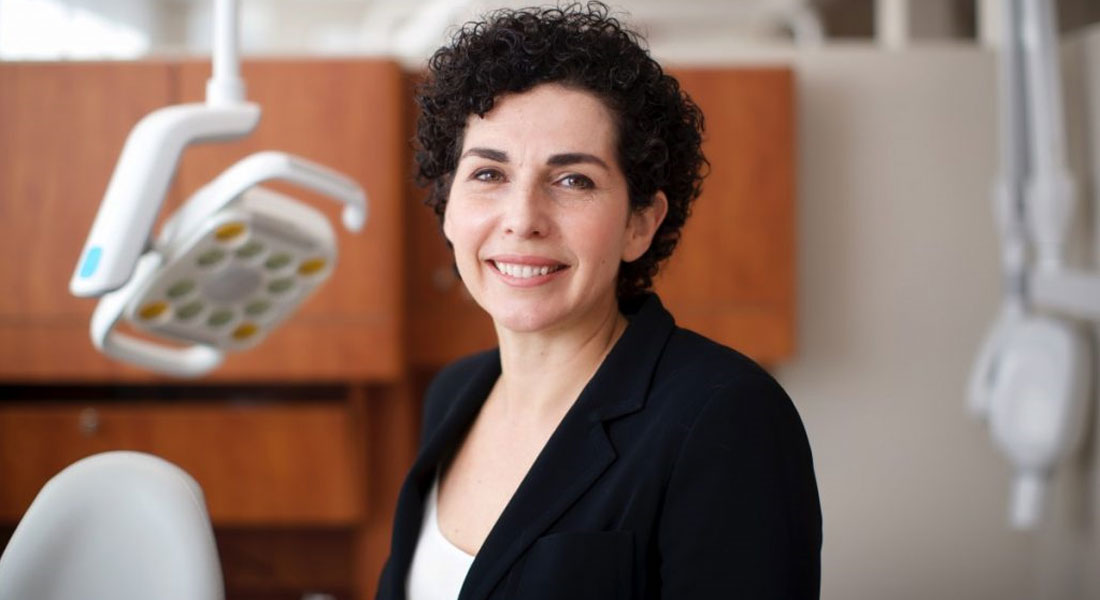 WHEN ANASTASIA KELEKIS ARRIVED in Canada to attend university, she planned to follow three generations of her family into medicine.
Born in Switzerland to Greek parents, she'd been educated in Athens and Brussels and was fluent in English, French, Italian and Greek. Her parents had sent her to Winnipeg to tuck under the wing of her dad's cousin Leo, co-owner of the iconic Kelekis Restaurant.
Then, during her undergraduate studies at the University of Winnipeg, she met her future husband, Ernest Cholakis [DMD/82]. He was a newly graduated dentist.
"Through him, I was exposed to dentistry and I realized that it blends the intellectual pursuits of health sciences, art, behavioral management and business with the profound satisfaction of directly helping people. That was very compelling to me," recalls the longtime faculty member, now known as Anastasia Kelekis-Cholakis [DMD/92, Dip. Perio/98].
Having found her ideal career, she never looked back. On July 1, the well-known Winnipeg periodontist and director of the U of M's graduate periodontal program takes the helm as the first female dean of the Dr. Gerald Niznick College of Dentistry. She is also the first-ever graduate of the college to be appointed dean.
"By nature, I'm a builder. I love challenges," says the dynamic associate professor, who started teaching part-time at the college 26 years ago and became full-time nine years ago, while continuing in private practice one day per week.
"I know the school, and I believe I can contribute to its growth. When I lecture to students, I remember sitting in those chairs."
What kind of leader will she be? "I'm a proponent of excellence," she says. "I'm very results-oriented. But I'm not a top-down kind of leader. I'm collaborative and I tend to seek opinions from all the stakeholders before I come to a decision. I think leadership is more successful that way."
In 1992, Kelekis-Cholakis graduated as a member of the first U of M dentistry class to attain gender parity. She returned to earn a diploma in
periodontics in 1998, becoming only the second woman in Manitoba to practise the specialty concerned with the gums and bone that support teeth, and with placing dental implants.
"I didn't have a lot of female role models, but I didn't dwell on it," she says.
Kelekis-Cholakis founded Winnipeg's Southwest Specialty Group, one of the first practices in Canada to offer a variety of dental specialists in one location, and trained in implant dentistry under Dr. Carl Misch, a trailblazer in the field.
While raising four daughters with Ernest, she has published research, lectured internationally and made dentistry outreach trips to Africa. In 2018, she served on the Peri Implant Disease Project special committee, a panel of experts from 10 countries.
The foremost strength of the 62-year-old dental college, she says, has always been hands-on clinical education. But to remain at the clinical forefront, the greatest challenge will be to stay current with technology and expertise.
"Dentistry has evolved tremendously, with digital technologies, 3D X-ray imaging, robotic surgery, lasers, dental microscopes – those are just a few examples," she says. "The new technologies are very expensive and require a significant amount of training.
"We've been very lucky to have a benefactor and champion, Dr. Gerald Niznick, who is generously supporting us in staying on the leading edge. We also have tremendous support from industry."
Besides a new strategic plan and a capital campaign for clinical renovations, the incoming dean says her priorities include enhancing patient care and student education at the college's clinics and finding ways to improve access to care.
Although some deans of dentistry don't keep their licences active, Kelekis-Cholakis plans to continue in private practice one day a week. "It allows me to keep my finger on the pulse of the profession," she says. "That will benefit the students."
BY ALISON MAYES