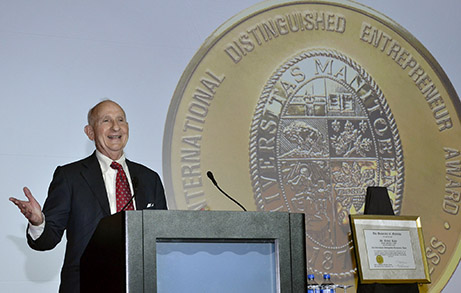 UM alumnus and visionary Ernest Rady [BComm/58, LLB/62, LLD/15] received the 2021 International Distinguished Entrepreneur Award (IDEA) from The Associates of the Asper School of Business at a gala at the RBC Convention Centre in November 2021.
The Winnipeg-born business leader was honoured for his entrepreneurial achievements and significant philanthropic contributions in both Canada and the United States.
"Ernest Rady's legacy at UM, throughout this province and globally is simply astounding," UM President and Vice-Chancellor Dr. Michael Benarroch said at the event.
In 2016, Rady and his wife, Evelyn Rady [BA/60, BSW/61, MSW/67], donated $30 million through the Rady Family Foundation to UM in support of health sciences – the largest personal gift in the university's history.
The couple dedicated the gift to the legacy of Ernest's parents, physician Max Rady [MD/21] and his wife, Rose. In recognition of the landmark donation, the faculty was renamed the Rady Faculty of Health Sciences and the medical college the Max Rady College of Medicine.
Max Rady came to Canada as an immigrant, escaping Jewish persecution in Russia. He worked to put himself through medical school at UM. At the IDEA gala, Ernest Rady said he wanted to thank the Manitoba community.
"You gave my family freedom, you gave my family an occupation, you gave me an education and you gave me a great start in life," he told the audience of more than 750. "I'm grateful to you."
He went on to share some of the key lessons he has learned in business, including "The easiest way for me to grow as a person is to surround myself with people who are smarter than I am" and "Everyone wants to live on top of a mountain, but all the happiness and growth occur while you're climbing."
Rady, who earned commerce and law degrees at UM and was later recognized with an honorary doctorate from the university, has lived in San Diego, Calif. since the 1960s.
He founded several highly successful businesses, including American Assets Trust, a real estate investment trust where he is chairman, president and CEO, and Insurance Company of the West, now part of ICW Group Holdings.
The Radys' $30-million investment in the Rady Faculty of Health Sciences is propelling teaching, learning and research. The gift's endowment fund bolsters financial aid to support students in accessing post-secondary education.
The impactful gift has funded the new Rady Chair in Interprofessional Collaborative Practice, a role established to enhance relationships between educational and practice systems to promote excellence in health care.
The Rady Innovation Fund, also made possible by the gift, provided a total of $1 million over three years to support 10 cutting-edge research projects conducted by interdisciplinary teams of faculty members. The researchers made important findings in study areas such as brain tumours, HIV risk, rehabilitation service delivery, Rett syndrome, and inherited health risks for diseases such as diabetes and asthma.
At the IDEA gala, Rady received another tribute: he was invested with the Order of Manitoba, the province's highest honour. It is given to Manitobans who have demonstrated excellence and achievement, thereby enriching the social, cultural or economic well-being of the province and its residents.
BY UM TODAY STAFF