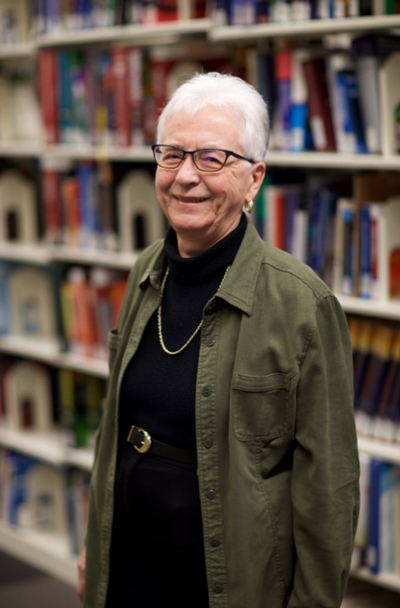 HAVING ONE OF YOUR GREATEST CAREER ACCOMPLISHMENTS come after you've retired is uncommon for anyone. But so is staying retired for less than a month.
In 2005, Juliette "Archie" Cooper [BOT/79, M.Sc./82, PhD/87] retired after serving for six years as director of what is now the College of Rehabilitation Sciences.
She lasted for three weeks before returning to teach in the department of occupational therapy.
"I thought I wanted to garden, putter around the house and organize photographs, but I found out that was terribly boring," says Cooper, who has taught at the college for 46 years and now has the title professor emerita.
A year after "unretiring," Cooper was asked to chair a fundraising committee for the renovation of the university's Neil John Maclean Health Sciences Library. The goal was to raise $2 million.
"People are willing to give funds for student support, like scholarships and bursaries," she says. "But to ask for bricks and mortar was a little more challenging."
When the donations flowed in and the transformed library was unveiled in 2010, the professor felt she had contributed to an important legacy project. "It is beyond beautiful," she says.
Dr. Reg Urbanowski, dean of the College of Rehabilitation Sciences, says Cooper is a valued mentor, colleague and source of institutional knowledge. "She's part of the fabric of the college," he says. "She's wise, passionate and all-caring. Students find her extremely approachable, and she is internationally known in her profession."
Cooper was born in British Columbia and lived as a child in South America, where her father worked in mining. She picked up the nickname "Archie" because her parents had planned to call her Archibald if she was a boy.
She had an aunt with an interesting career as an occupational therapist. After moving back to Canada in her teens, Cooper followed in her aunt's footsteps, earning a diploma in physical and occupational therapy at the University of Toronto in 1963.
A job in genetics for her husband, John, brought them to the U of M. Cooper became a part-time lecturer at the university in 1973, then poured energy into upgrading her education. She completed three degrees: a bachelor of occupational therapy, then a master's and PhD in human anatomy.
During her bachelor's studies, she says, "I had this amazing teacher named Jal Tata. In his lab he was using electromyography to record signals from muscles. I remember walking in and seeing that and saying, 'Oh, my goodness. I want to do that.' Now I've been teaching anatomy for 39 years."
Cooper has published research on topics such as rehabilitation services in Nunavut, work disability prevention and back injuries among nurses. Her national roles have included serving as president of the Canadian Occupational Therapy Foundation.
In 2012, when she received the Muriel Driver Memorial Lectureship award, her lecture – published in the Canadian Journal of Occupational Therapy – called on her fellow professionals to "put down the looking glass" and do more to help the general public understand the work of occupational therapists.
She served for many years on the U of M senate and board of governors. In 2012, she chaired a committee on how the university could better accommodate students with disabilities. In 2015, when she received the Distinguished Alumni Award for service to the U of M, it was noted that her influence is felt across the entire institution.
She even had a stint as interim dean of music from 2005 to 2007, despite never playing a musical instrument. "They told me they didn't need a musician, they needed an academic administrator," she says. "I came away with a much richer appreciation for music."
Cooper says one of her greatest joys is seeing her former students return as colleagues. What else keeps her coming to work?
"I have a series of functional anatomy study guides that I add to every year. It's a labour of love and there are new developments all the time," says Cooper, who is also still involved in research projects with students and colleagues.
"I think I have this need to always learn more. And no two days are ever the same."
Visiting Scholar Program hosts first guest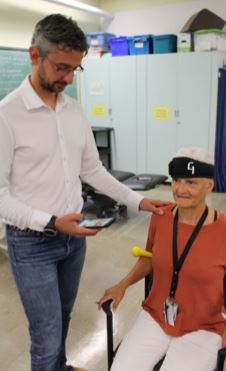 Retirement didn't last long for the tireless Juliette "Archie" Cooper. But the gift she made to mark the occasion will have an enduring impact on research and knowledge-sharing.
Dr. Néstor Pérez Mallada, a physical therapist and researcher from Spain who is an expert in biomechanics, recently visited the College of Rehabilitation Sciences for two months as the inaugural guest of the Juliette Cooper Visiting Scholar Program.
The program replaces a lectureship that Cooper, now professor emerita of occupational therapy, established as a gift of appreciation to the university when she retired – very briefly – in 2005.
"I originally set up the lectureship to promote our own research excellence," Cooper says. "The Visiting Scholar Program now builds on the research expertise in the college to create partnerships with other investigators. I'm delighted to see this evolution."
Visiting scholars are invited to the college for a month or longer to work with students, collaborate with faculty and give lectures, including a presentation as part of the college's Illuminate Speaker Series.
Mallada, a faculty member of Comillas Pontifical University in Madrid, is co-leading an international study with Dr. Barbara Shay, head of the U of M physical therapy department.
The study is using a digital headband device to measure the neck movements of healthy adults. The findings will be part of a five-country database that will help physical therapists to better understand the causes of neck pain.
BY ALAN MACKENZIE