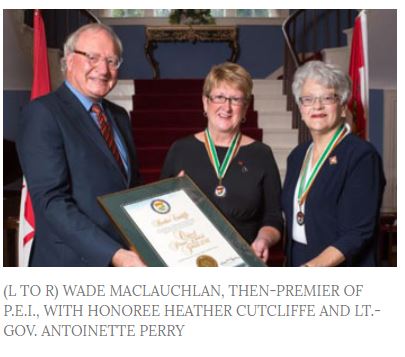 WHEN OCCUPATIONAL THERAPIST Heather Cutcliffe [Dip.OT/78] found out she would receive the Order of Prince Edward Island – the province's highest citizen honour – she was shocked and a bit overwhelmed.
A lifelong Islander, Cutcliffe was invested at a ceremony at Government House in October 2018, alongside Paralympic medalist Mark Arendz and farming entrepreneur Irene Jewell.
Cutcliffe was nominated by her daughter, Rachel Harper, and a group of colleagues who admire her visionary thinking and her dedication to health care and the community.
"When I was first contacted, I couldn't believe it and cried. I never set out to be recognized," she says.
Cutcliffe was always drawn toward helping people. She initially took an interest in physical therapy in high school – until she discovered the field of occupational therapy.
"I loved the way OT looks at the whole person, not just the leg or arm, and enables them to return to their daily routines of living," she says. "I never knew anything about OT before that, but I never looked back."
Cutcliffe, the eldest of nine children, grew up in Hampton, a small rural community in P.E.I. She initially planned to attend the University of Toronto, but after a visit to Manitoba as a volunteer chaperone with a high-school group in 1974, she thought the Prairies would be a better fit.
The only time she spent a significant period away from her home province was when she attended the U of M. Then known as Heather Morrison, she graduated in 1978 with a diploma in OT – a program that evolved into today's master of occupational therapy in the College of Rehabilitation Sciences.
Like many students who go away to university, Cutcliffe missed P.E.I. and her family and went home for the summers. When she returned to U of M for her third and final year, she soon felt as though she had gained a second family.
She will never forget the kindness of her supportive classmates, professors and the then-director of the School of Medical Rehabilitation, Dr. Ron Bowie.
"I had a ruptured appendix, but they took care of me and helped me graduate," Cutcliffe remembers. "They rallied around me, took my notes and checked up on me regularly. If I hadn't graduated in 1978, I'd have had to start all over again because OT was switching from a diploma program to a degree program that year." I
n addition to the lifelong connections she made, Cutcliffe says her U of M experience equipped her with the OT knowledge and skills necessary to enjoy a diverse career.
She went on to become a leader of her profession, both provincially and nationally. She is currently registrar for the P.E.I. College of Occupational Therapists and vice-president of the Association of Canadian Occupational Therapy Regulatory Organizations.
Living in the small community of Augustine Cove, she continues to work casually at Queen Elizabeth Hospital in Charlottetown, where she served as manager of OT, PT, speech language pathology and prosthetics for nearly 20 years.
She has been a driving force in improving services for patients and families, from enhancing stroke care to playing a key role in a program that provides specialized seating and mobility aids to Islanders with disabilities.
One of her proudest accomplishments was implementing a program whereby all kindergarten to Grade 3 students in P.E.I. have access to occupational therapy services at school.
She is also known for her health and wellness volunteer work, including building a girls' hockey program and helping to develop a wellness centre in her community.
Cutcliffe has received numerous awards, including the Canadian Association of Occupational Therapists Award for innovative practice and the P.E.I. Occupational Therapy Society's Joy Mill Award for her outstanding contribution to occupational therapy.
"My parents were long-time volunteers who saw work that needed to be done and did it," she says. "I think I'm cut from the same cloth."
BY ALAN MACKENZIE