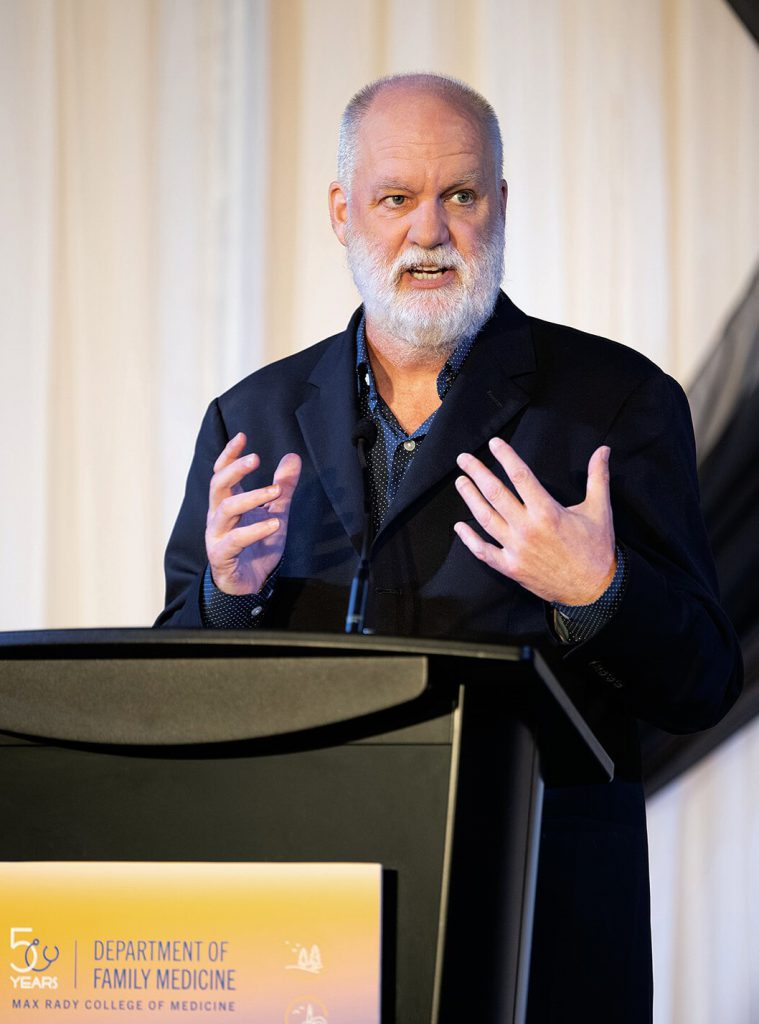 What's wrong with health care?
"We're trying to deliver 21st-century care with a 1950s model of health-care delivery and funding," says André Picard. "We have an Edsel, but we need a Tesla."
Picard, an award-winning Globe and Mail health journalist and bestselling author, was the guest speaker at a gala in May at the Manitoba Museum.
The celebration marked the 50th anniversary of the 1973 founding of the department of family medicine in what is now the Max Rady College of Medicine.
Picard addressed more than 340 primary health-care providers, educators and guests at the event. He described the Canadian healthcare system as broken, but said hope lies in strengthening the all-important primary level of care.
"I believe the future of medicine belongs to family medicine," he said.
Other speakers at the gala described how UM is working hard to be part of this solution. Peter Nickerson [B.Sc.(Med.)/86, MD/86], dean of the Rady Faculty of Health Sciences, noted that the department of family medicine recently increased its number of residency spaces from 52 to 62. Manitoba, he said, was one of only two provinces that filled all of its family medicine residency seats this year.
Health Minister Audrey Gordon [BA/07, MBA/12] told the audience, "I applaud the department of family medicine for being an integral partner in helping to ensure Manitoba's strong health-care workforce."
Dr. José François, head of the department and provincial specialty lead for family medicine at Shared Health, said, "I strongly believe our department will play an important role in building – and rebuilding – our workforce.
"Over the past 50 years … we've demonstrated our ability to provide continuity of care, to build meaningful relationships with patients and families, and [to make] an impact on the health and well-being of our communities."
The UM department has been a pioneer in rural education for family doctors, François said. "We established the Parkland residency program 25 years ago. It was the first rural residency in the country."
While the department is based on UM's Bannatyne campus, over its 50 years the program has grown to include 13 training sites, serving patients as far north as Churchill and as far south as Morden, with Iqaluit to the east and Hay River, N.W.T. to the west.
In 2018, Mandy Buss [B.Sc./03, MD/09], a graduate of family medicine's northern remote stream, was named the first Indigenous health lead for the department.
The department has advanced team-based care through initiatives such as bringing the master of physician assistant studies (MPAS) program under its umbrella. François described MPAS as Canada's leading physician assistant program.
Some of the department's latest advances include new programming in its enhanced skills program, with a focus on addressing the addictions crisis. Two new professorships in research are working toward leading-edge quality improvement for residents. And a newly launched peer-support program is underway to combat physician burnout.
"I want to recognize all the UM faculty members … who play a pivotal role in providing primary care in their communities while serving as teachers and mentors, educating, training and inspiring the next generation of family physicians," said Nickerson.
BY ANNETTE ELVERS