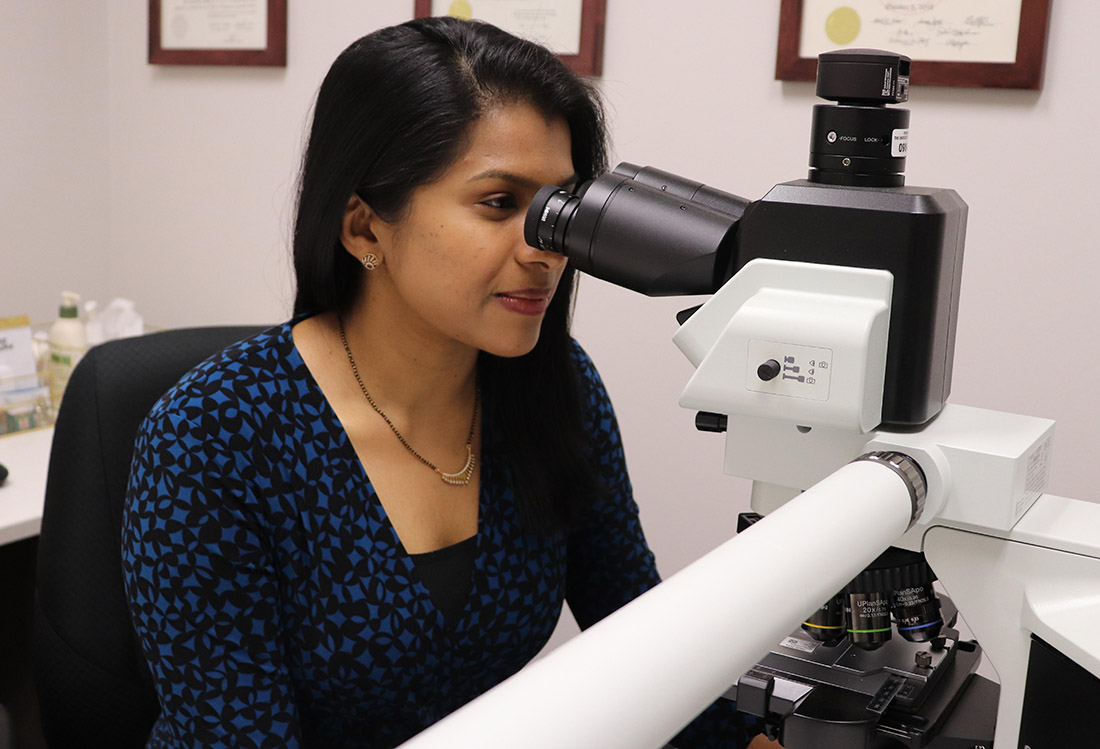 Dr. Vimi Mutalik peers intently into the large microscope on her office desk. It's the tool she uses to make a difference in the world.
"This is my favourite gadget," says the assistant professor and division head of oral diagnosis at the Dr. Gerald Niznick College of Dentistry. "People have their smartphones; I have my microscope."
When Mutalik was growing up in India, her father taught her that she would be happy in life if she served others.
After becoming a dentist and an academic in India and Malaysia, she chose to specialize in oral pathology so she could detect andstudy benign, pre-cancerous and cancerous conditions of the mouth, jaws, throat, head and neck.
If she became an expert at diagnosis, and at teaching diagnostic skills to dentistry students, she thought, she could improve or save people's lives.
Mutalik's microscope became her tool for histopathology – the microscopic examination of pathologic tissues.
Her research publications include a study in the Journal of Oral and Maxillofacial Pathology on the histological presentations of rare tumours often associated with impacted teeth; a paper in Head and Neck Pathology on oral presentations of deep fungal infections; and a study in the Journal of Applied Oral Science on a biomarker of metastasis and recurrence in oral squamous cell carcinoma.
About five years ago, Mutalik recalls, she kept seeing patients with pre-cancer who were otherwise healthy and didn't have any obvious risk factors.
"There was always a question in my mind – if it's not smoking or smokeless tobacco or a lot of alcohol, then what is causing this type of change in a patient?" she says.
That led her to research the role of human papillomavirus (HPV) in oral pre-malignant disorders. While the incidence of tobaccoand alcohol-related oral and oropharyngeal (throat) cancers is decreasing, HPV infection in its oral form – which is sexually transmitted – is responsible for a soaring number of cancer cases.
Researchers reported in 2018 that HPV is present in five per cent of oral cavity cancers and 72 per cent of oropharyngeal cancers, the professor says.
Mutalik, who is one of two oral pathologists at the Dr. Gerald Niznick College of Dentistry, is planning a research project to collect data on the prevalence of, and risk factors for, oral pre-cancerous and cancerous lesions in Winnipeg. She is currently diagnosing patients at her clinic, but doesn't know how widespread the problem is in the city.
The project will take the form of an oral cancer screening program. The resulting data will give her a baseline and help guide her future research.
Mutalik completed her postdoctoral residency in oral pathology at Ohio State University in 2018. She joined UM the following year. If she had stayed in the United States, she says, she would have had to focus on either research, teaching or seeing patients. At UM and in her part-time practice in Winnipeg, she can do it all.
"The place is very cold, but I think the people are very warm," she says about Winnipeg. "I think I made a good decision."
BY MATTHEW KRUCHAK