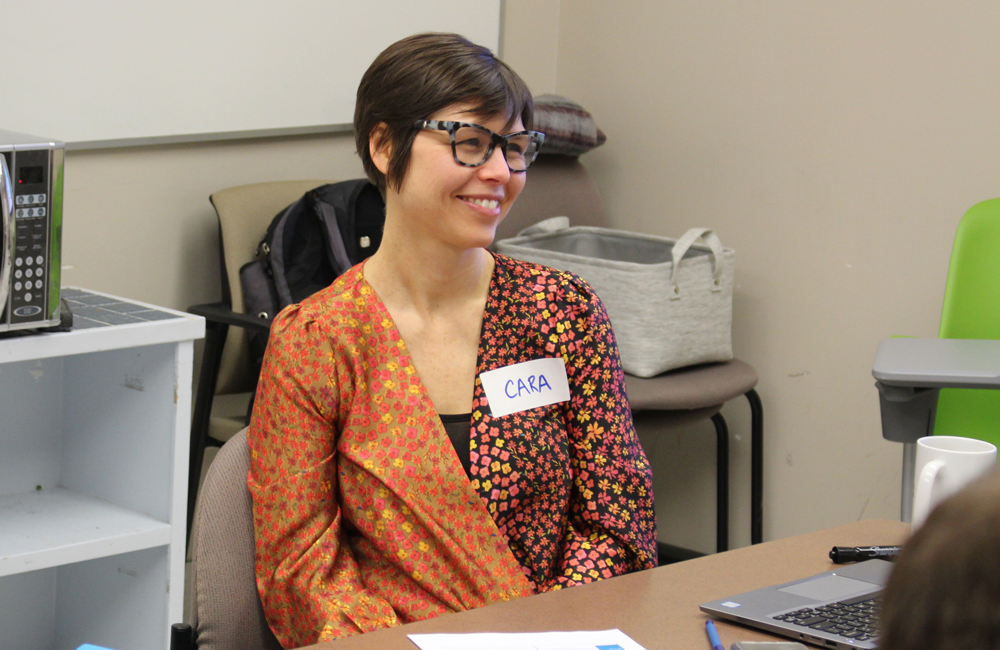 Safely transitioning older adults from a hospital setting to home can be challenging in a health system that has long been fragmented.
But Cara Brown [BMROT/96, M.Sc./08, PhD/19], assistant professor of occupational therapy in the College of Rehabilitation Sciences, says using integrated care models can increase the continuity and co-ordination of care and improve the patient experience.
With the aging of the population, Brown says, it's becoming more common for seniors to live for a number of years with one or more chronic diseases.
"Our health system needs to adapt to support people more in the community, where they want to be, and to smooth the journeys between hospital and home."
Brown recently received $3,500 from the University Research Grants Program to study how interprofessional teamwork can support these transitions.
She has also been awarded nearly $75,000 from the Canadian Institutes of Health Research. As part of that funded project, she is bringing five "research patient partners" to the table – people who have experienced a care transition as either a patient or a caregiver.
They will contribute their lived experience and help to develop a study of how interprofessional teams can facilitate successful hospital discharges.
"Much of the research on care transitions focuses on health service outcomes, like hospital readmission rates," Brown says. "It doesn't speak to the quality and experience of care received by patients. Including the patient voice is imperative."
The partners have so far identified communication as an important area for focus. Many say they struggled with mixed messages from health professionals in relation to their hospital discharge plans.
Brown, who grew up in Winnipeg, is a three-time University of Manitoba graduate with a bachelor's degree in occupational therapy and a master's and PhD in community health sciences.
After completing her bachelor's degree in 1996, she spent a year working in Fort Wayne, Ind., at a facility that provided a combination of long-term care and geriatric rehabilitation.
"That experience of working in another system made me want to understand the bigger picture of how health systems work," she says.
Back in Winnipeg, Brown worked for more than a decade in a variety of clinical areas – including at Health Sciences Centre and in a primary care clinic – before becoming a full-time faculty member of the occupational therapy department last year.
Her commitment to easing patient transitions from hospital to home comes partly from recognizing, as an occupational therapist, the emotional weight of being discharged for patients and their loved ones.
"You're working alongside someone's fears and expectations, as well as their family's concerns and worries, as you determine the services and equipment they'll need once they get home. There's a lot of layers to it, so it's quite challenging, but rewarding at the same time."
Brown would like to see Manitoba adopt a model that breaks down barriers between institutional and community care.
"Some of the most promising models in supporting older adults with chronic disease are those where the patient doesn't change teams," she says, pointing to a Quebec model where older adults receive wrap-around care in their community.
"Physicians and social workers would come to the patient's home, take them to their appointments, help with meal programs, and if they needed to be admitted to the hospital, this same team would still be involved in their care, and co-ordinate the transition back to home.
"In Manitoba, people change teams as they move from hospital to home. I want to find a way to have a high level of continuity and co-ordination of care."
Manitoba's system has implemented innovative programs to support older adults in settling back into their own space, Brown says. But there's work to be done in making the care as seamless as possible.
"It's about finding ways that practitioners can provide support regardless of where they are, so the setting doesn't get in the way of communication and care."
BY ALAN MACKENZIE