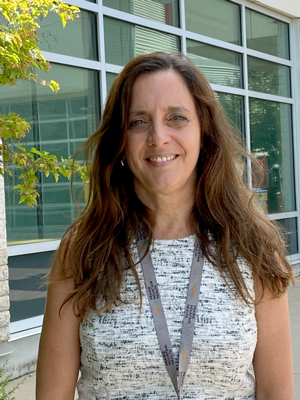 Jane Lamont [B.Sc.Pharm/93] never intended to practise in rural Manitoba. But she doesn't have any regrets.
"I really enjoy rural health care," says Lamont, director of pharmacy for Prairie Mountain Health (PMH). "The health-care team that naturally forms is fantastic."
Lamont, who grew up in Dauphin, Birtle and Brandon, earned her first degree in chemistry at Brandon University. After graduating from the UM College of Pharmacy in 1993, she returned to Brandon for family reasons. She worked as a staff pharmacist at the Brandon Regional Health Centre before moving into a managerial role.
After the amalgamation of the health regions in 2012, she was appointed director of pharmacy for PMH, one of Manitoba's five regional health authorities, encompassing the southwestern corner of the province. She also chairs the provincial pharmacy working group and sits on the council of the College of Pharmacists of Manitoba.
Lamont still lives in Brandon. Her responsibilities include all aspects of medication management across the PMH region. Most recently she has led COVID-19 initiatives, establishing policies and procedures for appropriate drug use and ensuring adequate drug supplies are available.
Lamont says her education formed her outlook on the profession. She studied at the College of Pharmacy during the early days of the pharmaceutical care model, which was moving pharmacists from a technical, distributive role to a clinical role.
She credits her rotations in Winnipeg's larger hospitals with demonstrating to her how clinical pharmacy could be practised. She brought this inspiration with her to the Brandon Regional Health Centre.
"It showed me who I wanted to be as a pharmacist. I moved into a smaller hospital with the knowledge that we could be practising at that level in Brandon, too."
One of Lamont's most significant initiatives was developing a clinical pharmacy model for the Brandon hospital. This involved implementing technology to support distributive functions, decentralizing pharmacists to the clinical units, increasing pharmacists' role in direct patient care, and enhancing collaboration with other members of the health-care team.
"I had a passion for clinical pharmacy, which eventually moved to a love of creating the roles and seeing pharmacists really thrive in them," she says. "It's still my goal to keep moving that vision forward, 27 years later."
Lamont says a rural setting presents both opportunities and challenges.
"When you're working in a smaller facility, everybody works together very closely. It's a cohesive group and it promotes pharmacists being part of the team," she says.
One of the biggest challenges in servicing many small rural acute care facilities and personal care homes, she says, is making sure patients receive the same level of care that is available in larger centres.
Drug shortages are another challenge. Lamont says each Manitoba region must closely monitor drug supplies, work directly with vendors to get a clear idea of allocations and shortages, and sometimes adjust formularies (lists of approved prescription drugs) and provide alternatives.
"It's a significant part of what we do now, unfortunately," she says.
Lamont continues to stay involved with her alma mater. She and the other regional pharmacy directors meet regularly with the college to ensure they're co-ordinated in supporting the development of the college's new Doctor of Pharmacy program.
"The hospital system provides significant support for the program's educational requirements, and we continue to partner with the university," she says.
Reflecting on her time at UM, Lamont says even though she had rural roots, she's grateful that the college exposed her to the possibilities of a fulfilling career beyond Winnipeg.
"I did rotations in rural Manitoba that provided a positive experience and showed me another option," she says.
A further benefit of her UM education, Lamont says, is that the members of her pharmacy class were highly supportive of one another. "Pharmacy is a very small professional group in Manitoba, and we've maintained those relationships."
BY CHANTAL SKRABA