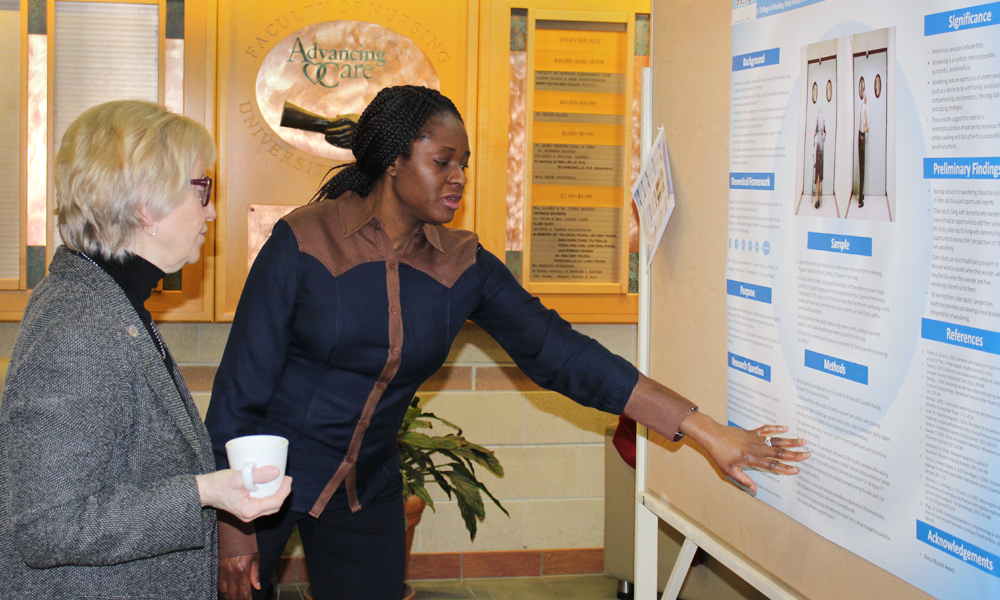 The College of Nursing is celebrating the 35th anniversary of its Manitoba Centre for Nursing and Health Research (MCNHR), a unit that has grown from small-scale beginnings into a thriving catalyst for collaborative nursing research.
"We respond to over 2,000 requests for information and services a year, which, I think, shows we are a go-to place for research in Manitoba," says Susan McClement [MN/93, PhD/01] associate dean, research at the College of Nursing.
The centre currently supports 28 researchers in the college, including a Tier 1 Canada Research Chair, providing funding, consultation and other resources.
"Right now we have three researchers with prestigious chair positions and have had 14 chairs awarded to eight different individuals since 2000," McClement says.
Since 2014 alone, MCNHR researchers have received 131 grants and career awards totaling more than $9.9 million in research funding.
The MCNHR was founded in 1985 as the Manitoba Nursing Research Institute by the late Dr. Helen Glass [Cert.Nurs.(T&S)/58] when she was director of what was then called the School of Nursing.
"We owe gratitude to Dr. Glass for her vision in understanding the need for infrastructure to support nursing research and scholarship," McClement says.
As part of her associate dean portfolio, McClement assumed the role of director of the MCNHR in 2018, following the lead of seven previous leaders, starting with Dr. Lesley Degner [BN/69], now a distinguished professor emerita.
Senior research manager Diane Cepanec [BA/94, MA/99] has worked with most of those leaders since she started with the centre 20 years ago. "Each of them helped shape what the MCNHR is today and has been an amazing leader and mentor," says Cepanec.
Hired as a research coordinator in 2000, Cepanec has seen the centre's growth first-hand. "We went from offering a single grant valued at $2,000 in 1998 to awarding a total of 12 grants worth more than $60,000 last year," she says.
Dr. Annette Schultz, associate professor, has been a researcher with the College of Nursing for 15 years, with a focus on health services, policy and Indigenous health. She says receiving support from MCNHR staff like Cepanec allows her to keep her focus on writing, crafting ideas and building relationships.
"All my budgets have been done in collaboration with Diane. She is so seasoned at putting these things together," Schultz says. "As I tell more junior staff, she has read almost every grant that has gone through the college. She sees what gets funded and want doesn't. To me that's invaluable."
Dr. Donna Martin [BN/91, MN/97], associate dean of graduate programs, also praised the centre's staff, including James Plohman [B.Sc.(Hons.)/97, M.Sc./00], a research coordinator who has been with the centre for 12 years.
"I remember early on submitting an application to the research ethics board and getting this long response with 24 items I'd need to address before it could be approved. I was beside myself," Martin says. "I went to the centre and James' positivity dissipated all of that angst in me."
In 2015, Martin, who led the MCNHR in 2017-2018, conducted a study in partnership with Little Saskatchewan First Nation, documenting the impact that a flood in 2011 had on the community after half its residents were displaced from their homes. The study received $717,855 from the Canadian Institutes of Health Research.
"The centre really helped with the grant application and providing feedback from earlier drafts, as well as with the dissemination of findings," she says. "It was an honour to receive that funding, which affirmed that the community's experience was worthwhile studying and supporting."
In 2008, the research unit's name was updated to MCNHR to reflect a growing interest in multidisciplinary health research. Maureen Heaman [BN/78, MN/87, PhD/01], director of the centre from 2006 to 2008, says the name change and refocusing of the centre were the result of a three-year process after a UM senate committee review in 2005.
"We revised the mission, vision and goals and decided to broaden our appeal to researchers and health professionals from disciplines outside of nursing," she says.
With the updated focus, the centre began offering memberships for those outside the college to access grants and consultative services. Today there are 276 members from across the Rady Faculty colleges, Red River College and Brandon University, as well as professionals from Shared Health, the Winnipeg Regional Health Authority and beyond.
"Our members come from across the province, North America, and even as far away as Chile," says Cepanec.
The MCNHR's core team also doubled from three to six people, and five part-time student research assistant staff have since been added.
The centre has also grown in terms of the programs it offers students. It currently offers support to graduate students through research grants, an annual poster competition as part the Helen Glass Research Symposium, and travel awards to enable students to share their research with larger audiences.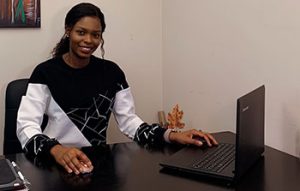 For undergraduates, the MCNHR has a Summer Research Internship Program, founded in 2010, which teams each student with a research mentor on a project that aligns with their interests.
In 2020, the program allowed first-time intern Sandra Aboh, a fourth-year bachelor of nursing student originally from Nigeria, a chance to work alongside Roberta Woodgate [BN/89, MN/93, PhD/01], Canada Research Chair in child and family engagement in health research and healthcare, on a project focused on culturally sensitive services for youth.
"Even though we couldn't work face-to-face because of COVID, I felt very supported by Dr. Woodgate, who was accessible through videoconferencing apps, email and phone," Aboh says.
In total, 16 student interns worked with 14 mentors in the program this year.
McClement notes that the MCNHR continues to evolve in its support of researchers.
"The future and ongoing development of the centre is really important, and I think there's some real untapped potential for nursing to enhance industry partnerships and collaborations," she says.
She points to a project by associate professor Michelle Lobchuk [BN/92, MN/95, PhD/01] to develop a smartphone app that focuses on empathic communication and self-care management as a recent example of this kind of partnership.
"There are lots of ways nursing researchers can engage with people in different sectors," McClement says.
She also wants to create a climate that will see greater synergy between researchers and other faculty members. "Instructors have a role to play in identifying issues in classroom and clinical teaching that can provide the basis of researchable problems," she says. "I think we have lots we can learn from each other."
BY ALAN MACKENZIE