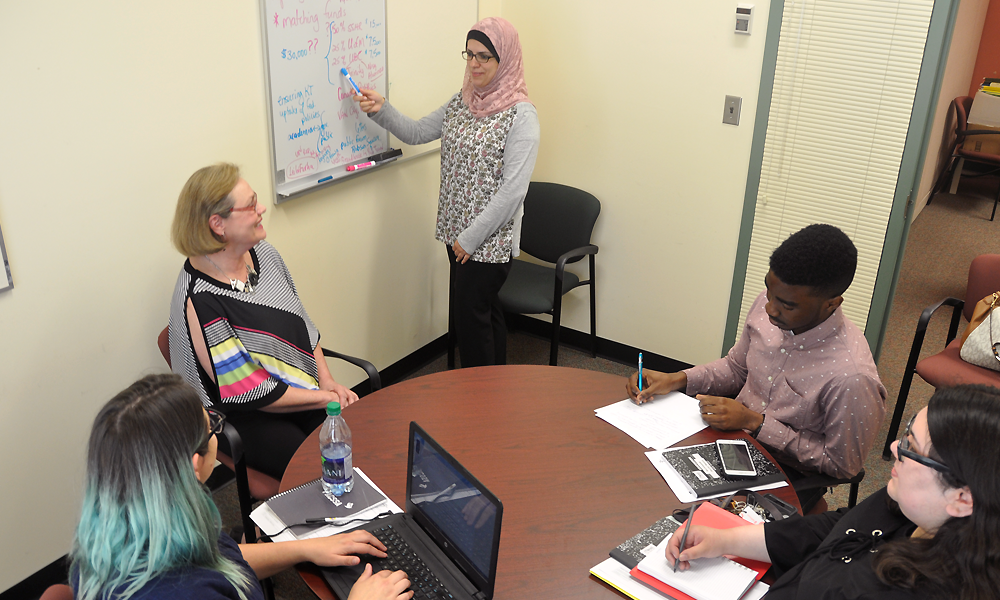 In 1980, the College of Nursing took a major step in its evolution: it admitted the first students to its inaugural master of nursing program.
"It's hard to believe it's been 40 years," says associate professor Judith Scanlan [BN/67, M.Ed./83, PhD/96], former associate dean, graduate programs, who has been teaching at the college for 46 years and joined the full-time faculty in 1983. "We've come a long way."
In 2000, the college introduced a second master's program, enabling nurses to become nurse practitioners. And in 2013, it launched its current doctoral program.
As the leading provider of nursing graduate studies in the province, the college has produced about 540 graduates from these programs: 334 have earned a master of nursing, 198 have graduated as nurse practitioners, three received PhDs in cancer control, and six have completed doctorates in the current PhD program.
As the college marks its 40th anniversary of delivering graduate education, those who have been closely involved see it as a time to celebrate the resulting enhancement of the profession.
"Graduate education provides a platform for generating new knowledge through research," says Dr. Netha Dyck [BN/88], dean of the College of Nursing. "It's also a vehicle for knowledge translation, continuous quality improvement in nursing practice and nursing education, and the enhancement of leadership capabilities."
Graduates who hold these advanced degrees have become senior leaders in academia, policy and practice settings, Dyck says. They have attained positions such as president of a university, dean of nursing, president of the Canadian Nurses Association and vice-president of the International Council of Nurses.
One master's graduate whose leadership skills have been highly visible during the COVID-19 pandemic is Lanette Siragusa [BN/95, MN/08], chief nursing officer for Shared Health.
Dyck says she'd like to pay tribute to the visionary former leaders of the college whose efforts laid the groundwork for graduate studies.
Margaret Elder Hart [LLD/93], director of the School of Nursing from 1948 to 1972, obtained her doctorate in the United States and wrote her thesis on Needs and Resources for Graduate Education in Nursing in Canada. Hart submitted the first proposal for a master of nursing degree at UM in the 1960s, but it didn't become a reality until 1980.
Scanlan suggests one reason that nursing research and scholarship were undervalued in the past: "People have thought of nursing as a technical profession," she says. "But it's very much a critical thinking profession."
When Scanlan was associate dean, graduate programs from 2007 to 2012, she led a curriculum revision that streamlined the master of nursing program so that students now choose one of three areas of focus: administration, education or clinical practice.
Research shows that when clinical leaders hold graduate degrees, their staff report higher levels of satisfaction and their patients have better outcomes, Scanlan notes.
Dr. Donna Martin [BN/91, MN/97], the current associate dean, graduate programs, says a key purpose of the master's program is to translate research into improved patient care. "Our graduates work with hospital teams or public health teams to question the status quo and bring more up-to-date research findings into practice."
Martin is a 1997 graduate of the master's program. For her thesis, she traveled to northern Manitoba to study the quality of work life of outpost nurses. "That stimulated my current program of research on Indigenous people's health," she says.
Martin finds that the majority of nurses who pursue a master's, and may continue to a PhD, are people with a high level of curiosity. "They're Sherlock Holmes types, really interested in finding the truth and solving an issue. Most of our graduate students are practising nurses who study part-time. They've had experience in health care, and they can really focus on a topic that interests them."
A current PhD candidate, Abeer Alraja [MN/11], got fired up when she attended an event for nurses where it seemed that those who were new to practice viewed bullying as an unavoidable part of nursing culture.
"I realized that addressing bullying should start in nursing schools to prepare a new generation of nurses who do not accept bullying," says Alraja, who was inspired to create an online educational tool for nursing students and nurses on workplace bullying.
Prior to the 2013 launch of the PhD program, any nurse who wanted to earn a doctorate had to pursue it at another UM college or faculty, or leave the province. One of the key benefits of now having the program, the professors say, is that it enables Manitoba nursing to "grow its own" experts, some of whom will join the UM faculty.
"It's a way for us to have a succession plan at the college," Martin says. "Globally, there is a nursing faculty shortage. Through mentorship, we're preparing the next generation of faculty. It's also important that we have continuity of knowledge of the Manitoba health-care system and Manitoba population."
In 2017, Kendra Rieger [BN/05, PhD/17] became the first graduate of the new PhD program. "I would have been unable to relocate at this point in my life," she said at the time. "It was wonderful to have the opportunity right here." Rieger joined the faculty as an assistant professor and has now relocated to Trinity Western University.
Recently, the nurse practitioner program was among the first to receive national accreditation from the Canadian Association of Schools of Nursing. The program is one of four to receive this distinction.
Reflecting on the success of all the graduate programs, Scanlan says: "We're attracting students and faculty from other provinces. We have a stellar reputation."
Dyck says all aspects of the profession benefit from excellence in graduate education.
"A number of our graduates have been recognized for their delivery of innovative nursing education," she says. "Many graduates are conducting important clinical research. Those who are in the health-care workforce are making a huge difference in care delivery. 'Leadership' is really the key word that captures the contributions that our graduates are making."
BY RADYUM STAFF