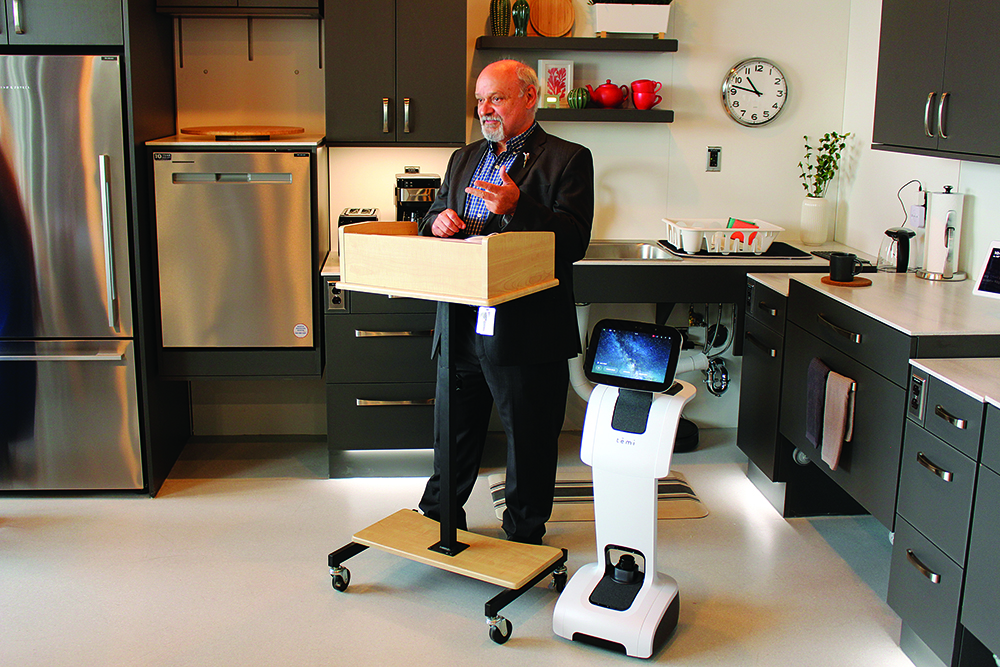 A high-tech model apartment developed by the College of Rehabilitation Sciences has opened at Health Sciences Centre (HSC).
Equipped with user-friendly assistive technology and flexible equipment, the "smart suite" will help educate and train students to enhance autonomy and well-being for older adults and individuals with disabilities.
The suite's kitchen features height-adjustable counters and appliances that can be controlled using a mobile app. The goal of the technology is to support aging in place and safe independent living.
The 850-sq.-ft. suite includes two bathrooms designed to demonstrate options for accessibility, as well as a bedroom where appliances and electronics can be controlled through voice or remote switches.
The apartment is located inside HSC's rehabilitation hospital. At its official opening in September, Peter Nickerson [B.Sc.(Med.)/86, MD/86], dean of the Rady Faculty, said it will give students and faculty in rehabilitation sciences enhanced learning and research opportunities.
"This state-of-the-art smart suite has been years in the making," Nickerson said. "Throughout the conceptual, design and building processes, there has been a great deal of support and input from many stakeholders and partners."
Nickerson praised the college's commitment to technology-enhanced care initiatives, including the development of telepresence robots, one of which has been incorporated into the suite.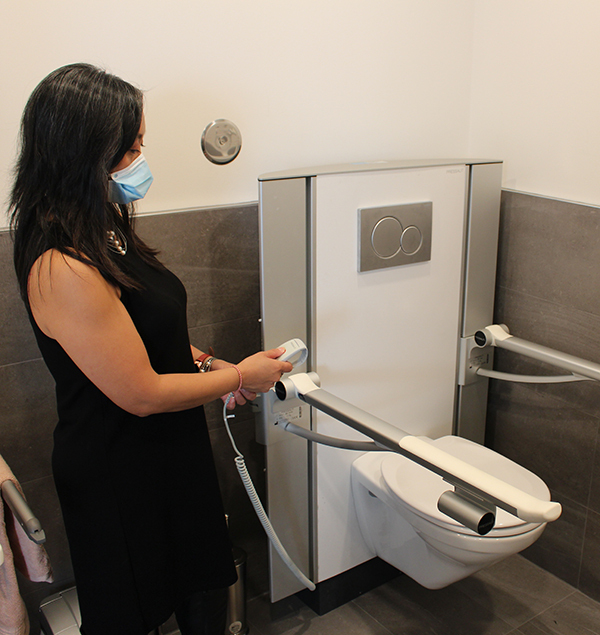 Dr. Reg Urbanowski, dean of the College of Rehabilitation Sciences, said at the opening, "This accessible living space provides an unparalleled opportunity for learners and researchers to look at ways to advance their clients' independence through telepresence, telemonitoring and assisted living technologies."
The project received $600,000 in support from the Rady Faculty of Health Sciences, Decor Cabinets and Health Sciences Centre.
Decor Cabinets, a Manitoba company, supplied the adjustable kitchen cabinets.
Company representative Steve Friesen said it was inspiring to see the project come to fruition. "It's going to change people's lives," he said.
Eric Koskie [B.Sc./19, MOT/21], an occupational therapy graduate who works at HSC, said the smart suite will allow him to show clients possibilities for enhancing their daily lives. For example, it will help those who use wheelchairs better position themselves to do dishes and laundry.
The smart suite is now being used for training students. Clinicians will soon start using it for client assessments. The college is also using it for interdisciplinary research collaborations.
Jacquie Ripat [BMROT/92, M.Sc./98, PhD/11], associate dean (research) at the college, said an occupational therapist is collaborating with researchers from the UM Faculty of Architecture, working with older adults to make kitchens safer and more functional for their age group.
BY ALAN MACKENZIE