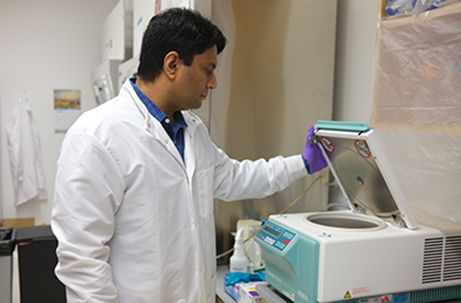 When Dr. Abdullah Al Maruf's mother passed away at 65, she was taking more than 15 medications for diabetes, gout, anxiety and high blood pressure. Some of the drugs didn't seem to be effective, and others caused side effects.
"At one point, I remember she completely lost faith in medicines," says the assistant professor in the College of Pharmacy and researcher with the Children's Hospital Research Institute of Manitoba.
His mother's experience has shaped Maruf's quest to better tailor medicines to the individual. "My work is very personal to me," he says.
Maruf is an expert in pharmacogenetics, the study of how a person's genetic makeup influences their response to medications. The field is increasingly shedding light on why some drugs fail to work, or cause adverse effects, in certain people.
While clinicians routinely consider a patient's age, lifestyle and health record when prescribing, Maruf says they could also use pharmacogenetic testing to learn whether a drug is a wise choice for that particular patient.
"Compared with the U.S. and Europe, Canada is way behind when it comes to implementing pharmacogenetic testing into practice," he says.
This kind of testing is well recognized in the cancer field, and Maruf says it's becoming more common in other areas, such as cardiovascular and mental health. A pharmacogenetic test is conducted using a blood, saliva or cheek swab sample, with analysis done by an accredited laboratory.
A clinician can use a test, for example, to see how a patient might react to codeine. "Depending on genetic variations that code for an enzyme that metabolizes codeine to its active drug, morphine, patients can be poor, intermediate, normal or ultra-rapid metabolizers of codeine," Maruf says.
"A poor metabolizer won't get the benefit of pain relief, whereas an ultra-rapid metabolizer may face adverse effects."
Pharmacogenetic test results come with recommendations from various sources, including expert groups like the Clinical Pharmacogenetics Implementation Consortium, of which Maruf is a member. In the case of codeine, the guidelines would suggest avoiding the drug for a poor or ultra-rapid metabolizer.
Maruf, who joined UM in September 2021, earned his bachelor of pharmacy and master of clinical pharmacy and pharmacology from the University of Dhaka in his home country of Bangladesh. After receiving his PhD from the University of Toronto, he did postdoctoral work at the University of Calgary.
Maruf's main area of research is in psychiatric pharmacogenomics. He is currently planning a pharmacogenetic study to investigate why some children and teens develop adverse effects when they take prescribed antidepressants.
While Maruf was in Calgary, he was involved in launching Canada's first pharmacogenetic testing service for children and young adults seeking mental health care. The Pharmacogenetic-Supported Prescribing in Kids team plans to extend the testing service to other provinces, with Maruf as the Manitoba lead.
Maruf would like to start a clinic within the College of Pharmacy to facilitate multidisciplinary collaboration between students, researchers and pharmacists for pharmacogenetic research.
"I want to put Manitoba on the map as an innovator in this area," he says.
BY MATTHEW KRUCHAK