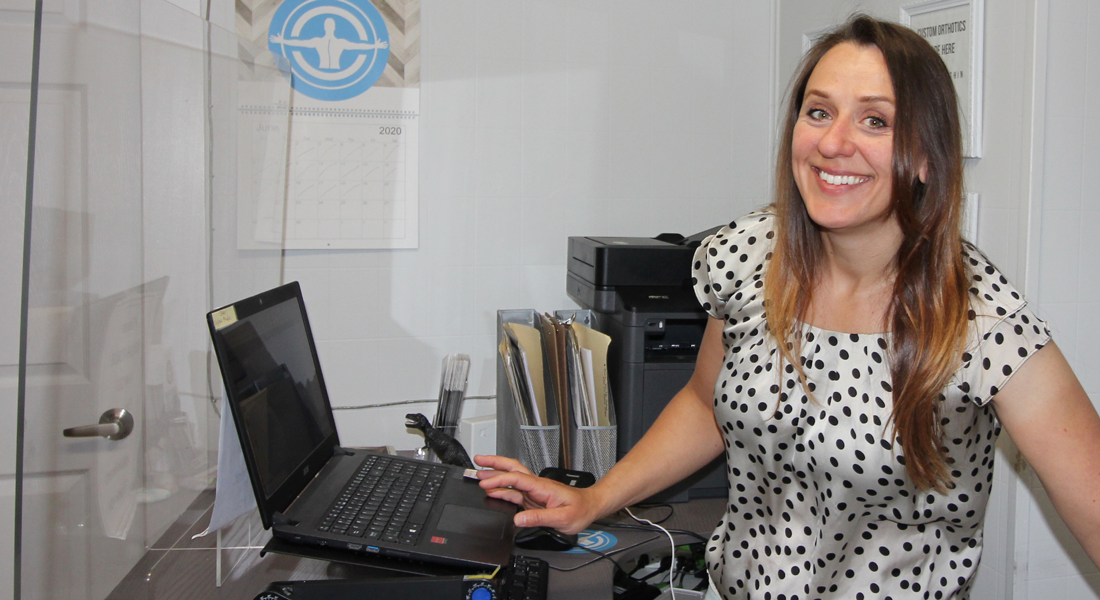 When Caitlin Trakalo [BA/08, MPT/14] graduated with a bachelor of arts in criminology from the University of Manitoba in 2008, the last thing she expected was to return four years later to pursue a master's in physical therapy.
But Trakalo's life was thrown off course after her graduation that year. She was in a quad accident in Greece that left her with two broken ankles. The injuries led to four surgeries over the next four years, along with continual physiotherapy.
"My early 20s were basically a cycle of surgery, recovery, surgery, recovery," she says. "I was walking like Frankenstein two years into post-recovery. My surgeon thought I'd never be able to walk normally again.
"I had some really discouraging moments. But my physiotherapist, Patti Sutherland [BMRPT/80], said 'Never say never,' and that really gave me some fire to not accept what I was being told and work really hard.
"I was able to reach the point where I'm very functional. I figured if I could do it, then I wanted to help other people do it, too."
Inspired to give others the kind of transformative care she had received, Trakalo returned to UM and earned her master's in physical therapy from the College of Rehabilitation Sciences in 2014.
Shortly after graduating, she worked in a clinic with Sutherland, the UM-trained physiotherapist who had inspired her career change. "Talk about coming full circle," Trakalo says.
She spent the next few years working at a Winnipeg physiotherapy clinic owned by D'Arcy Bain [Dip. PT/72, BPT/76], a UM grad who has been running his own clinics for more than 35 years.
But soon, the Charleswood-raised Trakalo began to feel an attraction to rural Manitoba. She started building a clientele in Ashern, about 185 km northwest of Winnipeg in the Interlake, working weekends there while keeping her job in the city.
She opened her own practice in Ashern in June 2016 and bought a house in nearby Eriksdale in January 2017. By May of that year, she was working full time in Ashern.
"I had just completely fallen in love with my demographic of patients and the community. I loved the pace – it was a lot less intense than the city," she says. "I learned so much from D'Arcy. He was very supportive of my decision to start in Ashern, and I'll always be grateful for that."
Through getting to know her community, including First Nations clients, Trakalo saw a need for services in remote northern communities. With the approval of the College of Physiotherapists of Manitoba, she started offering virtual physiotherapy in 2019.
"The nice thing about digital appointments is that no matter where you are, it's the exact same experience," she says.
During the COVID-19 shutdown of in-person services, about 65 per cent of Trakalo's regular clientele switched to virtual appointments.
"We were able to help patients with anything from a new onset of extreme back pain to a continuation of their care that we were already doing in-clinic," she says.
"What's great about this platform is that we're able to assess so much more, compared to an in-person appointment. Using video conferencing, we can look at their office, be at their gym, check out their form using sporting equipment."
Trakalo recently arranged with Mark Garrett [PhD/17], head of physical therapy at UM, to have students come to Ashern on six-week work placements, where they'll learn about the virtual services she offers.
"Mark was my student advisor when I was in PT school, and I consider him a mentor," she says.
Trakalo is excited to show students what it's like to work in a rural community, where physiotherapists are in short supply, and how virtual visits can change patients' lives.
"I believe this is the start of reducing what rural populations experience at a higher rate, such as anxiety, depression, obesity, and gaps in health-care access."
BY ALAN MACKENZIE