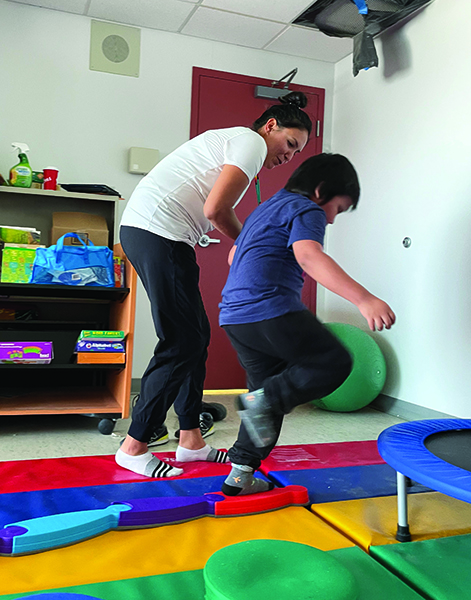 Christina Keeper [BA/10, MPT/22] first thought about a career in physical therapy when she had a knee injury at the age of 20 from playing hockey.
While receiving care at Health Sciences Centre in Winnipeg, she noticed that a lot of other patients were also Indigenous, reminding her of the health barriers faced by people in First Nations communities, including her family.
"Some were in wheelchairs and seemed uncomfortable, and I just knew they had to fly or drive long distances from their communities to receive physiotherapy. Why did they have to come all the way to Winnipeg to get these services? I didn't think it was right. I still don't."
At the time, Keeper was pursuing a bachelor of arts at UM with a focus on criminology. She graduated in 2010 and worked for a few years in social justice and the child welfare system in various First Nations communities.
She returned to UM for the physical therapy master's program in 2020, just as COVID-19 lockdowns forced students to learn from home.
"Learning online was pretty tough because I'm more of a visual, hands-on learner. But I had a lot of support from my professors and classmates, and I've been given a gift by our Creator to help people."
Keeper graduated from the College of Rehabilitation Sciences last year. She already has her "dream job" delivering physiotherapy services to schoolchildren in seven First Nations communities through the Manitoba First Nation Resource Centre.
"It's very rewarding working with these kids and seeing how resilient they are," she says.
"I've had a couple of cases where doctors told parents that their child would never be able to walk again, and here I am working with the same student who is walking on their own."
Keeper was born and raised in Thompson, Man., and is a member of Nisichawayasihk Cree Nation. She moved to Winnipeg as a teenager and attended Fort Richmond Collegiate, where she was one of the only Indigenous students. Through those years, she was very involved in sports, particularly hockey.
"I used sport as an outlet and it got me through many things, especially during the teenage years," she says. "I've always viewed physical health, movement and exercise as medicine. It can be used to heal yourself – your mind, your body, your spirit."
Keeper continued coaching hockey for Indigenous youth in Winnipeg's North End.
This year, she brought her physiotherapy skills to the game, working with Manitoba's under-18 female team in the National Aboriginal Hockey Championships in Winnipeg.
"Some of the girls on the team have been coming up and asking me about my role and how they can do it. I tell them the ropes of the school system and encourage them to go for it. We need more Indigenous physiotherapists and athletic trainers. We need more Indigenous people in every health field."
Keeper also sees her role as a mentor to Indigenous youth as a big part of her work in First Nations communities.
"If these kids see me as an Indigenous person doing this, they'll know that they can do it, too."
BY ALAN MACKENZIE