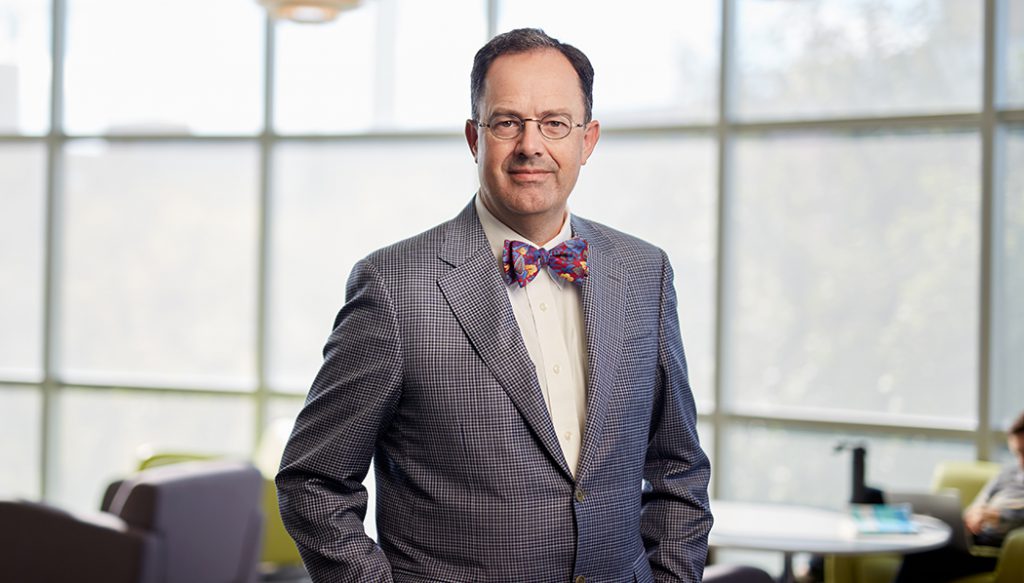 The field of transplant immunology medicine is extraordinarily complex and challenging. Peter Nickerson [B.Sc.(Med.)/86, MD/86] has devoted his career to understanding the complexities and overcoming the challenges, and in the process has transformed transplant services across Canada.
Nickerson, a kidney specialist and distinguished professor of internal medicine and immunology, is vice-dean research of the Rady Faculty of Health Sciences and medical director of Transplant Manitoba.
Internationally renowned in the field of transplant immunology research and clinical services delivery, he is the 2021 recipient of the Dr. John M. Bowman Memorial Winnipeg Rh Institute Foundation Award. The award recognizes outstanding research accomplishments by an established UM faculty member.
Nickerson, a 1986 UM medical alumnus, completed a postdoctoral research fellowship at Harvard Medical School. Returning to his alma mater in 1995, he immediately established a clinical research program in transplant medicine.
In the ensuing 27 years, that program has significantly enhanced patients' access to transplants, reduced their risk of organ rejection, personalized their drug delivery and improved their quality of life.
"The one thing I've done the most, and that has had the greatest impact, is assessing pre-transplant risk for developing post-transplant organ rejection," Nickerson says.
By applying an ultra-sensitive cross match system that had never been used clinically in Canada, Nickerson started testing the compatibility between kidney donors and their recipients in order to discern if the recipients had previous exposure – shown by the presence of low-level antibodies – to their donors' tissue type.
It was well known that previous exposure meant a recipient would likely reject his or her new organ.
But by discovering and documenting that exposure in advance, Nickerson was able to make those rejection scenarios all but obsolete. The cross match system was adopted as the standard of practice across Canada and around the world.
That success led to Nickerson establishing an interprovincial organ-sharing system in partnership with Canadian Blood Services.
The system includes two groundbreaking programs. The kidney-paired donation program matches living donors with non-related recipients, while the highly sensitized patient program identifies compatible donors for the most challenging-to-match transplant candidates.
"For individuals who have very high levels of antibodies, it was like a needle in the haystack to find them a compatible donor," Nickerson recalls. "Now, instead of them just having access to the local, provincial donor pool, they have access to donors from the entire country."
The clinician-scientist's other main area of research in recent years has focused on another groundbreaking scoring system designed to improve transplant outcomes.
By examining the degree of similarity between potential donors and recipients at the level of a single amino acid, Nickerson's HLA molecular mismatch scoring system makes it possible to accurately predict and customize the quantity of immunosuppressant medication required post-transplant. The personalization of drug therapy mitigates the risk of rejection and infection.
Nickerson, who holds the endowed Flynn Family Chair in Renal Transplantation at UM, says he is honoured to receive the Bowman Award for his research achievements.
"I'm very humbled to get this award, as it recognizes the pioneering work we're doing," he says.
BY SHARON CHISVIN
---
UM Today recently spoke with Nickerson about his research.
Why is your kidney transplant research important?
Patients who have kidney disease, and have their kidneys fail, go on to dialysis. While dialysis is a bridge that prolongs their life, it only provides about 5 to 10 per cent of normal kidney function when patients are dialyzed three times per week.
When you get a kidney transplant, your kidney function is up around 55 per cent. A transplant does a much better job at cleaning your blood. We know that patients with a kidney transplant essentially double their life expectancy, as opposed to staying on dialysis. A transplant not only gives you a better quality of life, it gives you more life.
What do you hope to achieve in the future?
There are three major themes that we have in our program. One is to try and minimize cellular rejection, where T cells are causing the rejection of a transplanted kidney. The second program is around antibody-mediated rejection, where antibodies are leading to rejection in the kidney.
The third major theme is focused on evaluating the relative compatibility between a donor and a recipient, which means understanding how genetic differences between the tissue types of the donor and recipient translate into the recipient's risk for rejection.
In the future, we hope to design new trials for therapeutic agents to identify more effective ways to control rejection. We also hope to mitigate the side effects of these drugs. It's about tailoring the right medication for the right patient. Currently, everybody gets the same dosage because we don't know how to account for each individual's unique needs. Our research will help us more reliably identify which patients require more immunosuppression.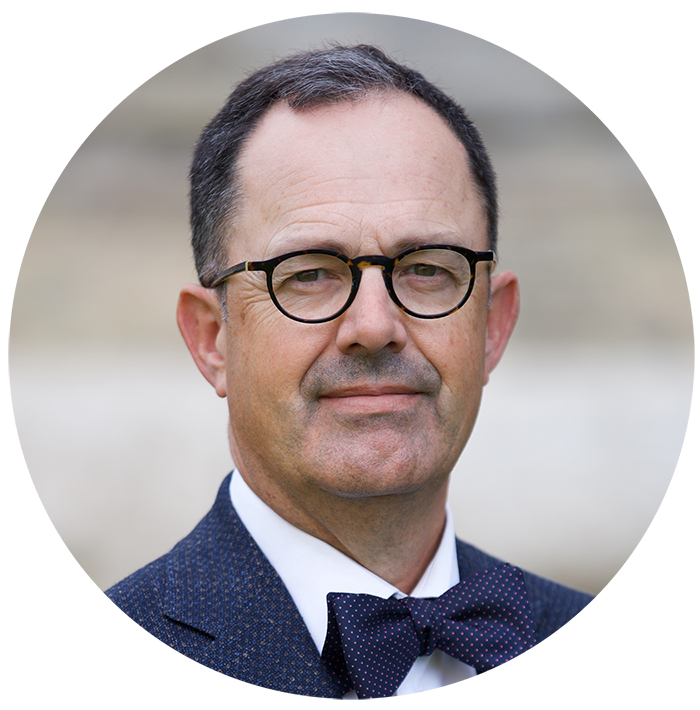 What advice do you have for early-career researchers?
I did all my clinical training here in Manitoba. Then I went away and came back, and a lot of people wondered why I would do that. The truth is, Manitoba is just the right size: big enough to do clinical research, but small enough that we're not competing with each other for access to patients.
I was previously in Boston, and there were several kidney transplant programs competing for the same patients. In Manitoba, we better recognize the advantages of collaboration over trying to compete.
We have more time and energy to focus on the patients in front of us. The results from our collaborative work have often been so insightful that doctors around the world want to apply what we've been doing.
So, my advice to clinical researchers is to keep your eyes focused on making your patients better. The knowledge generated by doing that can actually improve patient health around the world.
BY DAVIDE MONTEBRUNO | FIRST PUBLISHED ON UM TODAY