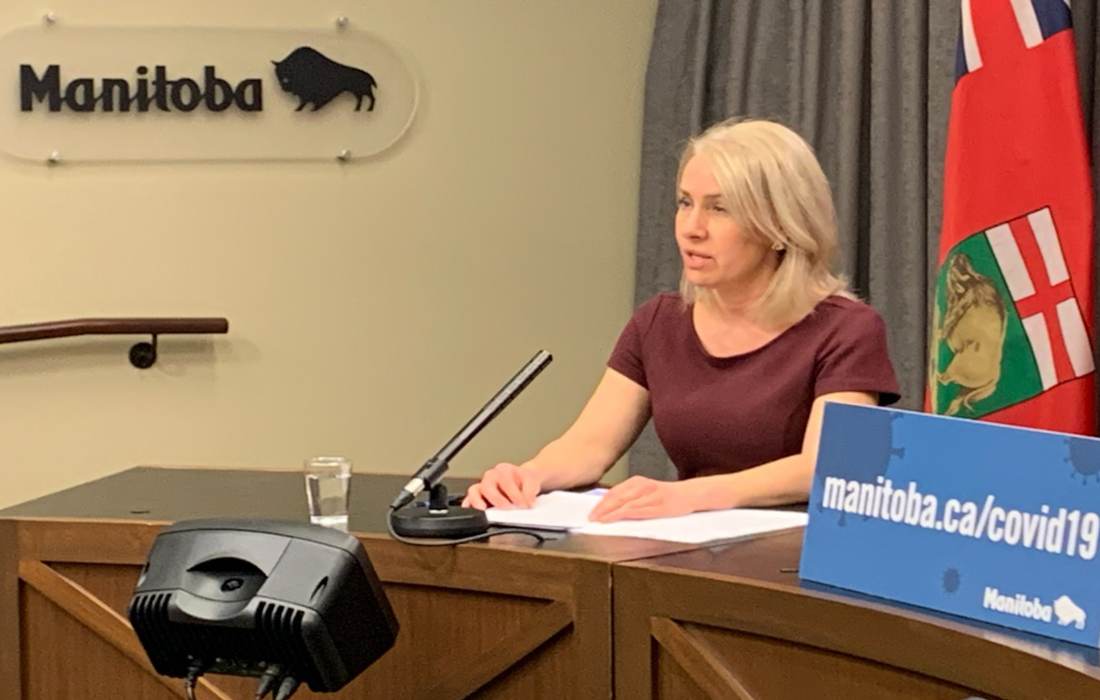 As chief nursing officer for Shared Health, Lanette Siragusa [BN/95, MN/08] has become a familiar face to Manitobans this year.
When Manitoba announced its first presumptive case of COVID-19 on March 12, Siragusa and Brent Roussin [B.Sc./96, MD/00, JD/09, MPH/11], chief provincial public health officer, started giving daily news briefings.
They provided updates and answered reporters' questions in a calm, consistent manner as the viral threat increasingly transformed life in Manitoba, requiring social distancing, travel restrictions, closures of schools and businesses, and ongoing health risks for essential workers.
"My highest priority in speaking directly to the public through the briefings has been transparency in terms of the health system's response and what it means for Manitobans," says the nursing alumna. "The whole process has been a fantastic learning opportunity for me."
Siragusa says the pandemic has given her a profound appreciation for the people in the health-care system.
"We moved into an incident command structure in early February – six weeks before our first confirmed case – which meant everyone's roles and responsibilities were disrupted," she says. "Everyone adopted a laser-beam focus to address the crisis."
On April 7, the province reported 193 active cases of COVID-19, but by June 12 that number was reduced to five. Siragusa says a close connection between health leadership and government, as well as the co-operation of the public, were vital to getting the situation under control.
"It was the public's response to the public health advice that made the difference in Manitoba," she says. "Their sacrifices can't be understated."
Siragusa is the provincial lead for health system integration and quality. For the past two years, she has been closely involved in Manitoba's plan to modernize its system. That suddenly accelerated with the pandemic.
"Our integrated digital health plan, which we expected would take years to implement, ended up advancing within weeks out of necessity, enabling virtual visits, patient portals and online assessments," she says.
Siragusa was born and raised in Winnipeg. After graduating from UM as a nurse in 1995, her initial jobs included high-risk labour and delivery and community health nursing.
She worked as an academic advisor at the College of Nursing from 2003 to 2007 and participated as a nurse researcher in a study involving preeclampsia, a pregnancy complication. She entered the UM master's program in 2005 with the goal of becoming a clinical nurse specialist in maternal child health.
"I wholeheartedly believed – and still do – that empowering young, disadvantaged mothers was the key to changing the world," she says.
In the master's program she developed a friendship with a classmate, Katherine Klassen [BN/00], who was in the program's administration stream. At the end of their first year, Klassen told Siragusa she was leaving to become a physician.
"She encouraged me to take her place in the administration stream. She told me I had the skills, ability and personality to influence change on a greater scale.
"Up until that point, I had no formal leadership role. But something inside pulled me into exploring this possibility, and I took the leap."
Sadly, Klassen never got to see Siragusa's achievements as an administrator. She passed away from leukemia after her first year of medical school. "Any good that I contribute in this world, through this nursing administrator role, is on behalf of both of us," Siragusa says.
The accomplished alumna says her career evolution has kept her on a non-stop learning curve. But her plans to pursue a doctorate in health and social sciences in Scotland are on hold for now.
"The system requires my full attention now," she says. "When I look toward the future, I envision a better way of working together as health-care professionals, with patients at the centre as true participants in their care, maximizing virtual options and capitalizing on data to drive quality. It's an exciting time to be in the health field."
BY ALAN MACKENZIE