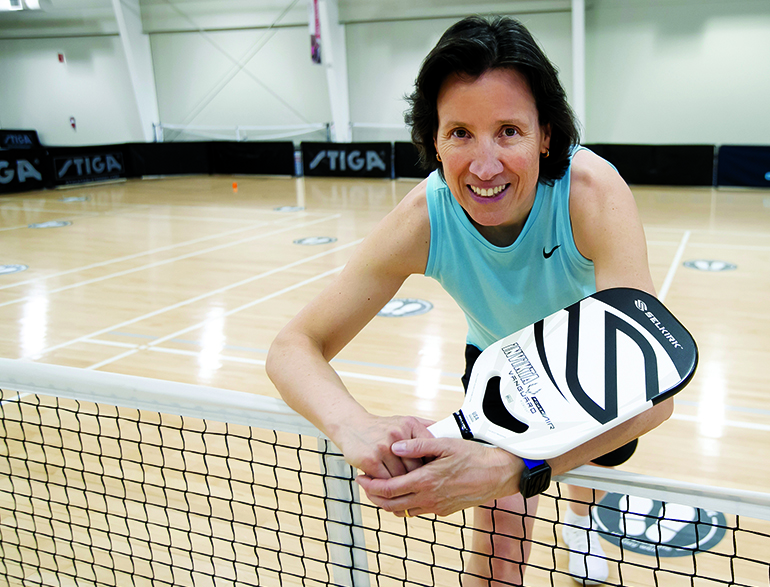 Sandra Webber [BMRPT/90, M.Sc./96, PhD/10], a lifelong sports enthusiast, started playing the burgeoning sport of pickleball about five years ago. Now she's on the court three or four times per week.
The indoor or outdoor game incorporates elements of tennis, badminton, table tennis and racquetball. It's played with paddles and a perforated plastic ball on a badminton-sized court.
Invented in the 1960s, pickleball has long been regarded as an activity for retirees. But its popularity with all ages has taken off, and it's now one of the fastest-growing sports in North America.
When Webber, professor of physical therapy at the College of Rehabilitation Sciences, took up the game, she became curious about how much exercise it provides.
"When I started playing pickleball, I wouldn't say that I had any preconceived ideas about it not being demanding, but I was very impressed with the intensity of play and thought it was worth measuring," says the professor, who is also a research affiliate with the UM Centre on Aging.
She went on to conduct a study, published in September 2022 in the Journal of Aging and Physical Activity, on the physical activity intensity of singles and doubles pickleball in older adults. She and her team tracked heart rates and steps in 53 recreational players with an average age of 62 while they played for one to two hours.
"I do a lot of research with gadgets like accelerometers and smart watches, which we had the players wear in this study," Webber says. "There hadn't been much written about the physical activity associated with pickleball."
The study found that those who played singles averaged 3,222 steps per hour of play, while those playing doubles averaged 2,790 steps.
The average heart rates during both singles and doubles play were 111 beats per minute. Accelerometer counts were higher in singles play because of the greater movement required. Heart rates were in a moderate intensity zone for more than 70 per cent of play time in both singles and doubles.
The researchers concluded that the sport can provide a moderate workout for middle-aged or older adults. If an older adult played pickleball for four and a half hours each week, Webber says, they would meet the standard recommendation to engage in at least 150 minutes of moderate-intensity activity per week.
"Interestingly, many people involved in the sport easily play for six to 10 hours per week," she says.
The pickleball study made a good-sized media splash. Webber was interviewed by outlets ranging from the Winnipeg Free Press and the Washington Post to the website Pickle Madness.
"I have never experienced so much interest in research I've conducted. I think many pickleball players were pleased that our data busted the myth that it's a low-effort sport, at least for intermediate-level players like those we assessed.
"If our findings encourage participation in pickleball, that's great because it's a game that can be enjoyed by people with a large range of skill levels. Compared to many other sports, most people can achieve a satisfying level of success within a short period of time."
Webber grew up in Pinawa, Man., as a sports lover who particularly succeeded at tennis. "I was fortunate to play on the provincial team when I was a teenager," she says.
"It was my connection to sports and health that got me interested in physiotherapy. But once I got into it, I realized that there was so much more to it than treating people with sports injuries."
While completing her bachelor's in physical therapy at UM, Webber gained an interest in research through assisting Brenda Loveridge [Dip.P.T./68, BPT/71, M.Sc./80, PhD/83], former director of what was then the School of Medical Rehabilitation, who was studying wheelchair training in people with spinal cord injuries.
"That was my first exposure to research, and I saw it as kind of like a puzzle," she says. "The first part of the puzzle is trying to figure out what you want to study and how do that, and then you have to figure out what the message is in all the data you collect."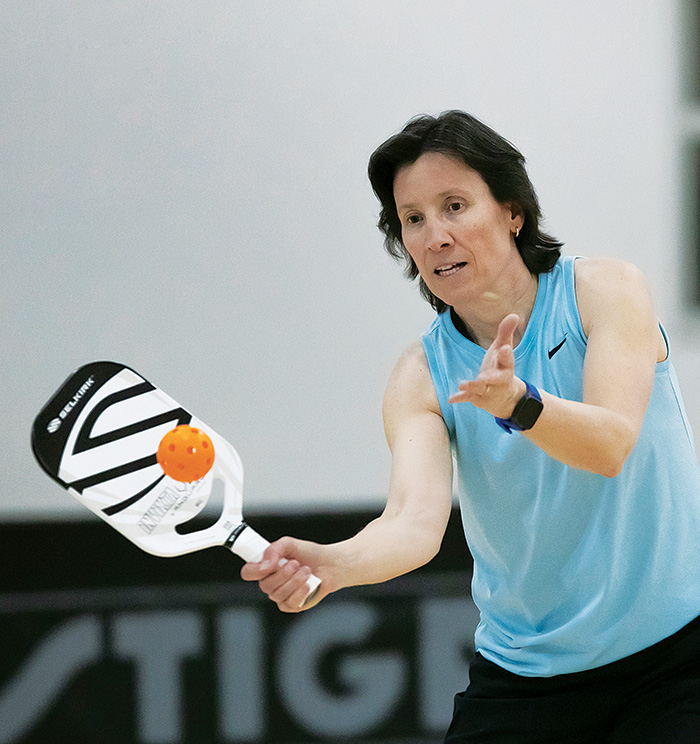 After working for several years as a physiotherapist in Winnipeg and Ottawa, Webber joined the College of Rehabilitation Sciences as a lecturer in 1997.
Her research, published in journals such as Physical Therapy and Rehabilitation (Physical Therapy), Physiotherapy Canada and Medicine & Science in Sports & Exercise, largely focuses on physical capacity and activity in older adults, or in people with chronic diseases such as arthritis and fibromyalgia.
She has published a number of studies of physical activity among people with knee osteoarthritis, including those who are waiting for knee-replacement surgery.
Webber says she is still examining data from the pickleball study and hopes to further investigate the sport's health benefits, particularly in relation to muscle strength and bone density.
"I think there could be some really good benefits for bones and avoiding things like hip fractures as people get older," she says.
"Participating in the sport may help to maintain bone density beyond what is achieved by going for a brisk walk every day."
BY ALAN MACKENZIE