Peter Nickerson [B.Sc.(Med.)/86, MD/86], a prominent physician and researcher in the field of organ transplantation, is the new dean of the Rady Faculty of Health Sciences, dean of the Max Rady College of Medicine and vice-provost (health sciences). UM Today spoke with Nickerson soon after he stepped into his new role on Sept. 1, 2022.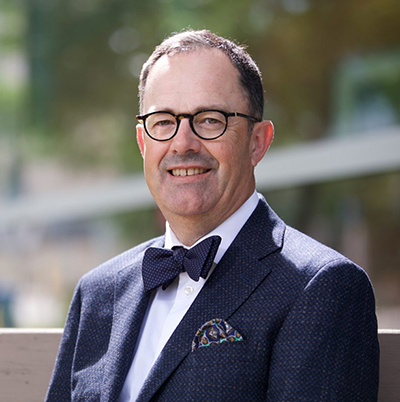 What do you hope to achieve as dean of the Rady Faculty?
I'm committed to working with the college deans to advance inter-professional health education and interdisciplinary research. I believe UM can excel in these areas at the national and international levels, such that we can be regarded as a destination by students and faculty.
I'll be working with our faculty and our partners in Manitoba's health system to ensure that we graduate exceptionally well-trained students to meet the health needs of Manitobans, and that we advance research that addresses these needs.
I'm also committed to working in partnership to dismantle health inequity. Only by improving and promoting health and wellness in all Manitoba communities will we achieve a sustainable health system for all.
What led you to study medicine at UM?
At age 16, my first summer job was at the Grace Hospital in Ottawa, cleaning and sterilizing surgical instruments and other medical supplies. Later, I worked for nurses on the labour and delivery unit, setting and cleaning up delivery rooms.
When I was finishing high school, my father was transferred to Winnipeg. I had met a couple of obstetrics residents at the Grace in Ottawa, and they described having had an excellent medical school experience at UM.
After enrolling in the UM Faculty of Science, I had a summer job at the Grace Hospital in Winnipeg as a unit assistant and orderly. Those five years of working in hospitals taught me the value of teamwork in delivering high-quality patient care. And my undergraduate medical training at UM was outstanding.
What are you most proud of in your career to date?
The translation of research into clinical policy and practice has been a highlight. Based on our research, we were the first clinical program in Canada to make flow cytometry-based crossmatching of kidney donors and recipients a standard of care. This became the national standard in transplant care.
Our research also served as the basis for Canadian Blood Services setting up interprovincial kidney donor sharing programs. Recently, our research group is getting international attention for developing precision medicine in kidney transplant immunosuppression, meaning that we give the right dose of medication to prevent organ rejection, based on a patient's individual need.
In partnership with Dr. Peter Heeger at Cedars-Sinai Medical Center in Los Angeles, we have been awarded funding from the National Institutes of Health to conduct a multi-centre kidney transplant clinical trial. It's intended to validate a laboratory test in support of precision medicine that was developed by our group at UM.
What advice do you have for students?
Follow your passion and never stop learning. Many times, you will be faced with new job and learning opportunities. Embrace these challenges as they come, but make sure your decisions are motivated by their alignment with your interests and what you want to achieve beyond yourself.
BY UM TODAY STAFF