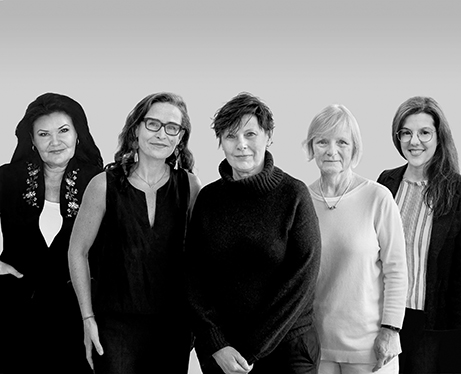 Five extraordinary leaders from the Rady Faculty of Health Sciences were named among Canada's Top 100 Most Powerful Women of 2021 by the Women's Executive Network.
The annual awards celebrate inspiring women who are advocates, champions, trailblazers and groundbreakers.
The Emerging Leaders award category recognizes women who have been targeted for successive leadership positions within their organizations and have a proven passion for learning and innovation.
The Professionals category recognizes women who are professionals in practice and play a leadership role in their organizations.
The Executive Leaders category recognizes women who not only exemplify what it means to be a great leader, but also build confidence and champion others.
These five highly accomplished women – including three from the department of pediatrics and child health – join 22 other UM recipients since the awards were established in 2003.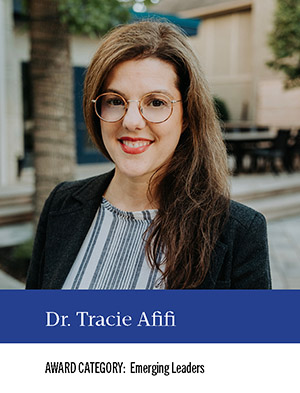 Tracie Afifi [B.Sc./99, M.Sc./03, PhD/09], professor of community health sciences and psychiatry, is an internationally recognized expert on the long-term health effects of child maltreatment.
Her research aims to prevent child abuse and neglect, foster resilience and improve mental health. She holds a Tier 1 Canada Research Chair in childhood adversity and resilience and is a researcher with the Children's Hospital Research Institute of Manitoba (CHRIM).
"It's important to provide better ways to respond when children and families need help," Afifi says. "If we can intervene early and effectively, we can change the trajectory of a child's life."
Afifi's work has informed health policy and legislative change. She has provided her expertise on ending violence against children to the Public Health Agency of Canada, UNICEF Canada, the World Health Organization and the Centers for Disease Control and Prevention.
She has published more than 160 peer-reviewed journal articles and uses innovative methods, such as infographics, to share her research with the public.
Afifi's awards include the Royal-Mach-Gaensslen Prize for Mental Health Research and the Canadian Institutes of Health Research Gold Leaf Prize for an early-career investigator, one of the highest honours for excellence in health research and its translation into benefits for Canadians.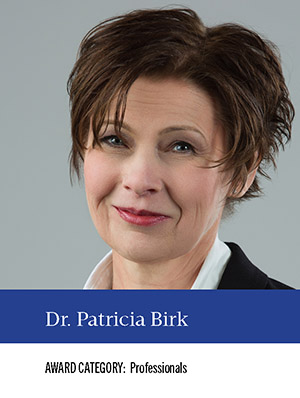 Patricia Birk [B.Sc.(Med.)/90, MD/90] is professor and head of the department of pediatrics and child health, and medical director of the pediatric kidney program at Transplant Manitoba.
She is also the Shared Health provincial specialty lead for child health, charged with improving health-care access and delivery for all Manitoba children.
Birk developed an internationally renowned pediatric kidney transplant biopsy program that established new standards of post-transplant care. She has held numerous executive roles, leading transformative change within the health-care system. She is committed to inclusivity and interprofessional collaboration for empowerment and systems change.
She has risen to the challenge of leading the Winnipeg Children's Hospital (Health Sciences Centre) through the COVID-19 pandemic. In recognition of her accomplishments, she was awarded the prestigious Hedwig van Ameringem Executive Leadership in Academic Medicine Fellowship for medical women at Drexel University in Pennsylvania.
Birk is recognized for promoting equity and diversity. She co-leads faculty development for Indigenous cultural safety and anti-racism in the Max Rady College of Medicine. She has been active in efforts to create a more culturally safe environment for patients at the Children's Hospital.
When she took the helm of the pediatrics department, she said, "My ultimate goal as a leader is to foster positive change and cultivate the next generation of leaders."
Dr. Joanne Embree, professor of pediatrics/child health and medical microbiology/infectious diseases, is a pediatric infectious diseases specialist and a researcher with CHRIM.
From 1985 to 2000, she conducted groundbreaking research in Kenya on the transmission of HIV from mothers to infants. Her work helped to define the impact of HIV/AIDS on children in developing countries, as well as in Canada.
"Working in infectious disease … I get to see changes being made, thanks to our studies, that prevent children from becoming ill," Embree says. "It's rewarding to get to make that positive difference."Embree, an expert on hospital-acquired infections, is the medical lead for infection prevention and control at the Winnipeg Children's Hospital.
During the H1N1 pandemic in 2009 and the current COVID-19 pandemic, she has been instrumental in preventing disease transmission at the hospital. She has also worked with the pediatric departmental advisory group for COVID-19 vaccines for adolescents and vulnerable children.
Embree publishes extensively in the fields of hospital epidemiology and infection prevention.
She serves on national committees in her areas of expertise.
She was named Physician of the Year by Doctors Manitoba in 2009 and received a YMCA-YWCA Women of Distinction Award for science, technology and research in 2017.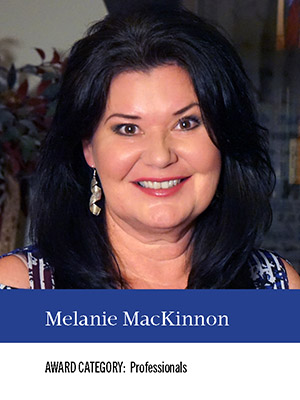 Melanie MacKinnon [BN/96] is a Cree nurse and health-care executive leader. She is a proud member of Misipawistik Cree Nation with paternal roots in Pimicikamak Cree Nation and Wabowden, Man.
MacKinnon leads Ongomiizwin, the Indigenous Institute of Health and Healing in the Rady Faculty of Health Sciences, and is executive director of its Health Services branch. Her patient-centred, culturally safe approach to program design and delivery has modernized the outreach medical model.
During the COVID-19 pandemic, MacKinnon has co-led the Manitoba First Nations Pandemic Response Coordination Team on behalf of the Assembly of Manitoba Chiefs. Under her leadership, Rapid Response teams have been deployed to First Nations communities experiencing outbreaks. She has also co-led the COVID-19 vaccination project in all 63 Manitoba First Nations.
In 2021, MacKinnon was honoured with a Dr. and Mrs. Ralph Campbell Award, UM's premier award for meritorious service in outreach activities.
She continues to advocate for the right of equitable access to quality health care, social programs and services for Indigenous Peoples.
"This award is an honouring of the matriarchal leadership and the ancestors I'm blessed to come from," MacKinnon says. "They were my first teachers of what generative and authentic power, responsibility and service look like."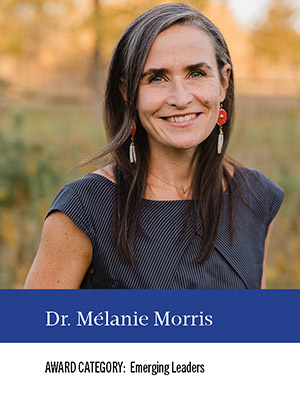 Dr. Mélanie Morris, associate professor of surgery and pediatrics/child health, is the first Indigenous pediatric surgeon in Canada.
Her contributions to the field include creating a minimally invasive program in pediatric urology. She has published research in pediatric surgery, urology, congenital illnesses and Indigenous health.
Morris has developed pediatric surgery outreach clinics in Nunavut and founded the Winnipeg Global Surgical Office. She is a mentor in the worldwide Gender Equity Initiative in Global Surgery.
Morris, who is Métis from the St. Laurent/St. Eustache Settlement, is the first person to be appointed lead for Indigenous health at the Winnipeg Children's Hospital. She has been instrumental in transforming the hospital into a culturally safe space for Indigenous children and their families.
"If we want to achieve a meaningful cultural shift for Indigenous child health care, we must continue to stand up as Indigenous women and lead," she says.
Morris provides expertise on surgical care in Indigenous communities at institutions such as the University of British Columbia, where she is cross-appointed as an associate professor.
She advises the Royal College of Physicians and Surgeons of Canada on the health of Indigenous Peoples and on gender equity, and how best to incorporate this knowledge into surgical education.
BY RADYUM STAFF