A message from Dr. Brian Postl, dean, Rady Faculty of Health Sciences
Dear Alumni, Faculty, Staff and Students,
As we were preparing to mail out our most recent issue of RadyUM magazine and share with you the inspiring story of Dr. Forough Khadem, one of our esteemed immunology alumni, we learned about her untimely passing in the Ukraine International Airlines tragedy on January 8.
We are devastated by the senseless loss of life of Iranian-Canadian members of our University of Manitoba alumni and student community, and mourn all passengers from Canada and around the world aboard Flight PS752.
After careful deliberation, we decided to proceed with honouring Forough (pictured on our cover) in RadyUM magazine and celebrating her exuberant life. She travelled across the world to pursue her PhD in immunology at U of M under the supervision of Dr. Jude Uzonna, graduating in 2016. She was among 600 young scientists worldwide selected to participate in the prestigious Lindau Nobel Laureate Meeting in 2018 and had her doctoral research published in eight peer-reviewed articles.
We send our sincerest condolences to Forough's family, friends and colleagues and to all who lost loved ones. In telling Forough's story, we hope you will gain insight into a member of our alumni community who had already impacted so many and held such great potential.
Yours sincerely,
Brian Postl, MD FRCPC
Dean, Rady Faculty of Health Sciences
Vice-Provost (Health Sciences), University of Manitoba
Pioneering department celebrates 50 years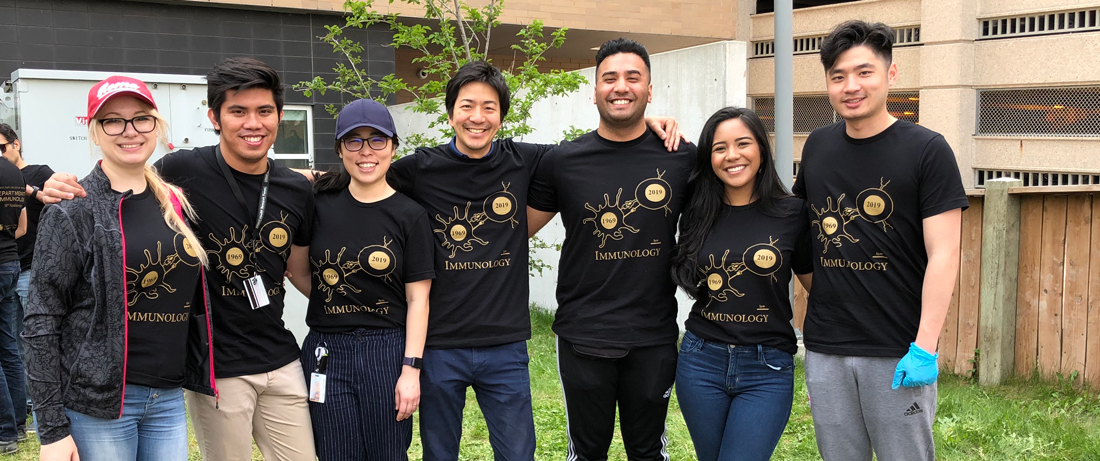 FIFTY YEARS AGO, when Canada's first immunology department was founded at the University of Manitoba, immunology was a little-known scientific discipline. It was usually a subsection of departments such as infectious diseases or microbiology.
The department was established in 1969 by a group of 35 visionary scientists and trainees from Montreal's McGill University. Led by Dr. Alec Sehon, they seized the opportunity to spearhead something new in Winnipeg.
Today, the department in the Max Rady College of Medicine is internationally known as a unique centre for immunology research and teaching. Its 50th anniversary was celebrated in September with a two-day symposium on the theme Immunology: Translating Creativity into Better Health.
"Discovery and creativity is really what we do," said Dr. Aaron Marshall, who was appointed department head in 2019. "Immunology is about pushing the boundaries, making connections and testing your ideas."
The symposium drew nearly 100 alumni, faculty, graduate students, trainees and researchers. Distinguished immunology alumni who work in academia and the clinical, industrial, government and not-for-profit sectors presented lectures.
Alumnus Youhai Chen [PhD/93], a professor of pathology and laboratory medicine at the University of Pennsylvania who studies autoimmunity, inflammation and cancer, gave the keynote lecture.
Other notable speakers included Laura Wilson [B.Sc./99, PhD/05], a California-based immunologist who leads the strategic direction for the Kenneth Rainin Foundation's health program, and Tingting Zhang [PhD/10], a senior scientist at the Seattle Children's Hospital Research Institute.
The immunology department, located in the Apotex Centre on the Bannatyne campus, has produced nearly 250 master's and PhD graduates. One of them, Forough Khadem [PhD/16] (pictured on our cover), earned her PhD in 2016. Two years later, she was one of 600 young scientists from 84 countries chosen to participate in the prestigious Lindau Nobel Laureate Meeting.
The Iranian-born Khadem, who grew up partly in New Zealand, chose to study at the U of M because of a personal connection. In 2008, when she was a master's student in Iran, she served as the translator for the U of M's Dr. Jude Uzonna at an international workshop on leishmaniasis, a deadly tropical disease.
She was so impressed with the immunology professor, and with the fact that the U of M had Canada's longest-standing immunology department, that when Uzonna encouraged her to consider the U of M, she moved across the world for the opportunity.
Khadem's doctoral research, supervised by Uzonna, identified a novel vaccine/drug candidate against leishmaniasis and was published in eight peer-reviewed articles.
The scientist said she particularly valued the department's supportive, collaborative atmosphere. "The friendly and helpful spirit is unique, compared to the super-competitive environments I have seen around the world," she said.
At the symposium, Marshall noted how the field has evolved. "Immunology has grown at an incredible pace over the past 50 years. It's moved from being a minor offshoot of infectious disease research to being, in my mind, a central pillar of the biomedical sciences and a leader in innovations in treatment of chronic diseases and cancer."
U of M President and Vice-Chancellor Dr. David Barnard said in his remarks, "The department has received international recognition for major research involving fundamental biology of the immune system, translational immunology and collaboration with industry."
Faculty members include six Canada Research Chairs (two current), three endowed clinical chairs, three Manitoba Health Research Council chairs and one industry-partnered chair. Since 1995, $40 million in research funding has been garnered by immunology faculty.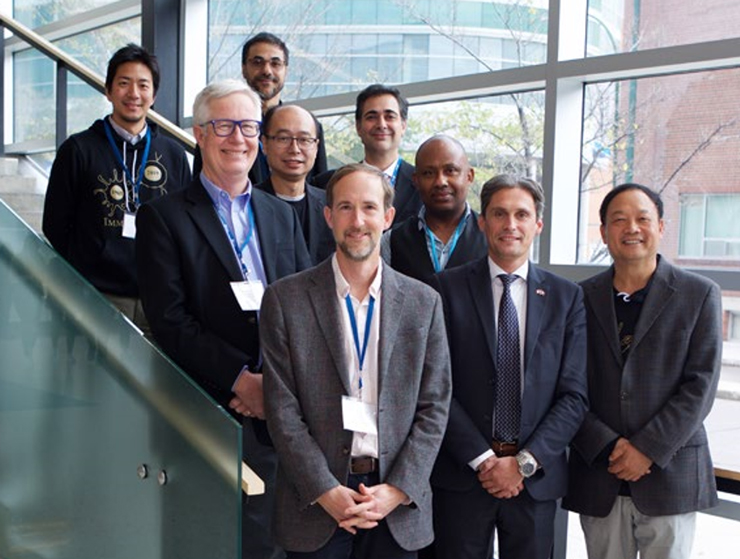 Dr. Kent HayGlass, professor and former department head, spoke about what the department can learn from its own success, when many immunology departments at other institutions have disappeared or changed their focus.
"You need to be willing to take a chance, do different things and be hungry for success," he said. "You have to decide that you're just going to give it a go. Sometimes it doesn't work as well, and other times it leads you to places you wouldn't have expected, which are far better than your goal."
Marshall said immunology plays a crucial role in breakthroughs that lead to successful disease treatments. "A lot of therapeutics and cures originate from discoveries about the fundamentals of how cells work," he said.
He noted that a major thrust of investigation in the department's labs continues to be in parasitic diseases, HIV and viral infections. Dr. Thomas Murooka, an assistant professor who holds the GlaxoSmithKline Chair in immunology of infectious disease, is applying his expertise in cell-to-cell communication to HIV research.
A five-year grant from the Canadian Institutes of Health Research was recently awarded to a team of researchers across Canada, including Murooka, to find a cure for HIV. "If each of us can make an incremental advance, you can advance that collective knowledge to hopefully completely eliminate this virus," he said.
The department has strong scientific links with the Children's Hospital Research Institute of Manitoba, Research Institute of Oncology and Hematology, Manitoba Centre for Proteomics and Systems Biology, National Microbiology Laboratory and Health Sciences Centre.
Marshall hopes to foster interdisciplinary relationships with research groups that share overlapping interests, allowing immunologists to provide expertise on teams that study cancer and chronic diseases such as arthritis, asthma and allergies.
"I think we bring new insights when we're involved in this kind of interprofessional research," he said. "That's something I will be promoting – to build connections between our faculty and research teams across the Rady Faculty of Health Sciences."

Five Decades of Discovery
Over the past 50 years, researchers in the department of immunology have made many notable discoveries that have advanced scientific knowledge of the immune system. Members of the department have produced more than 2,500 research publications. Their findings have contributed to new treatments for asthma, allergies, cancer, autoimmune and infectious diseases, as well as improvements in organ transplantation. Here are just a few of the high-impact discoveries made by U of M immunologists:

1972–1980: Identification of immune cells possessing the ability to attack and kill cancer cells, and their specific "killer enzymes," paving the way for future development of cancer immunotherapies.
1974–1990: Discovery that chemically modified allergens can suppress allergic responses, sparking the identification of new immune regulatory mechanisms and leading to the development of new techniques to suppress certain allergic responses.
1980s–Present: Identification of immune mechanisms underlying the development of allergic asthma and food allergies in children, leading to early-life intervention and treatment studies and clinical trials, including a new vaccine to treat ragweed allergies.
1995–Present: Discovery of improved methods for matching kidney donors to recipients and new biomarkers to identify early stages of transplant rejection, allowing for improved clinical management and better outcomes for transplant patients.
2006–Present: Identification of specific immune mechanisms that control parasitic diseases such as leishmaniasis and trypanosomiasis, leading to the development of new vaccination strategies and the establishment of a large program for the study of parasitic diseases.

2005–2014: Development at the National Microbiology Lab in Winnipeg of the first successful Ebola vaccine, as well as neutralizing antibodies to Ebola that were credited with saving lives during the 2014 Ebola outbreak in West Africa.

2008–Present: Identification of the mechanisms that control the initial development of autoantibodies before overt symptoms of rheumatoid arthritis and lupus appear, leading to new strategies to assess at-risk populations and allowing earlier therapeutic intervention.
2010–Present: Discovery of new mechanisms by which immune cells transmit information from the outside to the inside of the cell via a signaling network, laying the groundwork for successful new therapeutics in B cell leukemia.
2015–Present: Discovery that a class of neuronal cell receptors (semaphorins) also function to guide immune cell migration and control inflammation in diseases such as asthma, inflammatory bowel disease, bacterial infection and parasitic infection.
2015 – Present: Investigation of specific mechanisms by which cancer cells inhibit and subvert the immune system, and how specific immune cell types can be "turned back on" to fight cancer cells and improve overall immune system function.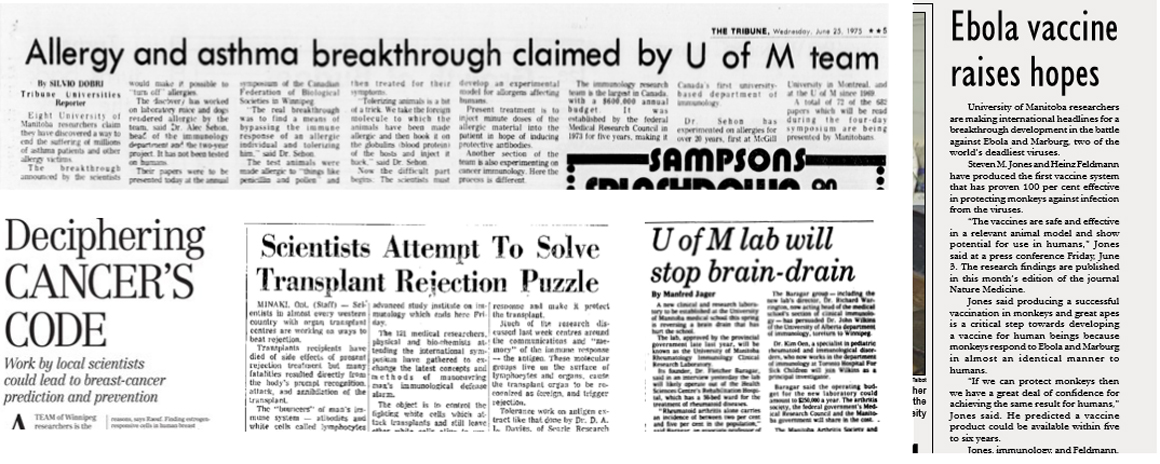 BY CHANTAL SKRABA