PHARMACISTS HAVE AN INTIMATE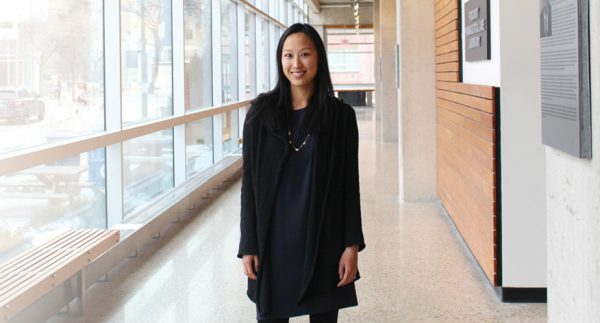 KNOWLEDGE of the human body and the drugs that can help it heal.
But they also understand how medication, even when it's properly prescribed by a doctor, has the potential to cause harm.
College of Pharmacy researcher and assistant professor Dr. Christine Leong [B.Sc.Pharm/10] is interested in research in the area of primary care, with a special focus on mental health and unintentional adverse health outcomes as a result of drug therapy.
The U of M almuna is a born-and-bred Winnipegger. She earned her doctor of pharmacy degree at the University of Toronto in 2012, joined the U of M faculty in 2013, and obtained a professional interest certificate in pharmacoepidemiology at McGill University the following year.
Her current research includes studying prescription access and pharmacy practice in identifying and preventing drug misuse, diversion and overdose. She has a project examining prescription cannabinoids and health outcomes.
She is also studying the experience of sedative-hypnotic/anti-anxiety medication use among patients seen at a family medicine clinic.
In one study, Leong conducted a survey of 82 community pharmacists throughout Manitoba to learn how to better manage cases in which a pharmacist suspects that a patient may be at risk for suicide using prescription drugs.
Leong says the answer doesn't necessarily lie in changing the type of medication a patient receives. It's about providing care – and the drugs themselves – in a way that reduces risk.
"There are times when a patient may leave the pharmacy with a 90day, or even a whole year, supply of their medication," she says. Taken all at once, drugs like opioids, antidepressants and sedative-hypnotics could have catastrophic effects.
"But if you reduce the supply, maybe providing only a week's supply or even a day's supply at once, you limit the ability to self-harm."
This protocol is called means restriction; essentially taking away one potential method of dying by suicide. Though it may be in a patient's best interest, Leong started the research assuming the inconvenience of more frequent visits to the drugstore would be seen as problematic.
"Contrary to what we thought, pharmacists reported that a lot of patients didn't mind going to the pharmacy every day," she says, adding that patients often said it gave them some purpose.
An added benefit to a shorter period between refills is that pharmacists may be able to spot a patient in crisis before the situation deteriorates any further.
"Ultimately, as pharmacists we want to provide the best care possible for patients who are on medications that are potentially harmful," Leong says. "When we believe someone is potentially at risk, we want to be sure they are optimally identified and referred to the right resources."
"As a profession, community pharmacists are regarded as the most accessible and convenient primary care providers," adds Dr. Lalitha Raman-Wilms, dean of the College of Pharmacy.
Once a patient leaves a physician's office with a prescription, the member of the health-care team who sees them next is usually the pharmacist, with no appointment needed. And they'll continue to be there through the days and weeks – even years – that a patient is on their medication.
"This gives us the opportunity to develop relationships," says Raman-Wilms. "But it also lets us see patterns and changes in their health. For some patients, that could make all the difference."
BY ANNETTE ELVERS