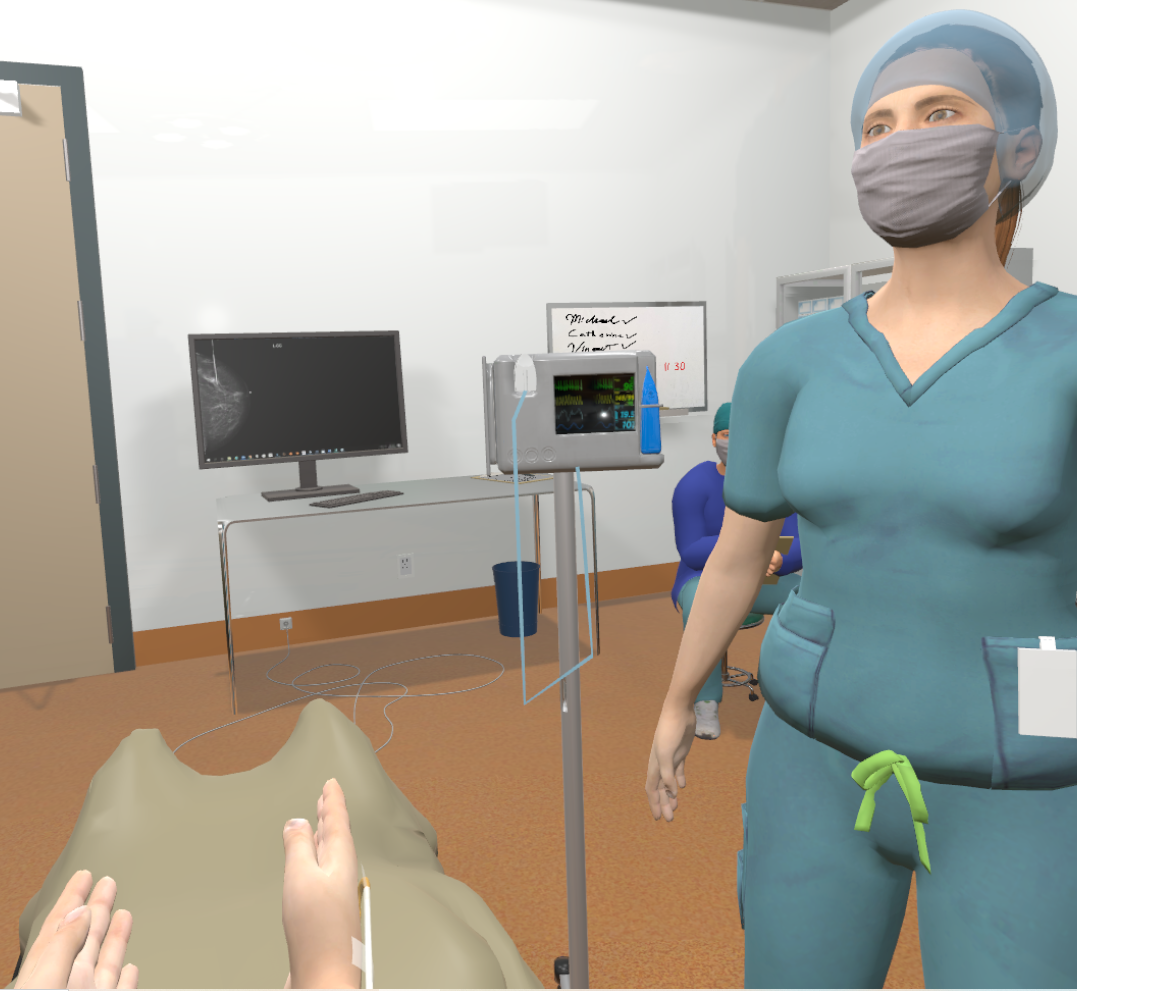 Being unsure of what to expect on the day of an operation can fill some patients with dread.
But imagine being able to experience a realistic "dry run" in advance of your surgery day. By putting on a virtual reality (VR) headset, you could be immersed in a three-dimensional simulation of the hospital environment and get a reassuring preview of the leadup to your operation.
Clinical psychologist Renée El-Gabalawy [B.Sc./08, MA/10, PhD/15] is preparing to study the use of VR to ease the apprehension that many patients with breast cancer feel before surgery.
The assistant professor in the Max Rady College of Medicine says research shows that elevated anxiety and distress before surgery can result in poor surgical outcomes, such as more pain, longer hospital stays and higher rates of complications.
"It's really important to figure out how to reduce this anxiety," El-Gabalawy says. "Using virtual reality to help surgical patients is very innovative. It's not a mainstream approach. It hasn't been researched widely at all, and it hasn't been implemented clinically."
VR is being used in the United States to treat post-traumatic stress disorder and phobias, the professor says, but not for patients before surgery.
The study is just one of many projects El-Gabalawy is working on that explore the connections between mental and physical health. In the past year, she has published 25 studies.
Two recent papers, published in PLOS ONE and the Canadian Journal of Anesthesia, showed the increasing rates of surgical cancellations and postponements and their detrimental effects on patients' physical and mental health.
These studies reflect El-Gabalawy's unique position. She is cross-appointed between the department of clinical health psychology and the department of anesthesiology, perioperative and pain medicine. She says the partnership between the two allows her to hold one of only a few such positions in North America.
El-Gabalawy's research is focused on the relationship between, and impact of, mental disorders and physical health conditions. She is also interested in studying psychological reactions that are caused by surgery, illness or other medical traumas.
In her upcoming VR study, the 10-minute simulation will give a patient with breast cancer a lifelike preview of everything they will experience after they are wheeled into the operating room. A health-care worker avatar will take the patient through the steps of induction of anesthesia, up to the point where the room goes black.
The study will test three groups. The first will participate in the VR simulation. A control group will watch a 10-minute VR video, and the third group will undergo surgery without viewing the simulation or video.
Participants in the first two groups will answer questions before and after their viewing sessions and have their physiological responses measured. All the participants will have their anxiety monitored on the day of their surgery to see if it differs across the groups. The goal is to discover whether familiarization and desensitization reduce anticipatory surgical anxiety.
El-Gabalawy is conducting the study with breast cancer patients because they experience particularly high rates of pre-surgical anxiety. If the results are positive, she says, VR can be studied for other surgical patients. The VR environment has been built, but the professor is waiting until COVID-19 restrictions are lifted to start the study.
Meanwhile, she is busy with a project focused on how people are coping during the pandemic. In May, she launched a national COVID-19 study. The team surveyed more than 1,000 participants and is following up with them at the six- and 12-month marks.
"We know very little about the long-term mental health implications of the disease," El-Gabalawy says. "With this research, I really hope that we'll be able to understand how we can better support people's mental health and what groups we should be targeting in terms of who needs extra support."
Preliminary data points to elevated levels of stress and anxiety related to the challenges some people are facing in accessing their regular health care, from massage therapy to seeing a pain physician.
El-Gabalawy, who was born in Fredericton and grew up in Winnipeg, is a proud UM alumna. After graduating with an honours bachelor of science in psychology and a master of arts, she was awarded the prestigious Vanier Canada Graduate Scholarship and earned her PhD in clinical psychology at UM in 2015.
She obtained a research fellowship at Yale University during her PhD studies that was funded by a Canadian Institutes of Health Research Michael Smith Foreign Study Supplement. She then completed a residency in clinical psychology at the Medical University of South Carolina.
El-Gabalawy has been awarded millions of dollars in research funding, as both co-investigator and principal investigator. She has published close to 100 peer-reviewed journal articles and book chapters and has presented research at more than 150 conferences. She is also a co-investigator and the clinical research network director of the Chronic Pain Strategy for Patient-Oriented Research Network at UM.
She happily returned to Winnipeg after her training in the U.S. and was appointed a faculty member at UM, where her father, Dr. Hani El-Gabalawy, is a professor of internal medicine and immunology and her husband, Dr. David Perrin, is an assistant professor of surgery.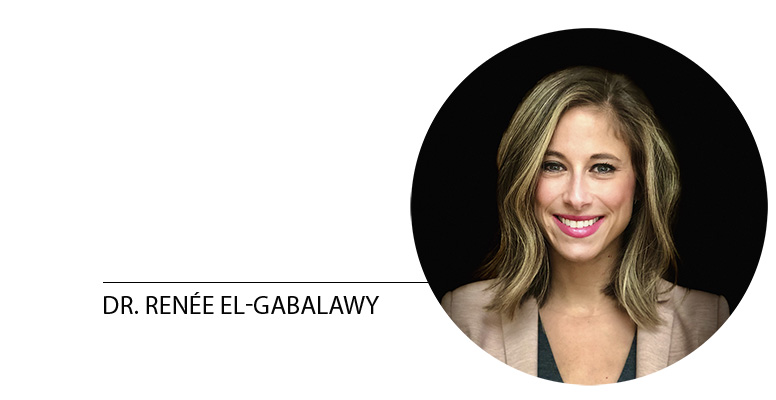 "It's absolutely my dream job," she says. "I genuinely get up every day and I'm so excited to work. I love the work I do. I am fascinated by the relationship between mental and physical health."
BY MATTHEW KRUCHAK