Dr. Joel Carter finds healing in sculpture, stories
"Listen to the rocks."
When Joel Carter [MD/91, B.Sc. Med./91] first heard those words from an Indigenous elder in New Mexico, he had no idea how much they would come to mean on his life journey.
It was the turn of the millennium. Carter was struggling with a midlife crisis as he reached the age of 40.
The University of Manitoba medicine grad, born and raised in Winnipeg, had become a successful emergency-room doctor in Duluth, Minn. But he was going through a divorce, had never come to terms with his Jewish grandparents' deaths in the Holocaust, and felt lost, angry and unfulfilled.
He sensed that he needed to make a transition from head to heart.
"I had to do a lot of self-reflecting. I think I fit the archetype of the wounded healer," recalls Carter, 56, now a Minneapolis palliative care and pain specialist, artist and speaker with a particular interest in storytelling at the end of life.
"I'm a better physician now, because of the journey I've taken as an artist."
Back in that time of personal upheaval, nudged by the elder's words, Carter started spending hours alone, piling, balancing and arranging rocks along a Minnesota creek. He became fascinated by inuksuit – the stone structures, sometimes in human form, constructed by Inuit for wayfinding in the Arctic.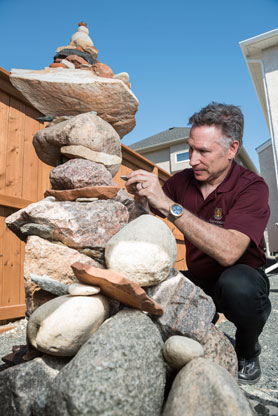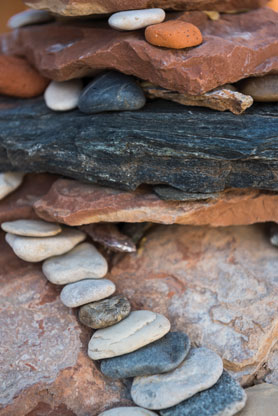 Almost as fast as he built his creations, though, a "rock stalker" knocked them down. Rebuilding them was maddening. But with hindsight, he is grateful to the persistent vandal. "It gave me the opportunity to practise," he says. It also taught him about focusing on the present creative moment – a lesson he would come to use in his work with dying people.
"The universal experience of 'the broken places'…
has purpose and meaning."
Because his "rockpeople" were impermanent, he started photographing them. That led to two successful self-published books, Rockpeople: The Chester Creek Inuksuit Anthology (2004) and Rockpeople: Beyond Chester Creek (2012), which combine his photos with his short philosophical poems. He also published a collection of witty writings called Lava Lamp Lessons (2004).
As he continued to explore Indigenous spirituality and the importance of art, ritual, myth and story in the process of living and dying, Carter came to see inuksuit as powerful symbols.
To make the structures strong and stable, he says, Inuit place small pieces of broken rock between the large stones. It's a metaphor for how pain, loss and grief lend stability to our lives if we do the healing work of making peace with them.
"The universal experience of 'the broken places'…has purpose and meaning," he writes.
One of Carter's most profound healing experiences came during that same period of midlife reckoning. He journeyed with his Polish-born father, retired U of M medical professor and Holocaust survivor Stefan Carter [MD/54], to Treblinka, the former Nazi extermination camp where Stefan's mother had been put to death. Stefan's father was presumed murdered in the Warsaw Ghetto Uprising.
When they arrived at Treblinka, Carter was stunned to see that the memorial there takes the form of thousands of large rocks. He was able to mourn, and to find a sense of hope and meaning. "I had struggled so much to be Jewish, because it was too painful," he says. "The rocks connected me with my Jewish history."
Today, the palliative care specialist, who recently spoke at Tedx Winnipeg 2017, calls himself a "recovering physician." He had a bar mitzvah at the age of 40, has remarried and has two young children. He still creates with rocks and has had exhibitions as a sculptor.
Carter, who radiates kindness and good humour, has found his purpose in helping people to die gracefully and lovingly. He has come to believe that the interaction between a doctor and a dying patient can be a shared creative act, with storytelling – and sometimes silence – as the artistic medium.
He says it's as simple as asking the dying person, "Of all the stories you've lived, what was one of the best?" and then engaging in the response without trying to control the outcome.
To demonstrate the benefit of this approach, Carter conducted a study that showed how being asked to share a story led dying patients to rate their well-being and pain levels as better than a control group who did not share stories. This end-of-life "parallel process" between caregiver and patient is something like piecing together a rock sculpture. It's an organic journey that finds its own way. It's fleeting and often unexpectedly beautiful. Carter considers it sacred.
"These healing encounters always contain elements of mystery," he says. "There was one patient's story about sitting by a lake in Sweden, hearing the loons call. There was a story of singing with children."
What the dying patient needs is for the doctor to be fully present as a fellow human being. But Carter emphasizes that the doctor needs this, too.
"When I began my palliative care training, the golden rule was: 'Show up, shut up, and it's not about you.' But on another level, it's always about us as well. There's always this creative space of opportunity – a space created together. That healing relationship is there for both of us."
BY ALISON MAYES