"THE WORLD IS DESIGNED FOR PEOPLE WHO WALK," says Dr. Ed Giesbrecht [BSW/87, BMROT/94, M.Sc./06].
If walking isn't an option and you become a wheelchair user, says the associate professor of occupational therapy, you'll need training to manoeuvre your chair proficiently and cope with the barriers that persist in many environments.
"There's a common misconception that wheelchairs are relatively easy to use," Giesbrecht says. "But particularly with a manual wheelchair, there's a whole host of specific motor skills that are needed to deal with obstacles we encounter.
"There are also mental and emotional challenges. A big thing we focus on is confidence." Giesbrecht is passionate about finding better ways to train people to use mobility aids such as wheelchairs, walkers and scooters. He's also keenly interested in the improvement of wheelchair design and technology.
He's an active member of the Rehabilitation Engineering Society of North America, which recognized him with its 2017 Emerging Leader Award.
Born and raised in Winnipeg, Giesbrecht started out as a U of M-trained social worker. He went on to complete a bachelor's degree in occupational therapy and a master's in rehabilitation sciences at the U of M before earning a PhD at the University of British Columbia.
He first got interested in how people attain mastery of wheeled mobility devices when he worked for nearly a decade (1994 – 2003) as an occupational therapist at Health Sciences Centre, helping clients get back to participating in the activities that were important to them.
He invested the time to become an expert user himself. "In order to teach wheelchair skills, you have to be able to perform them," he says.
Since joining the College of Rehabilitation Sciences faculty in 2003, he has published research on topics such as older adults' experience of transitioning to wheelchair use and the effect of wheelchair tilt on individuals with spinal cord injuries.
"My research is very much clinically driven," he says. "It comes out of wanting to improve client care."
He has received several grants to develop and test a home-based wheelchair skills training program for older adults. It's delivered on a computer tablet.
The program, called Enhancing Participation in the Community by improving Wheelchair Skills (EPIC Wheels), was developed collaboratively with stakeholders, including older wheelchair users, their care providers and clinicians. Giesbrecht has applied for funding for a multi-site randomized controlled trial of EPIC Wheels.
Currently, with grant funding from AGE-WELL (a research network that drives innovation to benefit older adults), he is co-investigator on a study looking at the effectiveness of a power wheelchair training program that's delivered via virtual reality.
"We're also working with Red River College on developing gaming apps as a way of providing wheelchair training," he says. "If we make it more engaging and fun, people practise more."
In the department of occupational therapy, Giesbrecht leads a four-hour "boot camp" on manual wheelchair skills training. It started as an extracurricular offering, but is now part of the core curriculum.
"I teach students a repertoire of skills, so they know how to demonstrate them to clients, and how to break down the skills," he says.
"One of the most valuable skills is the ability to get over a very small obstacle or change in elevation, like an extension cord, or an elevator that doesn't quite line up with the floor, or the threshold of a doorway.
"The technique of 'popping your casters' (the two small wheels at the front of the wheelchair) gets you up and over something."
Winter in Manitoba can pose daunting challenges to wheelchair users, with sidewalks, driveways and roads made treacherous by snow and ice. With funding from the Manitoba Spinal Cord Injury Research Committee, Giesbrecht will soon start work on a research project led by his colleague Jacquie Ripat [BMROT/92, M.Sc./98, PhD/11].
"Different kinds of snow behave differently," he says. "We're planning to develop a standardized outdoor environment – like an obstacle course – where we can replicate specific winter conditions. We can use that to assess people's skills, teach them skills and evaluate equipment.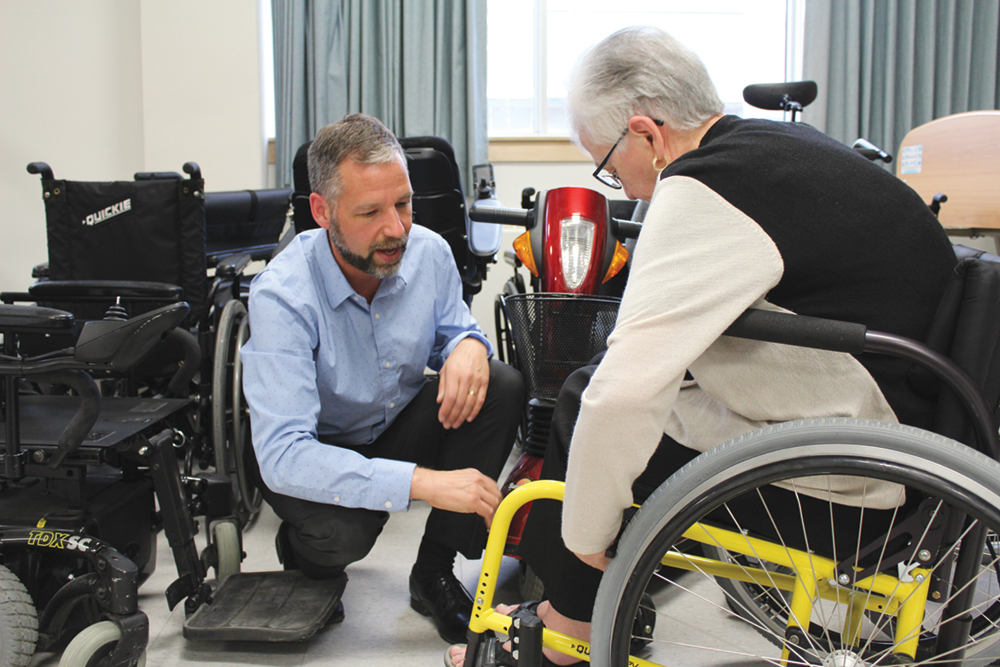 "Lots of innovative, winter-specific devices come onto the market, but there's not necessarily a lot of evidence that they're helpful. There's one product that's a platform with treads on it, like a tank or a Caterpillar. You put a manual wheelchair on the platform, and the user operates it with a joystick. That's one of the products we're hoping to test."
Giesbrecht says he derives great satisfaction from research that translates into better quality of life for people who use mobility aids. "When we do studies and we hear from participants about how this has improved their lives and changed their ability to do what they want to do, that's always an incredible reinforcement for continuing in this area of research," he says.
"Our calling is to look after each other as a community. I think that's what health-care delivery and research is all about: to ensure that we all have access and can all be part of the community
BY ALISON MAYES