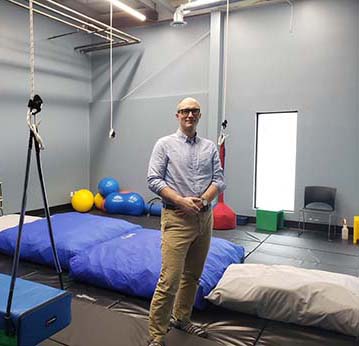 When David Ambrose [BMROT/00] was 10 years old, growing up in Teulon, Man., the first seeds of his career were planted while he watched the Calgary Flames make a run for the Stanley Cup in 1989.
It wasn't hockey legends like Lanny McDonald who caught his attention. Instead, he noticed Bearcat Murray, the team's athletic trainer, tending to injured players on the ice.
"He was quite a character. He always came out in these bright suspenders, and I thought it was neat that he was out there caring for the players and getting them back in the game. That's what turned my eye toward rehabilitation," says Ambrose.
While Ambrose initially planned on pursuing physical therapy, a friend's older sibling told him about occupational therapy, and he applied for both at UM.
"At the time, I thought occupational therapy was a good second choice, but in retrospect it's been great for me," he says.
In 2005 Ambrose founded Theraplay, Saskatoon's first private fee-for-service occupational therapy clinic. It helps people with developmental needs "build skills for the job of living."
The clinic provides play therapy for children, including those with autism spectrum disorder (ASD). It has two locations, with a total of eight occupational therapists on staff.
The team works with kids to improve their social engagement and self-regulation, so they can stay calm and level when things aren't going the way they'd like or expect.
This includes a lot of sensory play through physical activities, such as swinging, bouncing and jumping.
"We have lots of examples of kids handling different stressors or new challenges without having a meltdown. These small successes open up a lot of doors for our clients," Ambrose says.
He recently worked with a young adult with developmental needs who would become overwhelmed in public spaces and potentially become a risk to himself or others.
"He couldn't go to restaurants or be out in the community. But, over time, he demonstrated to his parents that he could handle a bit of a challenge and soon they felt comfortable taking him mini-golfing or for a sit-down meal at a slow time."
After 17 years in business, Ambrose has some adult clients who have grown up with the clinic. "I work with one client who I first met before he went into kindergarten, and now he's wrapping up his third year of university."
In 2019, Ambrose completed a post-professional master's degree in occupational therapy from Dalhousie University. He has since published two studies in the British Journal of Occupational Therapy on joint attention for children with ASD.
He describes joint attention as a shared focus between two individuals, like someone pointing out a passing car. It's important for social communication, he says, but is often difficult for children with autism.
"I like to meet kids where they are, follow their interests and then fit myself into where their attention is going," he says.
"I think it's important that kids with developmental needs have skilled, caring adults to work with. And it's important for those adults to understand how to help these kids build skills in a way that is fun and challenging."
BY ALAN MACKENZIE