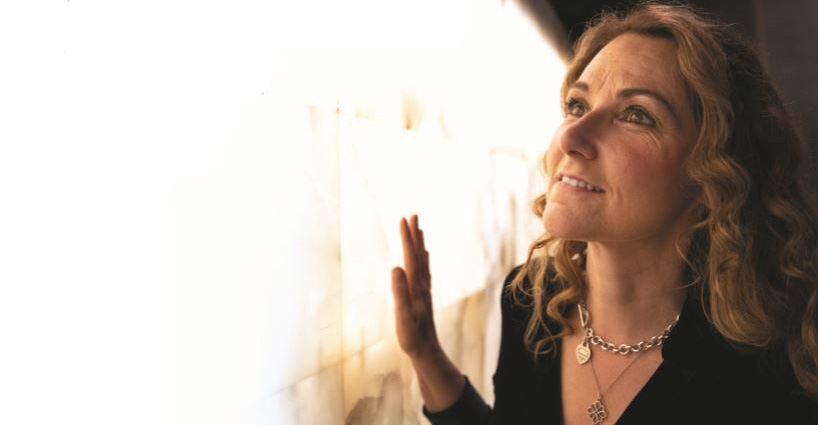 "NEVER RETRACT, never explain, never apologize – get the thing done and let them howl."
When Jen Gunter [MD/90] was asked by a reporter what quotation she would want recited at her funeral, she chose that directive from feminist Nellie McClung.
"I love that quote," says Gunter, whose fierce online advocacy for women's health has earned her the title "Twitter's resident gynecologist" and propelled her to fame, most recently as a New York Times columnist whose monthly dispatch is called The Cycle.
"I have a very large personality," says the 1990 U of M medicine grad. "I view myself as a truth-teller. I have no conflicts of interest and I speak for no one but myself."
The Winnipeg-born gynecologist lives and practises in the San Francisco Bay area. Blogging and tweeting under sassy taglines such as "Come for the sex, stay for the science,"she's a vociferous champion of women's rights to birth control, abortion and satisfying sex.
Online abuse? She manages to shake it off, often with snarky attitude. "I've been called 'the Vaginal Antichrist,'" she says. "That's the best insult!"
Gunter, 52, is on a self-appointed mission to debunk bogus health claims, especially those that function to rip off and harm women.
Take, for instance, the trend among postpartum moms of having their placenta ground up into pricey capsules for their own consumption. Gunter slams the practice, noting that placentas often carry bacteria, there are no safety standards for such capsules, and there's no evidence that eating the placenta is an ancient tradition.
The self-described "warrior" has been dubbed "the scourge of medical nonsense." In 2015, the Toronto Star took the rare step of removing an alarmist article about the human papillomavirus (HPV) vaccine from its website after Gunter led the outcry about the piece's lack of medical evidence.
The outspoken gynecologist has a book, The Vagina Bible: The vulva and the vagina – separating the myth from the medicine, coming out in August.
She also stars in a new series for CBC TV's streaming service, Gem. The show, Jensplaining, features Gunter's frank, feminist, evidence-based takedowns of health myths and pseudoscience.
"I talk about periods, orgasms, menopause, diets – all the stuff women are shamed about," she says. "I talk about my own period mishaps, like blood leaking on my clothes. My whole deal is taking away shame about body parts."
Raised in Winnipeg's River Heights neighbourhood by an engineer father and homemaker mother, Gunter attended Kelvin High School. At home she spent long hours in the basement, devouring her mother's collection of feminist literature.
"Our house was filled with books about strong women," she says. "I read The Handmaid's Tale when it came out. Books really shaped my life."
When she was 16, she rode her 10-speed bike to the Morgentaler Clinic, Winnipeg's then-controversial abortion clinic, to defend women's reproductive rights. "I just felt like it was important to be there and stand up for women. There were all these anti-abortion protesters and a lot of harassment."
After graduating from medical school and completing her training in obstetrics and gynecology at the University of Western Ontario in 1995, Gunter moved to the United States for a fellowship in infectious diseases. She is also a pain medicine specialist.
Having practised in Kansas, Colorado and now California, she speaks highly of the foundation she received at U of M. "I've worked with a lot of physicians who trained at Ivy League schools. I don't think any one of them had a better medical education than I did. The U of M also gave me a perspective that you are your patient's advocate."
Gunter, who still has family members in Winnipeg, spoke in February at a Max Rady College of Medicine awards evening at the Canadian Museum for Human Rights. She told the current and future doctors in the audience that frightened patients are prime targets for snake-oil pedlars on the Internet.
That's a truth Gunter knows first-hand. Sixteen years ago, she felt desperate after giving birth to extremely premature triplets. One of her sons died at birth and the other two were left with many health challenges.
"You start going down these terrible rabbit holes," she recalls about her online odyssey at that vulnerable time.
Having to advocate for her sons' care compelled her to write her first book, The Preemie Primer (2010). "Once, when I was at the ER with my son," she recalls, "a doctor accused me of being there because I was anxious. He tried to discharge us. My son had influenza pneumonia. He could have died if I didn't know how to yell at this guy."
In 2017, Gunter's Twitter fame soared when she started calling out "lifestyle guru" Gwyneth Paltrow and her GOOP website for promoting dubious "wellness" products and practices, from coffee enemas to jade "eggs" for insertion into the vagina, to the idea of touching certain plants to "balance hormones."
Celebrity hucksters like Paltrow, Gunter says, manage to create a veneer of authenticity that their followers trust more than scientific or medical expertise.
Gunter calls on physicians to combat dangerous misinformation by directing patients to accurate, unbiased online health resources, sharing credible medical articles on social media and making themselves available for media interviews.
She also urges doctors to use social media to demonstrate that they're relatable human beings. "When people feel they know you, they're more likely to believe you," she says.
Gunter's Twitter account openly reveals her imperfect life as a divorced mom with a demanding career and a rising public profile.
By sharing everything from her struggle with a binge-eating disorder to her interactions with her kids and pets, she says, she shows the public that she is genuine.
"How can you make your patients feel a little more like they have a connection with you?" she asks. "We have to invest in authenticity."
BY ALISON MAYES