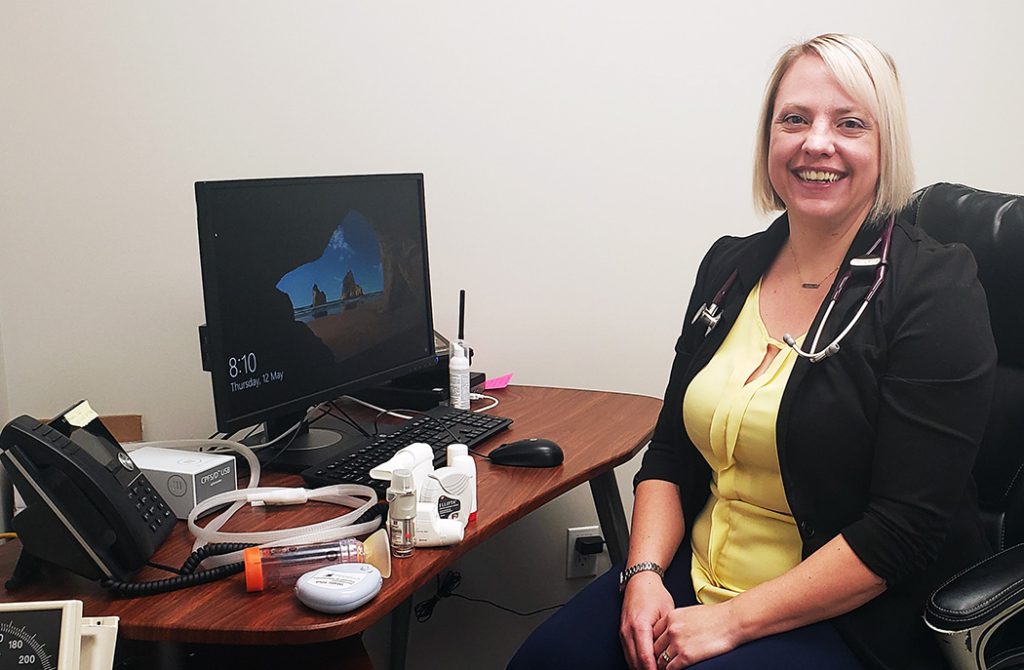 When Karen McElroy [B.Sc./06, BMRRT/11] chose a career in respiratory therapy (RT), she was attracted to the "adrenaline junkie" side of it – the intense situations in emergency rooms where there are sometimes only minutes to save a patient's life.
But a calling to return to her rural roots led her to a position unique in her field.
McElroy was born in England and moved with her family to southern Manitoba in 1997 at the age of 13. Her parents ran a cattle farm and she attended school in Neepawa, where she dreamed of working in the medical field.
After earning a degree in microbiology, she spent two years working at a Winnipeg lab before returning to UM to study respiratory therapy at the College of Rehabilitation Sciences.
"When I graduated, I got a lot of job offers in the city, but the draw to rural life was a big one," she says.
Knowing that RT jobs are rare in rural settings, she applied to a pilot program funded by the RANA Respiratory Group (now Careica Health) to work in physicians' clinics, specializing in chronic care.
For three years, she was funded by RANA to work at clinics in Morden and Winkler, neighbouring communities in southern Manitoba.
When the program ended, she was hired to continue her work at the C.W. Wiebe Medical Centre in Winkler. She was eventually brought back to the Menzies Medical Centre in Morden as well, through Manitoba's My Health Teams program, an interprofessional platform that brings health-care providers from various disciplines together in one setting. She now divides her time equally between the two clinics.
McElroy uses spirometry – a pulmonary function test – to help physicians diagnose patients with chronic obstructive pulmonary disease (COPD), asthma and other restrictive lung diseases. She also has certification from the Canadian Network for Respiratory Care to educate patients on respiratory care and smoking cessation.
"The end goal is to reduce hospital admissions, specifically ER visits," she says. "If you have people control their own respiratory disease, they're going to the hospital less often."
McElroy, who lives on a cattle farm in the area with her husband and three children, says she feels lucky to be able to work in a rural setting and build long-lasting relationships with her patients.
"If you're a respiratory therapist in a hospital, it's rare to ever speak to your patients," she says. "In fact, most patients who have been helped by an RT never realize that they were, because at the time they're usually intubated and ventilated in an ICU."
McElroy recalls the passing of one of her COPD patients early in her career as the moment she knew she had made the right decision. The patient's family thanked her in his obituary and his wife gave her flowers, thanking her for caring for her husband in his final years.
"It brings me to tears when I think about it, because he was just a regular patient and I was just doing my job, but it meant so much to him," she says.
"That moment sealed the deal and made me fall in love with what I do."
BY ALAN MACKENZIE