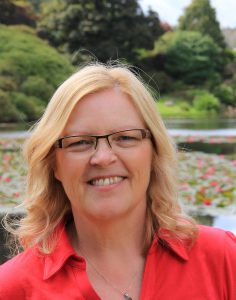 In January 2020, Helen Clark [MBA/03] was about to travel to New York as part of an international initiative to improve Winnipeg's 911 system when she heard about a virus in China that would dominate her work for the year ahead.
Clark was part of a team that included other health-care leaders and representatives from the Winnipeg Police Service, the City of Winnipeg and the Downtown BIZ, invited by Mayor Brian Bowman to participate in the Bloomberg Harvard City Leadership initiative.
The program provides teams with access to Harvard faculty, students, staff and other resources to address a specific issue. Bowman's team was exploring how to better manage 911 calls that don't necessarily require an emergency response.
Just prior to leaving, Clark and physician Dr. Rob Grierson started hearing details about COVID-19. They thought back to their preparedness for Ebola a few years earlier.
"Rob and I started planning at the airport and connecting remotely with our team to prepare 911 screening protocols, because we suspected this could be big," Clark says.
Currently chief operating officer of emergency response services and chief allied health officer for Shared Health, Clark has been a clinician and leader in Manitoba's health community for more than 40 years.
Born in England, Clark immigrated to Canada as a child, growing up in Winnipeg. She graduated with a diploma in respiratory therapy in 1979 from the Health Sciences Centre (HSC), in the program that would become the degree program currently offered in the College of Rehabilitation Sciences.
She briefly taught in the program in the late 1980s before deciding to focus more on administration and leadership.
"I always thought I wanted to be a teacher, but I discovered you can incorporate those same skills and competencies into an administrative role. It's all part of leadership," she says.
Her first role in administration was as director of cardiorespiratory services at Seven Oaks General Hospital, where she ultimately became program director for critical and emergency care.
Dr. Neil Swirsky, Seven Oaks' chief medical officer at the time, soon encouraged Clark to apply for a regional program leadership position at the Winnipeg Regional Health Authority (WRHA) when it was first forming in 1998.
Shortly after starting with the WRHA's critical care and emergency programs, Clark joined the master's of business administration program at UM, while subsequently becoming a fellow of both the Canadian Foundation for Healthcare Improvement's EXTRA Program and the Canadian Society of Respiratory Therapists.
As she continued at the WRHA, Clark began working as a point of contact between the health system, emergency medical services and the police, continuing in that role when she became vice-president and chief allied health officer at HSC in 2009.
In 2014, she became the WRHA's chief operating officer for emergency response services, which led to her current position.
"My career path has allowed me to gain a much greater understanding of the health system as a whole, including acute care, long-term care, community health services, and working with our police, paramedic and firefighter colleagues to provide emergency response services, including supports for vulnerable or at-risk clients," she says.
Today, Clark leads an interprofessional provincial team of emergency medical services, patient transport, communications and management staff, physicians and contracted partners. The team works closely with police services, community health and social service agencies, regional health authorities, government and the private sector.
"COVID has kept us very busy with emergency response. It consumes a lot of our time and the days have been blurring into each other," she says. "This is different than anything we've done before because of the duration and complexity, and I am very proud of our team and how they're soldiering on."
Clark adds that her respiratory therapy background has been essential to her diverse career, especially during the current pandemic.
"My clinical education, combined with my experience as a health system leader, prepared me for not only understanding the pathophysiology of the illness itself and how it progresses, but also to contribute as part of the team working its way through this extraordinary event."
BY ALAN MACKENZIE