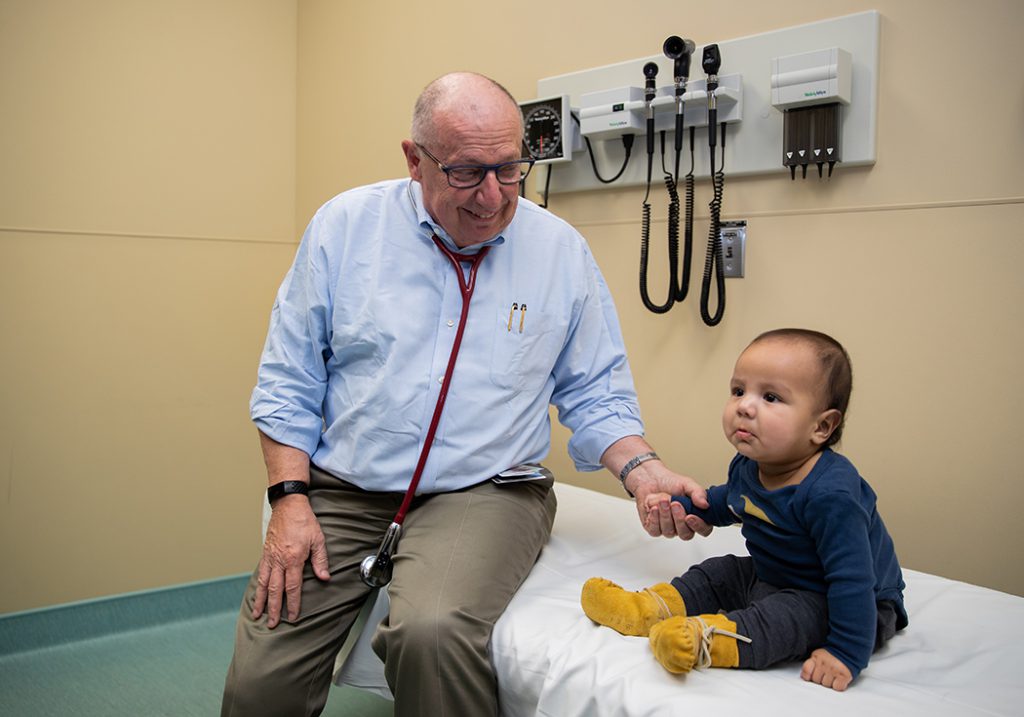 Personal. Small-scaled. One-on-one.
That's how we think of a pediatrician's care.
So how does a devoted pediatrician become a health-care leader who steers huge workforces, massive budgets and complex systems?
"I think the two things are quite connected, actually," says Brian Postl [MD/76], who marks his retirement in June 2022 as dean of the Max Rady College of Medicine and the Rady Faculty of Health Sciences.
"You can't be a pediatrician without understanding the social determinants of health. Poverty, education, whether you're Indigenous or non-Indigenous – all those things have huge implications for health.
"When you face the obvious results of the injustices that some people have had to live through, particularly Indigenous people, it's hard not to say, 'How do we fix those things?' And that often takes you in the direction of advocacy and administrative roles.
"Pediatrics, though, was always a wonderful refuge to go back to when the administrative messiness was challenging."
Postl is retiring as one of Manitoba's most distinguished and influential health-care leaders. In 2020, he was appointed to the Order of Canada for his advancement of clinical and academic health care in the province where he has spent his entire career.
Raised in Winnipeg's North End, the 1976 UM medical graduate specialized in both community medicine and pediatrics.
In 1982, his deep sense of responsibility to serve remote communities and his experience as a visiting pediatrician to northern Manitoba and Nunavut led him to join the UM faculty as director of the J.A. Hildes Northern Medical Unit (now Ongomiizwin – Health Services).
He went on to lead the UM departments of community health sciences and pediatrics. His passion for Indigenous and circumpolar health was evident in his research, which documented many health[1]care inequities in the North.
If Postl was at home on bush planes and in tiny northern nursing stations, he also proved to be a system-wide thinker who could communicate strategies for change, build consensus among disparate stakeholders and navigate turbulent political waters.
In 1999, he became the founding president and CEO of the Winnipeg Regional Health Authority – a high-profile position that he held for 11 years. His many other leadership roles included chair of Research Manitoba and federal advisor on health-care wait times.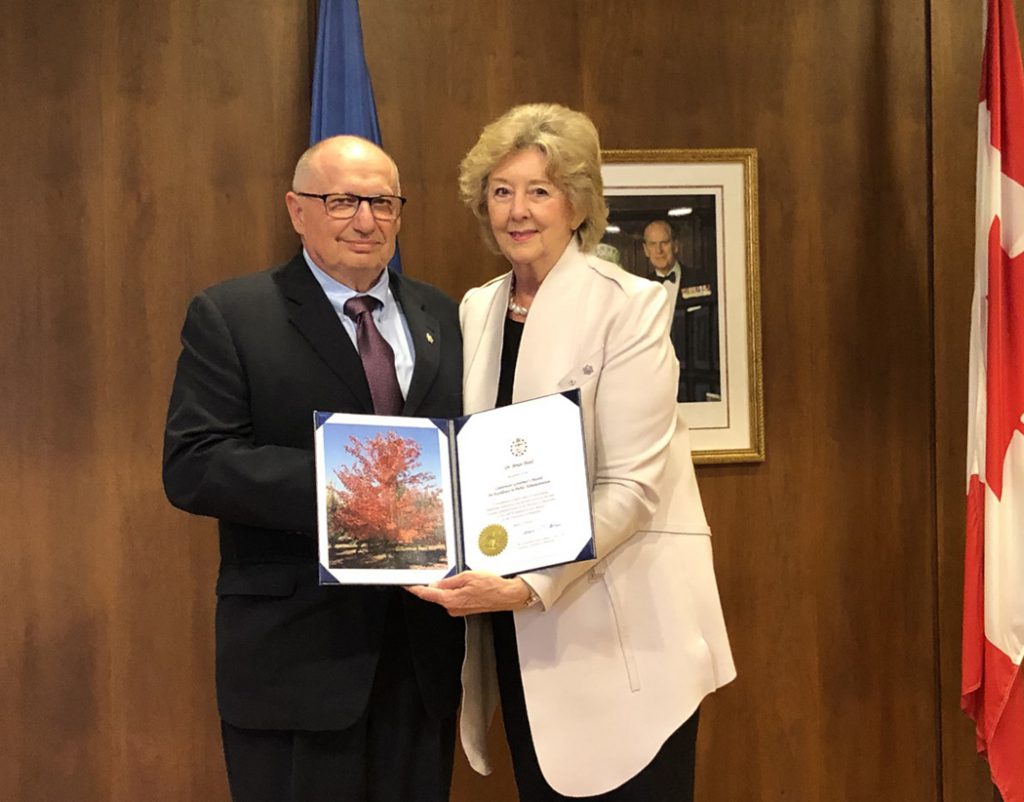 In 2010, he was appointed dean of medicine at UM. He led the complex integration of what are now the Dr. Gerald Niznick College of Dentistry, Max Rady College of Medicine and Colleges of Nursing, Pharmacy and Rehabilitation Sciences into a single faculty of health sciences. He became the new entity's dean, as well as vice-provost (health sciences), in 2014.
As a champion for Indigenous health care, health research and health professional education, he strongly supported the founding in 2017 of Ongomiizwin, the three-branch Indigenous Institute of Health and Healing in the Rady Faculty of Health Sciences.
He has been at the forefront nationally of reforms to medical school admission criteria to better reflect the population, from including more rural and Indigenous students to increasing the student body's diversity of socioeconomic backgrounds.
We recently spoke with Postl about his retirement.
---
When you reflect on your 12 years of deanship, what were the highlights?
The launch of Ongomiizwin was a huge highlight. Uniting all the health professional programs into one faculty in 2014 was a highlight, and then Ernest and Evelyn Rady's generosity in donating $30 million in 2016 really validated that.
There's satisfaction in the fact that our educational programs are sound and continuously improving. Our research enterprise is solid. Stabilizing and ensuring excellence in those areas allowed us to move the dial in other areas, like our whole effort in terms of equity, diversity and inclusion.
I've had the opportunity to work with remarkable people who really ran with all these priorities. It's been a huge effort by hundreds of people.
The merger of four faculties and one school into a single faculty of health sciences was a huge undertaking. What has it achieved?
If you look to the future of health care, collaborative team-based care is where we're going to have the biggest impact. The main motivation for uniting as one faculty was to facilitate interprofessional education, so students can learn to work together in a truly symbiotic way.
There are also administrative efficiencies. We've been able to put more money into education and research because we've improved our backroom functions.
One thing we've recognized during the pandemic is the potential of virtual education. Two obstacles we've always faced with interprofessional education have been co-ordinating the colleges' schedules and finding space to accommodate hundreds of students.
With online learning, maybe we can do more interprofessional teaching of core concepts that are common to all our programs.
What do you see as priorities for the Rady Faculty, going forward?
We've moved the dial, but the dial still has a long way to go with issues of equity, diversity and inclusion, anti-racism and social justice. For instance, we're just beginning to understand how weak we've been in the area of ableism. How do we ensure that people with disabilities have equitable access to the health professions?
Another important area is instilling social accountability. I've always said to students: Get involved. I don't care if you run for politics, join a board or coach a soccer team. We have to remember that we have huge privilege as health professionals. We have a responsibility to give back as citizens.
Any regrets, or projects that were not realized?
I can't say I have any regrets, but there are always budgetary challenges. In terms of capital needs, we'd like to bring the College of Nursing to the Bannatyne campus. Locating all five health sciences colleges together is important for priorities like interprofessional collaborative practice, multidisciplinary research, community engagement and Indigenous achievement.
Another capital project still to be accomplished is building the Bannatyne campus daycare.
What's next for you?
I'll be wrapping up my pediatrics practice. I'm looking forward to having more travel and family time. I'm on a number of boards – I chair the Canadian Blood Services board – so that will continue.
I hope to keep doing non-clinical work with Ongomiizwin, continuing to support the huge progress that it has made.
BY ALISON MAYES