From zero cavities to zero gravity
A U of M dentistry alumna is still floating after completing a scientist-astronaut training program in Florida this spring.
"There's never been a dentist who's gone to space," says Nirvani Umadat [DMD/11], who practises in Portage la Prairie. "I think it would be cool to be the first."
Umadat, 30, has been passionate about futurism and space exploration since her childhood in St. Vital. Her favourite space movie is 2001: A Space Odyssey. Her husband, dentistry classmate Kevin Vong [DMD/11] would be willing to join her on an interplanetary adventure.
Umadat is especially interested in how star trekking affects human physiology. With both NASA and private companies committed to putting people on Mars, she says, that area of research is gaining urgency.
"Right now it would take eight or nine months to get to Mars," she says. "We need to understand how long-span travel in space affects the human body."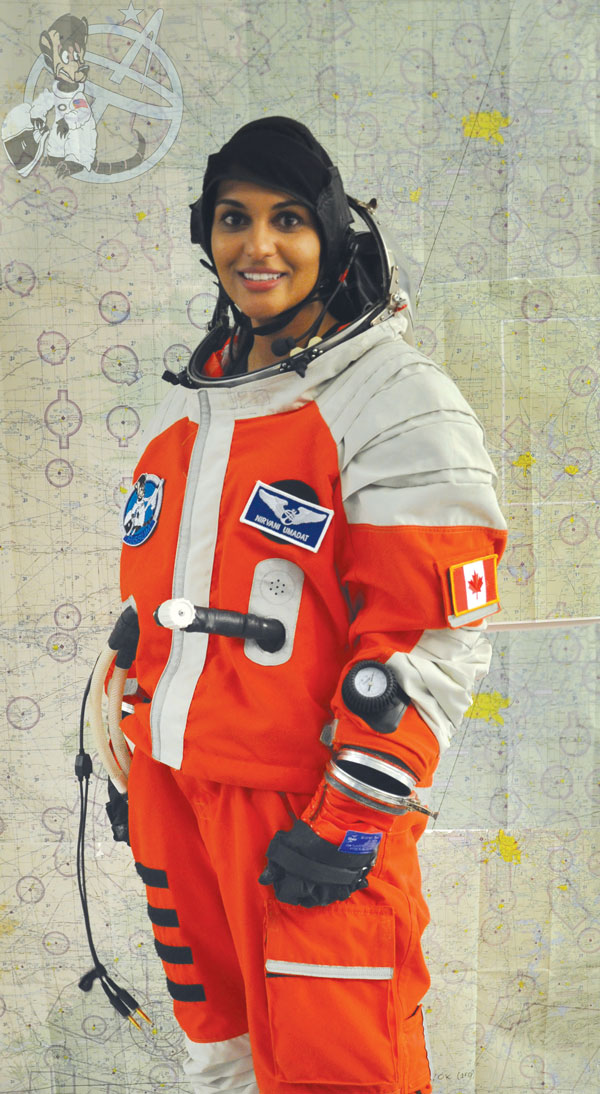 In April, Umadat took part in the PoSSUM Scientist-Astronaut Qualification Program held at Embry-Riddle Aeronautical University in Daytona Beach, Fla. The international program prepares scientists to conduct research onboard suborbital spacecraft.
Applicants must hold a degree in science, engineering or technology, have taken scuba training and pass a Federal Aviation Administration physical. Those who have the "right stuff" pay a tuition to participate. After three weeks of webinar instruction at home, they travel to Florida for five days of intensive training.
Umadat found pressurized spacesuit testing surprisingly cumbersome. "I felt like I couldn't move around very well," she says.
One exercise required each student to fly alone in a two-person plane with an aerobatic pilot who did "crazy manoeuvres" that affected G-force. Unlike some of her 11 classmates, Umadat didn't lose her lunch.
"They fly the plane at different speeds and different angles, so you're completely upside down or completely sideways. Those things can simulate different gravitational pulls. They simulate zero gravity, so for a short time, you're floating. They also simulate 2-G and 4-G (four times the gravitational pull on Earth). 4-G was painful, and that was just for a few seconds."
In another exercise, the oxygen in Umadat's blood was monitored while she was in a chamber in which the gas was gradually depleted. She tolerated a surprisingly low level before she felt faint.
"We need to understand how longspan travel
in space affects the human body."
She is one of about 60 "serious space nerds" to have completed the training program since its launch in 2015. Graduates can volunteer for NASA-supported research by the non-profit Project PoSSUM (Polar Suborbital Science in the Upper Mesosphere). Umadat hopes to join a team in Ottawa in October that will conduct "visor-down, zero-G parabolic flight tests."
In addition to being a dentist, Umadat is a health-care entrepreneur. She's a partner in one company that has developed software for tracking bed occupancy in hospitals, and another that plans to market a lab test to diagnose periodontal disease.
She dreams of joining a research mission to Mars or the International Space Station. But what about the dangers of rocketing to the frontiers of science?
"It's taking a huge risk," she says. "But it's really exciting to think of being the first – or one of the first – to do something, and to feel like you're part of something so much bigger than yourself."
BY ALISON MAYES