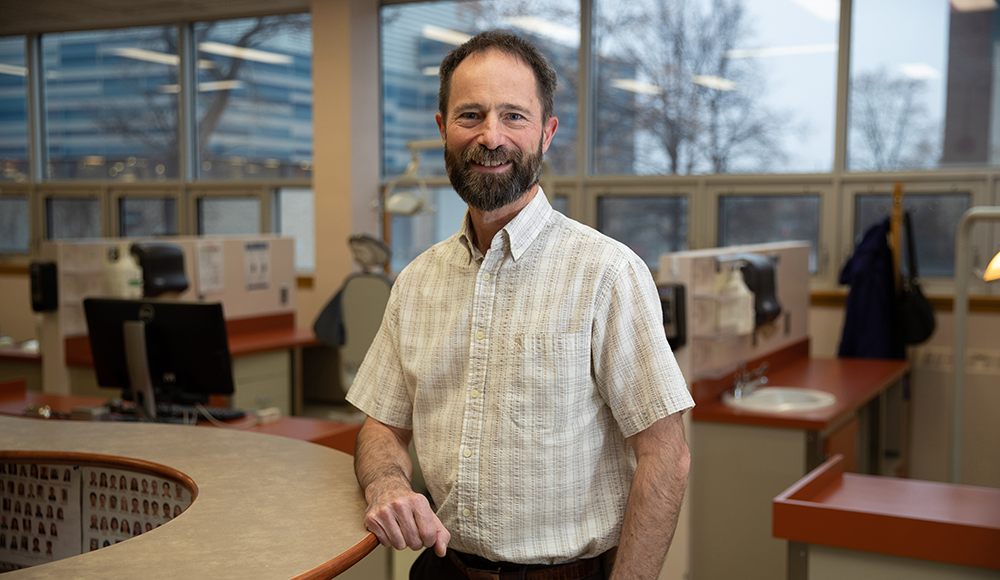 What Dieter Schönwetter [BA/87, MA/89, PhD/96] enjoys most about research isn't collecting data or analyzing findings. It's connecting with people.
That's not surprising when you consider the background Schönwetter brought to the Dr. Gerald Niznick College of Dentistry when he joined the faculty in 2004. He holds a PhD in social psychology from UM and trained to be a pastor at Canadian Mennonite University.
The professor, who grew up in B.C.'s Fraser Valley, is one of a small number of international experts on the scholarship of teaching and learning in dental schools.
"Being a psychologist gives me a different way of looking at dental education than a dentist typically brings," he says.
Schönwetter's research findings strongly influence his own teaching of dental practice management courses. In one research project that's been ongoing for 14 years, he studies how dental and dental hygiene students communicate with their patients or clients.
The data is collected this way: A student completes a self-assessment of how they communicated with patients at the college. The patients also fill out a questionnaire about how the student communicated with them. Then Schönwetter writes a summary of both viewpoints. The student writes a reflection on the summary and Schönwetter assigns a score to the reflection.
He has collected more than 12,000 cases of student-patient communication, and the study is now being conducted in Australia, India and Brazil. He has published three papers on this research.
"The students learn and grow from the feedback patients give," Schönwetter says. "We teach them theory in the classroom, but now we have patients teaching them about communication from the chair.
"We concluded in one paper that students should be cautioned not to become complacent as treatment progresses. We found that around the time of the fourth appointment, there is typically lower patient satisfaction. This is the time when students need to consciously and proactively provide extra attention to their patients."
In another research project, Schönwetter and a colleague from the School of Dental Hygiene, Kathy Yerex, compared online and in-person learning. They found that a group of students who viewed a lecture online retained the information better when tested six months later than a group who had been taught face-to-face.
"Online learning has its place, especially when it helps students learn lower levels of cognition, such as basic facts," says Schön-wetter.
More than 20 years ago, Schönwetter created a teaching philosophy framework that has been used around the world. The framework is designed to help a professor from any discipline outline their role as an educator and develop a teaching philosophy.
Schönwetter's 2002 paper about the framework in the International Journal for Academic Development is one of that journal's most popular articles. "It was just supposed to be a tool to help, and it turned into something much greater than I ever thought it would be," he says. "I'm delighted."
The professor says his social psychology background and pastoral training have helped him to understand the teaching of future oral health professionals through the lens of patients' needs.
"It's all about empathy and how well you listen to the patient," he says. "The patient isn't just a mouth – they're a human being."
BY MATTHEW KRUCHAK