Five accomplished and inspiring leaders associated with the Rady Faculty of Health Sciences were named among Canada's Top 100 Most Powerful Women of 2022 by the Women's Executive Network.
The annual awards recognize women who are advocates, champions, trailblazers and groundbreakers.
The Community Impact award category recognizes women who strive to make a difference in their communities.
The Emerging Leaders category recognizes women who have been targeted for successive leadership positions within their organizations and have a proven passion for learning and innovation.
The Executive Leaders category recognizes women who not only exemplify what it means to be a great leader, but also build confidence and champion others.
The Professionals category recognizes women who are professionals in practice and play a leadership role within their organizations.
All five of these honorees are alumni of UM. They join 29 other UM recipients since the awards were established in 2003.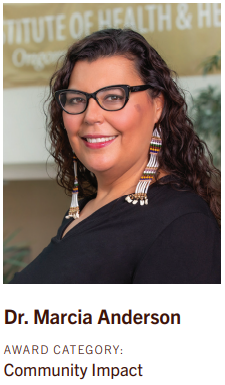 Marcia Anderson [MD/02] is vice-dean Indigenous health, social justice and anti-racism of the Rady Faculty of Health Sciences and executive director, Indigenous academic affairs of Ongomiizwin, the Indigenous Institute of Health and Healing in the Rady Faculty.
Anderson, a Cree-Anishinaabe physician, is a champion for culturally safe, equitable health care for Indigenous communities. In 2018, she was named to the Most Powerful Women list in the Emerging Leaders category.
In 2021, when Anderson received the Royal College of Physicians and Surgeons of Canada's Dr. Thomas Dignan Indigenous Health Award, the college noted that she is on "a lifelong path to shape Indigenous health care through system reform and transformation."
Anderson served as public health lead for the Manitoba First Nations Pandemic Response Co-ordination Team, working closely with communities.
She was recognized by Doctors Manitoba as the province's 2022 Physician of the Year.
Her recent work at UM includes spearheading the Rady Faculty's Disruption of All Forms of Racism Policy.
She advises others to seek work that aligns with their values.
"I wanted to contribute to Indigenous health and Indigenous learners," she says about her own values.
"I wanted to do it in connection with my own cultural identity and my own communities."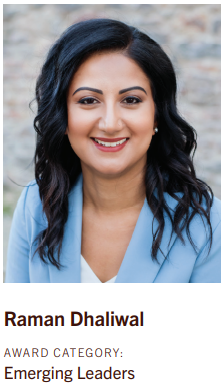 Raman Dhaliwal [B. Comm (Hons)/07] holds an unprecedented dual role at UM. She is both associate vice-president (administration) of the university as a whole and executive director of the Rady Faculty of Health Sciences.
Dhaliwal, who earned a UM bachelor of commerce degree in actuarial mathematics and finance, is the first woman of colour to hold the associate vice-president (administration) position.
She is a seasoned higher education administrator with extensive experience in designing, developing and implementing administrative structures.
On the university's COVID-19 Response Steering Committee, Dhaliwal played an instrumental role in preparing students, faculty and staff to study and work from home. She assisted the province in organizing the first COVID-19 vaccine clinics for health-care professionals.
She also helped to co-ordinate the hiring and onboarding of 300 staff over a two-week period to immunize in First Nations communities across Manitoba. "Giving back to the community and making a difference motivates me every day," she says.
Dhaliwal is pursuing her master's in business administration at UM. She says collaboration is integral to her leadership style.
Her advice to other women in leadership? "Remember, there are women who are going through the same thing as you, so give them a hand and help lift them up."
Dr. Netha Dyck [BN/88] is dean of the UM College of Nursing. Over the course of a dynamic career, she has provided strategic leadership in senior health-care and academic positions, as well as in provincial and national professional organizations.
Prior to joining UM in 2018, Dyck was dean of the School of Nursing and School of Health Sciences at Saskatchewan Polytechnic.
Her previous roles included serving as director of the Winnipeg Regional Health Authority's personal care home program.
Dyck is currently leading a major initiative to expand the UM bachelor of nursing program by 120 seats per year and offer the program year-round, so students complete it in 28 months.
Another of her priorities is supporting faculty and student research that informs nursing practice, nursing education and health-care policy.
Leadership, she says, comes down to listening and developing relationships. Guiding a large team of faculty and staff, she seeks to facilitate active engagement in a shared vision.
"My values of dignity, respect, integrity and valuing the unique contribution of everyone on our team guide my daily practices," she says.
"I try to be a leader who is supportive and inspiring, and who sets a clear vision with strategic priorities."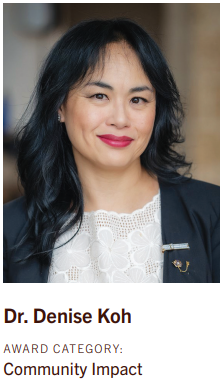 Dr. Denise Koh [MPH/08] is an assistant professor of community health sciences and a public health physician. She is Manitoba's chief occupational medical officer and a medical officer of health.
In her occupational health role, her duties include investigating workplace illnesses and deaths, performing workplace assessments and making recommendations to optimize the health and safety of workers. She received a 2022 Top Women in Safety Award from Canadian Occupational Safety.
During Manitoba's pandemic response, Koh was the public health advisor for non-public-facing high-risk workers, such as food-processing employees and temporary foreign workers.
By advocating for supports such as prioritized vaccine access, she helped to protect these vulnerable workers.
As a Filipina-Canadian physician, Koh is passionate about equity, diversity and inclusion. She has written for publications such as The Filipino Journal and been active in organizations such as the Philippine-Canadian Centre of Manitoba and the Manitoba Ethnocultural Advisory and Advocacy Council.
She is also a hypnotherapist and has developed a hypnotherapy app.
Her advice for achieving success is to adopt a positive mindset. "When things don't go your way … frame that as a time for growth," she says. "Our greatest successes often come out of our biggest failures."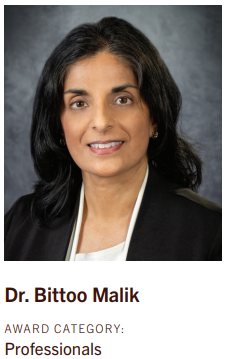 Bittoo Malik [B.Sc./89, MD/95] is a physician specializing in diagnostic radiology at Dauphin Regional Health Centre, a hospital in the Prairie Mountain Health region.
Malik, who grew up in rural Manitoba and earned her medical degree at UM, is an advocate for health equity in medical imaging, particularly in rural communities.
She is described by her hospital colleagues as an innovative leader with a transformative approach. She has led significant improvements at the hospital, particularly in the area of trauma and stroke imaging and assessment.
Achieving the best possible outcome when a patient may be having a stroke requires a rapid coordinated response, Malik says. That often includes quick action by first responders, assessment in the emergency department, CT scanning of the patient's brain, and review and diagnosis by a radiologist and neurologist.
"We have developed a team response so patients can be rapidly treated with lifesaving medication or transferred to Winnipeg," she says.
Malik is recognized for her commitment to interprofessional collaboration in patient care.
"My vision has been to create a strong support network for colleagues and patients, and to foster the strength and growth of medical care in rural Manitoba," she says.
BY RADYUM STAFF