Medical doctors are experts at treating the physical body.
But in order for patients to truly heal, doctors need to recognize other dimensions of health and give of themselves in other ways, Dr. Niigaan Sinclair said at a UM awards evening.
"The other three parts of our health are our mind, our heart and our spirit," the Anishinaabe academic told an online audience of physicians and medical students.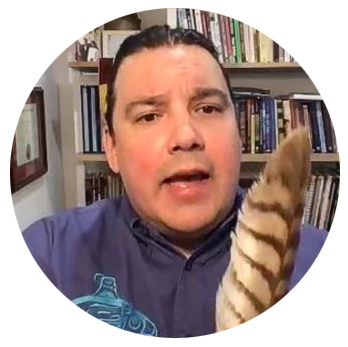 "There is no sense of health in a body … if your spirit is sore or sick, if your heart has no meaning, or if your mind is not thinking good thoughts. [We] must have all four of those elements connected together. You are only said to be living a good life when you have those four elements in balance."
Sinclair, head of Indigenous studies at UM, was the keynote speaker at the 12th annual Teacher Recognition and Manitoba Medical Students' Association Awards presentation in March.
The influential writer, editor and media commentator said that in the place that is now Manitoba, the giving and receiving of gifts has always been central to building relationships of collaboration and reciprocity. He called on physicians to share "the greatest gifts that make us who we are," such as patience and kindness.
"When we present those to each other," he said, "we learn, we create community, we create collaboration, and we might even one day – if we do it enough – come to that R word: reconciliation."
The greatest gift we can give one another is time, Sinclair said. He recalled being asked to speak to Manitoba physicians a few years ago, only to find that most of them were staring at their phones during his talk. "I didn't come to talk to your phones," he told them.
"Doctors are very overworked. But you know, listening is sort of a forgotten tradition."
The awards evening included the virtual presentation of 19 awards to honour teaching excellence in the Max Rady College of Medicine.
Five awards were also presented to medical students in the categories of citizenship, global health, community service, leadership and professionalism.
"Tonight, I hold up this eagle feather in honour of all of you," Sinclair said, going on to share some of the teaching of the migiziwigwan (eagle feather).
The eagle is the bird that flies highest and can see the biggest picture, so its feather represents leadership, he said. But the filaments of eagle feathers can become disconnected from each other, preventing the bird from flying. A wet, injured or sick eagle has to rub up against rocks or other eagles in order to reconnect the filaments, which takes patience and time.
"When we as medical practitioners see only the body, instead of the mind, the heart, the spirit, we see the separation between things," Sinclair said.
"It is only when we reconnect those things – when we show patience, and we listen, and we are kind, and we are generous – that we can fly the highest in the sky. …
"I ask you, take care of yourself so that you can take care of others. … Take care of their mind, their body, their heart, their spirit – all the different elements of who they are. Do all of that, and you will become, and continue to be, the leaders that you are."
BY ALISON MAYES