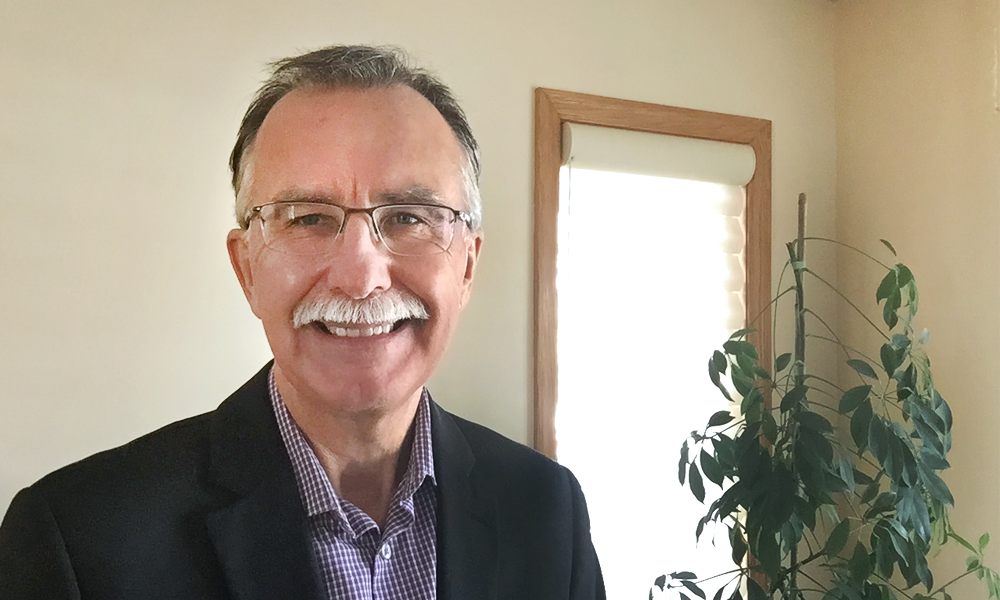 Ronald Guse's four-decade career has had two central, interlocking themes: patient-centred care and the evolving role of pharmacists.
The UM alumnus is known for his long, productive tenure, from 1999 to 2016, as the registrar of the College of Pharmacists of Manitoba (CPhM). Adding to his many accomplishments and accolades, Guse [B.Sc.Pharm/79] recently received the College of Pharmacy's Alumni of Distinction Award for his leadership and achievements in the profession.
Born in Yorkton, Sask., and raised in Winnipeg's North End, Guse started out at clinic pharmacies in Thunder Bay and Winnipeg.
"When I started, pharmacists mostly worked in retail settings, or in hospital practice where they didn't venture very far from the pharmacy department," he says. "Working in clinic pharmacies, like at the Mount Carmel Clinic in Winnipeg, allowed me to work with patients directly and consult with other health-care professionals about treatment plans."
But limitations on pharmacists' scope of practice were urging Guse toward more policy-based work.
In the 1990s, he led the creation of the Triplicate Prescription Program and database in Manitoba, which allowed doctors and pharmacists to keep track of patients' prescriptions for powerful narcotics that were prone to abuse.
"Prescriptions for targeted narcotics were entered into a centralized patient database and cross-referenced to avoid duplication and ensure proper patient care and safety," he says.
In 1999, Guse was appointed registrar of the Manitoba Pharmaceutical Association, which later became the CPhM. Under his leadership, the Pharmaceutical Act was passed by the province in 2006 – a milestone in expanding pharmacists' role in patient care. For the first time, pharmacists were permitted to prescribe medication, administer medication, order tests and interpret test results.
In 2016, the CPhM changed low-dose codeine products, such as Tylenol No. 1, from over-the-counter to prescription-only drugs in Manitoba, with the aim of reducing misuse and overuse. Within a year, sales of the products plummeted by 94 per cent – a great step for enhanced care and patient safety.
Guse says the policy change brought out the best in pharmacists, who had to assess patients' needs for prescriptions. "It had an amazing patient-care impact, and it was pharmacists' professional practice and patient-centred care that were key."
Guse continues to be active in patient-safety initiatives. He has served as vice-chair of the Manitoba Institute for Patient Safety and chair of the Canadian Patient Safety Institute.
He is now consulting with the U.S.-based National Association of Boards of Pharmacy to create a safer environment for consumers who search for online pharmacy services.
"With the COVID pandemic, more people are buying things online and looking for health-related information. But it's a challenge for the public to know which sites are credible and legal, and which ones are scamming them," he says.
In 2014, the association acquired the top-level domain name ".pharmacy."
"By watching for '.pharmacy' in the domain name, the consumer can be assured the website is licensed, safe and legal. We're working on this for North America, but the goal is to build this concept of safety globally."
Guse is chair of the regulators' forum for the International Pharmaceutical Federation. There, he is working on a worldwide scale to enhance safe access to vaccinations and patient care through pharmacists, with a focus on COVID-19.
"We're trying to get more countries to include the role of pharmacists in mass public vaccination programs, recognizing that knowledgeable and trained pharmacists can provide this service safely and reach more of the public," he says.
He also teaches at the College of Pharmacy. He joined UM in 1985 as a lecturer and became a nil-salaried clinical assistant professor in 2011. He currently teaches professionalism and ethics.
"I've always cherished the opportunity to teach and give back to the institution," he says. "It's also a valued opportunity to meet future pharmacists and help them appreciate that they're coming into a trusted and respected profession."
BY ALAN MACKENZIE